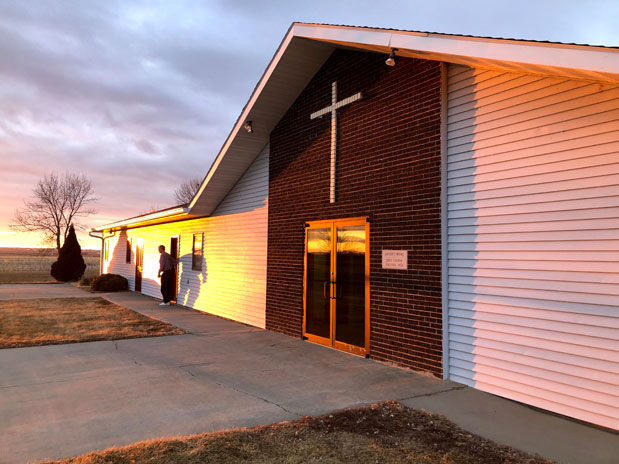 Last Christmas, Merlin Boese shared something special with the children in his church, the Friedensberg Bible Church south of Avon, South Dakota.
It was something he received as a boy at Christmas time – a picture of Jesus the shepherd signed by his Sunday school teacher and dated December 1929, when Boese was just about to turn 5 years old.
At that Christmas service, Boese got another gift, a World War II veteran hat. It prompted Pastor Dennis Webber to joke: "See kids, this is why you come to church – you get a present almost every 90 years."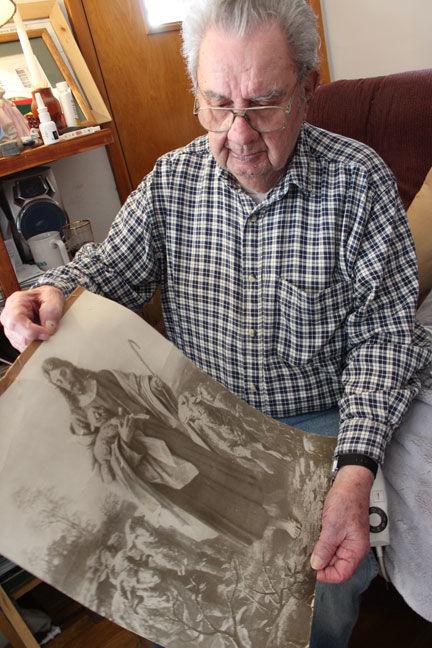 At 95, Boese is Friedensberg Bible Church's oldest member. Health issues keep him from attending most Sunday services, but Pastor Webber's sermons are recorded so Boese can listen from his home in nearby Tyndall.
Boese is one of five church members who can trace their ancestry back to the church founders. His grandfather, Henry Boese, immigrated as one of five Boese sons who arrived in Yankton in 1874 and was among the first homesteaders south of the Loretta settlement near Avon.
Friedensberg was started as a Mennonite church in 1874 by a group of German-speaking immigrants from Prussia. The first church building was a log structure built in 1878. After 20 years, those logs were dismantled, cut into lumber and used to build a simple wood frame church.
Boese remembers that building and a major project to add more room in 1939 with a church basement. His dad, Isaac Boese, ran a slip scraper with two horses. The corners were dug by hand. Boese watched the progress and wanted to be there when the building was moved onto its new foundation, but he had to go to school, he recalled with disappointment.
A couple of church pews is about all that is left of the early church building. The current church was built beside the old building in 1978. After the last service in the old church on a Good Friday, the congregation had communion, then walked out the front doors and right into the new church. It was a new beginning.
In 1984, the church's name changed to Friedensberg Bible Church.
For 40 years, Merlin Boese and his wife farmed the area his grandfather and his brothers homesteaded. An old cedar tree stood by the mailbox of that farm place for decades. When it came down, Boese used his woodworking skills to make lamps – one for each of his children.
His woodworking hobby still keeps him busy. His home is filled with tables and desks and trinkets of his own design. Miniature pianos are his specialty, and he gives them as gifts to young musicians as a way to encourage them to keep learning.
Singing comes naturally to Boese, and he was long a part of the church's quartet. The church also had its own orchestra in the 1940s. Today, families take turns providing special music at worship services.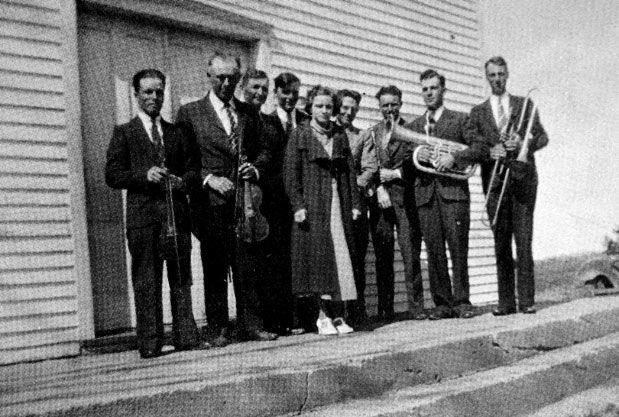 "That's a special part of a small church – everybody's involved," Webber said.
That's one thing Ron Ridgway likes about Friedensberg. He joined the church 10 years ago after moving from Kansas City where he attended a large church with three pastors.
"Sometimes you kind of get lost there are so many people," he said, noting that he likes the smaller community of Friedensberg.
He helps teach adult Sunday school classes before weekly services. He said it's been a blessing to guide classes and hear what others have to say.
"I learn more than what I teach," he said.
The congregation has long supported mission work. Missionaries visit the church a couple times a year to provide an update on their work in foreign countries. Church members do their own mission work. Some who do cement work for a living visit reservations in Montana and Arizona each year to do building projects. The church's Women in Mission group collect toys and necessities for people in need through a program called Operation Christmas Child. Each year they put together 100 boxes.
In the early 1890s, the Friedensberg congregation split over differences and 95 Friedensberg members formed a new church, including some of the most talented singers, according to one account. They must have been hearty singers. Pastor Webber had heard that each church, located a one and a half miles from each other, could hear the other singing on Sundays when the fields were quiet and no tractors were working.
A tornado damaged that church, and the congregations rejoined in 1904.
Ron Ratzlaff's relatives were also amongst the Friedensberg Church founders. Growing up in the church, he remembers one of the pastor's had a side job of cutting hair. But in Ratzlaff's memory, he wasn't very good at that job or maybe it was just that the shears he used weren't very sharp.
"I think he pulled more hair out than he cut," he said. As a boy, that made him duck out of the greeting line after church to avoid shaking hands with the hair-pulling pastor, he recalled.
Today, two young families make up most the Sunday school. Faith Walters, who has three girls and a boy, is a Sunday school teacher and organizes Bibles school, too. Vacation Bible school draws a bigger crowd. With a shuttle bus bringing kids from Avon, 50 attended last summer.
Her husband Wayne Walters has served as chairman of the church council for five years. He appreciates that the leadership position allows him room for personal growth in his faith.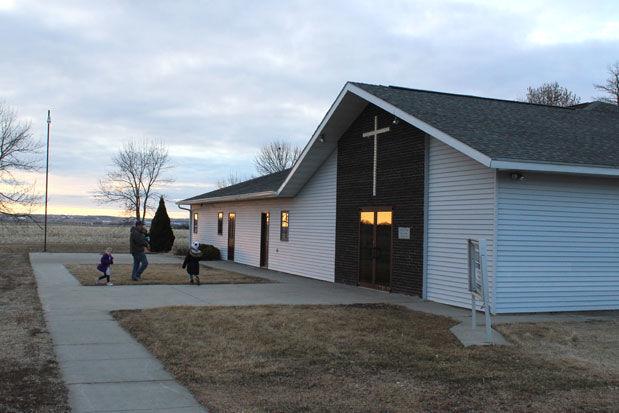 "It's extra work and challenges, but it's valuable," he said.
Each summer, his parents host a service at their farm on the Missouri River, about 10 miles west of the church. If there are baptisms, they are done in the river then.
"It's peaceful and quiet," Wayne said.
He grew up with a lot of other kids in his Sunday school class, but most moved away when they graduated. He and his wife would like to see the country church grow, and they believe the small church and rural area have a lot to offer.
"It's nice raising a family here," Faith said.
With a tight-knit church community, kids are like family to everyone in the congregation, Wayne added. "Kids become like the church's kids," he said.
Prayers on the Prairie is a regular feature of the Tri-State Neighbor, taking the place of the Crop Watchers report during the winter season. If you have a suggestion for a rural church to feature here, contact editor Janelle Atyeo jatyeo@tristateneighbor.com.
Janelle is editor of the Tri-State Neighbor, covering South Dakota, southwestern Minnesota, northwestern Iowa and northeastern Nebraska. Reach her at jatyeo@tristateneighbor.com or follow on Twitter @JLNeighbor.