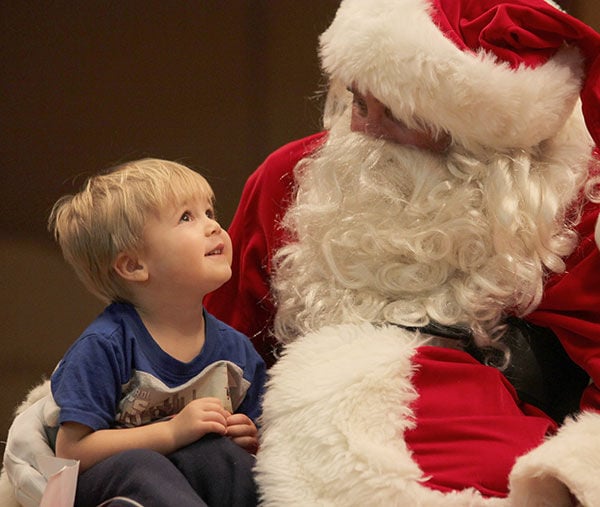 The first Christmas we lived in town, we heard a knock on the back door as we were finishing our oyster stew, and when my dad opened the door, there was Santa Claus.
There is much to break down about that memory.
Unless I imagined the whole thing, it happened nearly 70 years ago when I was in third grade. We'd just moved to town for school years. I had a good imagination, but I wouldn't have figured Santa for somebody who showed up at your back door while you were trying to gag down a couple of oysters and hide the rest under a mountain of soggy round crackers.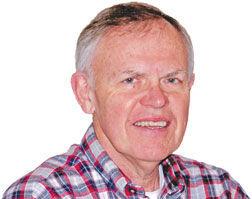 Whatever the case, a person dressed as Santa Claus visited our house that first year in town. I can't promise it was Christmas Eve, but when else would it have been? I learned later that an older gentleman, the guy who had laid out the subdivision that included our house, did in fact go around the neighborhood dressed as Santa and did give kids modest presents and a hearty "Ho-ho-ho.'' If you are 8 going on 9, you might think "Hey, I'm pretty sure Santa doesn't exist.'' But your excited child's brain immediately goes from that doubt to, "Gosh, I hope he has a Red Ryder B-B gun in that bag.''
That's part of the magic of Christmas for kids, I guess. Knowing, or beginning to strongly suspect Santa may not be real doesn't diminish at all the awe a kid feels when he peeks around his dad's shoulder and sees the visitor from the North Pole standing at the back door. At that point, my sibling and I had been searching our whole lives for Santa Claus on Christmas Eve.
We'd seen a guy who looked like Santa a couple of years before we moved to town. We visited my dad's big brother in Kansas City for Thanksgiving. The next day we drove into town, I guess you'd say, to a place that overlooked some of the downtown. Christmas decorations had just gone up, and a white-bearded guy in a red suit and tall, black boots stood on the street. It looked like Santa, but who'd believe he was in Kansas City the day after Thanksgiving? Nope, not the guy. Keep searching.
Out on the farm, Santa Claus was the only visitor a kid might expect to be able to find our place on Christmas Eve. It was two miles to the nearest neighbors, and each of them had their own families gathered around their own tables trying to figure out whether a kid will suffer less by swallowing an oyster whole from the stew or chewing it to bits. Neighbors didn't come calling on Christmas Eve.
Because we were alone – isolated, I guess you'd call it today, although it didn't occur to us that we were missing the company of any human being who wasn't us – we developed our own rituals. We thought they were unique. I've come to learn over the years that other farm families did the same.
What we'd do after the oyster stew on Christmas Eve is bundle up and climb into the Jeep. Our dad would take the wheel, and we'd bounce off down rutted section lines and across frozen pastures to see if we could catch a glimpse of Santa and his reindeer somewhere up on the vast prairie sky. The Jeep had a snap-on canvas cover with zip-in plastic windows. On the best of nights, the canvas let in as much of the cold as it blocked, and the windows were so scratched and grimy it was tough to make out the moon, much less a sleigh and eight tiny reindeer. We gave it our best shot, though, year after year. At some point Dad would say, "Wait. I think I caught a glimpse of reindeer back near our place. We'd better get home.''
Our mother always missed the Jeep ride. She stayed behind to clean up and get the dishes washed and put away. When we stumbled and tumbled in the back door to the warmth of the porch, she'd be standing there all excited, and she'd tell us to hurry out of our coveralls, because we'd just missed Santa Claus and did we ever have presents under the tree.
Today, I suppose, the cynics of the world would say we fell for the oldest trick in the book. We didn't care. We didn't know any better. And for a short time, we believed.
Terry is a well-known regional columnist who lives in Fort Pierre, S.D.