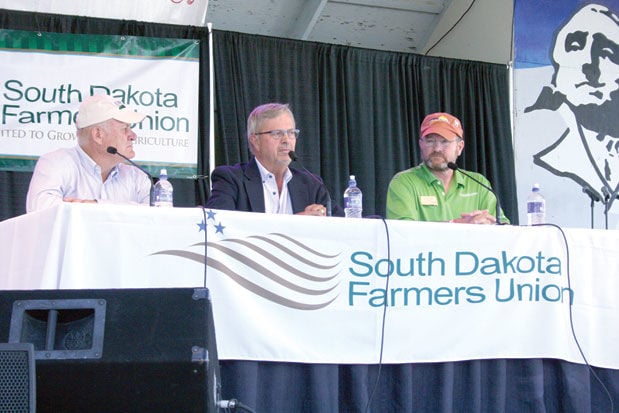 The South Dakota State Fair will be offering special themed days thanks to the support of individual "day sponsors."
While the fair will run Sept. 2-6, Channel Seeds preview night will give locals a sneak peek at the fairgrounds Wednesday, Sept. 1 with free gate admission and $1 carnival rides. The Red Wilk Construction Tuff Hedeman Bull Bash kicks off the grandstand entertainment at 8 p.m.
Thursday, Sept. 2, is Value Added Ag Day where attendees can experience value added agriculture in South Dakota. There are multiple sources of stress in farming and ranching, and value added can offer alternative feedstocks and products to help get through. Stop by the Day Sponsor Tent to visit with producers and see value added items being made across the state. An ice cream social will also be held at 3 p.m.
Friday, Sept. 3, is Prostrollo Motors Day. Stop at dealership on east Highway 14 in Huron prior to the fair to pick up a coupon for $1 off daily gate admission and sign up to win the "Best Seats in the House" at the Friday, Saturday and Sunday grandstand shows.
Saturday, Sept. 4, is South Dakota Farmers Union Day when the organization hosts events celebrating the family farmers, ranchers, and rural communities. The Farmer's Share Luncheon in the tent near the Freedom stage from 11:30 a.m. to 12:30 p.m. will cost 25 cents for a $10 meal to showcases the farmer's share on retail food dollars.
South Dakota's Department of Public Safety is sponsoring DPS Day Sunday, Sept. 5, highlighting emergency preparedness. Giveaways include Tommy the Turtle books that focus on preparedness for tornadoes, flooding, winter storms and fires. Highway Patrol dog demonstrations are at 10 a.m., 1 p.m. and 3 p.m.
Fairgoers can help to "stock the shelves" Monday, Sept. 6. Bring a non-perishable food item from 7-11 a.m. for $2 off daily gate admission.
The State Fair will be "paying it forward" thanks to businesses that have banded together to sponsor gate admission passes. Fair officials will randomly hand out free passes at the gate.