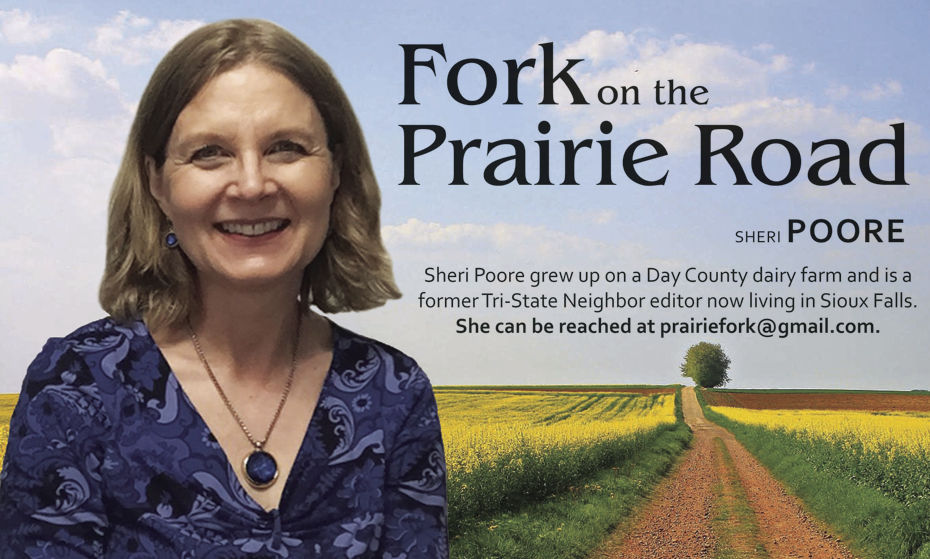 Now that I have settled my affairs at the Department of Motor Vehicles, I feel safe in telling this story.
The night before Dad and Mom's auction sale, my cousins and I decided to spend a final night reminiscing in the empty farmhouse. Just as we were about to each pick a bare floor to sleep on, one cousin remembered he had left his CPAP machine in town.
"Would you drive me to town?" he asked.
I popped behind the wheel of the rental car; he buckled himself into the passenger seat, and we headed west on the gravel road toward the highway to Webster.
We sneaked into Mom and Dad's new home in town at 11:30. After a search of the dark house (during which I scared a slumbering guest awake) my cousin and I loaded our sleepy selves back into the car and headed down the hill past Mike's grocery store.
As I crossed the intersection heading north, I saw flashing lights in the rearview mirror.
The car braked, but my brain raced. What have I done? I wondered.
(At the time of this story, I was living in a Sioux Falls apartment but the address on my driver's license was Webster. I had designated my parents' home in Day County as my permanent residence because I didn't want a Minnehaha "1" on my license plate.)
As I shut off the engine, thoughts rushed through my head:
1. This vehicle has LOUISIANA PLATES, which stick out like a NEON SIGN in Day County.
2. I AM NOT AUTHORIZED TO DRIVE THIS RENTAL CAR.
3. When I roll down the window, the officer will detect a GIANT WHIFF OF GRAIN BELT. Sure, it's emanating from the passenger seat, but it's puffing through MY DRIVER'S SIDE WINDOW.
4. My driver's license lists AN ADDRESS WHERE I DON'T LIVE.
In the time it took me to shut off the engine and the officer to approach, I had myself spending a night in the Day County jail. Or at least in the family doghouse for the next month.
"Do you know why I stopped you?" the patrolman asked.
"No … is there a tail-light out?"
"You were going (insert number here) miles over the speed limit."
"Oh-I-didn't-even-realize-it-I-was-just-coasting-down-that-hill-past-Mike's ..."
"I saw you coming into town about half an hour ago and you were going a little fast then, too. But I thought you were passing through town and on south. Didn't expect to see you again."
(Translation: Those Louisiana plates tell me you don't live around these parts.)
"Want to tell me why you're driving back through town at this hour?"
"Well-officer-my-parents-are-having-an-auction-tomorrow-and-this-is-my-cousin-and-we-were-spending-one-last-night-at-the-farm-and-he-forgot-his-CPAP-machine-and-we-had-to-come-back-and-tried-not-to-wake-everybody-and--" I babbled like a 14-year-old in the principal's office.
"License and registration?" he kindly interrupted.
I produce my driver's license, but there was no registration in the glove box. "It's a rental," my cousin offered. "My brother has the papers."
While the officer walked back to the cruiser to check my credentials, continued thoughts rushed through my head.
1. When drivers are cited with traffic violations in Day County, their NAMES AND CRIMES ARE PUBLISHED IN THE NEWSPAPER. It will not matter that I am a grown woman with classmates who are already grandparents: MY MOTHER IS GOING TO KILL ME.
2. What if the patrolman asks me to step out of the car? I'M WEARING MY PAJAMAS!
When the officer returned, he patted the roof of the car. "If I have lived here this long and haven't met you yet, I guess it's a good thing. I'm writing you a warning. Now slow down and good luck at the auction tomorrow."
It made a good story the next day. And I kept my parents' Webster home as my official residence for a few more years.
You see, I do not want to look like a Sioux Falls person when I drive. When I'm in Day County, I want to blend in.
In Minnehaha County, I'm OK with not blending in. I figure city folks will cut me a little slack if I drive hesitantly or forget where my turnoff is. They'll see the 22 on my plates and think "Out-of-Towner. She doesn't know her way around."
I went to the DMV this month to change my last name to match my husband's. While I was at it, I changed the address on my license to Sioux Falls.
When my plates are due for renewal, I fear I will have to either get a new set with the dreaded "1" on them, or some generic digits that don't connect me with a specific county.
I will miss that 22 on my plates.
The prospect is almost as traumatic as the thought of getting out of the car for a patrolman on Highway 25 in my pajamas.
Sheri Poore grew up on a Day County dairy farm and is a former Tri-State Neighbor editor now living in Sioux Falls.