In my previous article (Tri-State Neighbor, March 1) I shared about the goat project I was able to work on as a veterinarian in Rwanda.
Below, I write about the challenges, common goat diseases, solutions and benefits to the goat project in which women were given goats as a way out of poverty.
Editor's Note: This is the first of a two-part article on Dr. Katie Hunsucker-Brown's trip t…
Benefits
A single goat provides incredible benefits to the Rwandan widows. All the poop is collected to use as fertilizer on their crops. Many have seen a three- to five-fold increase in their harvest.
Because of the value of their goat they qualify for health insurance. Offspring have been sold to pay school fees for children, cover funeral expenses, pay for Hepatitis C treatment, and pay hospital fees in order to leave the hospital.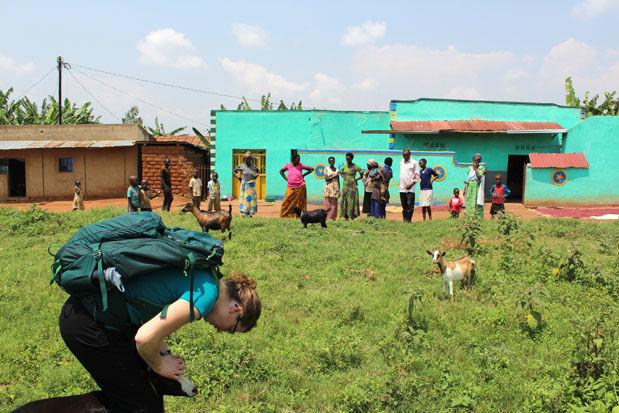 Many of the widows find companionship with their goat as they lost every family member in the Rwandan genocide of 1994. They have also slept with their goats to stay warm. Several families have four generations of goats since the project started and usually average twins each birth.
Common diseases
Rwandan goats often contract bloody diarrhea, parasites, heart water disease (a bacterial infection spread by ticks), goiter, mastitis, orf and pneumonia (during the rainy season).
Challenges
Goats are very valuable to Rwandans, who survive on less than $1.50 per day. Due to the value of a goat, many goats have been stolen. The Rwandan government no longer allows people to live with goats in the house, making it difficult for widows to secure them at night.
The widows have to take the goats to the fields, sometimes more than a mile away from home, daily to tie them out to graze. If the goats are not accompanied by young children to herd them, the goats are easily stolen.
Veterinarians are few in Rwanda, and due to the genocide many don't trust information and many lack access to information. These goats receive very little care.
Goat owners might buy a deworming pill for 50 cents one time a year. If a goat contracts an illness, the goat will almost surely die, as there is no access to veterinary help or knowledge in these rural areas.
Lots of baby goats are lost to bloody diarrhea yearly. I performed fecal microscopy on 20 goats and every goat had coccidia. There was also a variety of other intestinal parasites including lung worms, stomach worms and liver flukes.
Solutions
We were able to buy amprolium at the local vet pharmacy and explain to the widows how to use it to prevent and treat coccidia. The widows had never heard of coccidia or amprolium before and were grateful for the information.
We discussed FAMANCHA scoring, rotational deworming, animal husbandry and biosecurity with the widdows.
Money was donated to build goat houses to secure the goats at night, protect goats from rain, and allow widows to bring feed to the goats and keep the goats close by.
The houses will be constructed with slats in the floor for the passage of fecal matter and a feeding trough to minimize coccidia and parasite transmission.
These houses will be built by orphans at Rebuilding Rwanda's Hope Vocational Training center. The project will give them valuable construction experience. Once the goat houses are constructed, the Rwandan partners at Rebuilding Rwanda will distribute more goats to the widows.
I recorded the cost of some veterinary medicines in Rwanda. Medications are imported from China or Holland.
Amprollium Powder, 2 grams, cost 1,800 in Rwandan francs (RWF) ($2 USD).
Oxytetracycline, a 100 milliliter bottle cost 1,000 RWF ($1.15 USD).
Albenza tab costs 500 RWF ($0.57 USD).
Penicillin, a 100 milliliter bottle cost 4,000 RWF ($4.55 USD).
Enrofloxacin, 100 milliliter bottle, 2,700 RWF ($3.07 USD).
Dexamethasone, 2 milligrams, 50 milliliter bottle, 2,500 RWF ($2.84 USD).
Working with the genocide survivors and experiencing livestock medicine and production in Rwanda changes life's perspective and highlights the abundant blessings of life in the United States.
We have so much to be thankful for. Please do not take that for granted.
Questions? Send email to Eric Knock, DVM, at reknock@venturecomm.net or send mail to 321 E. 14th St., Miller, SD 57362. Eric Knock owns and operates Prairie View Vet Clinic in Miller, Redfield, Wessington Springs and Highmore, S.D.