"As a nutritionist, it makes you look good if you produce good forage," said Mike Bettle, a nutritionist with the Dellait animal health company.
Bettle is also a board member of the newly formed Northern Plains Forage Association. Its mission is to promote sustainable, quality, profitable forage production
"My intent is really to connect the dairy farmer and the grower," Bettle said.
It's about more than just dairies, though. The association is a place for anyone who either grows or uses forages, whether it's in a dairy, beef or feedlot setting, or for horses or other animals.
"Hopefully we can learn from one another," said member Dan Funke, a forage producer from Larchwood, Iowa.
Board members and a crowd of nearly 40 interested farmers took part in the first membership meeting of the Northern Plains Forage Association. It was held Jan. 26 during the Sioux Falls Farm Show.
Stressing the importance of networking, organizers were pleased with the number of attendees.
"I'm excited to get more and more people involved with this," said Al Lenhart, a board member who works at Mustang Seeds. "It's going to be a fun ride."
Annual membership dues are $75. A form is available online at https://sdstate.questionpro.com/NPFA. For more information, contact ex-officio board member Sara Bauder, the forage specialist with South Dakota State University Extension. She can be reached at 605-995-7378.
The group is in the process of obtaining its 501 c-3 nonprofit status. Members said they hope to produce a newsletter in the future and provide educational resources through a website, plot tours and a winter conference.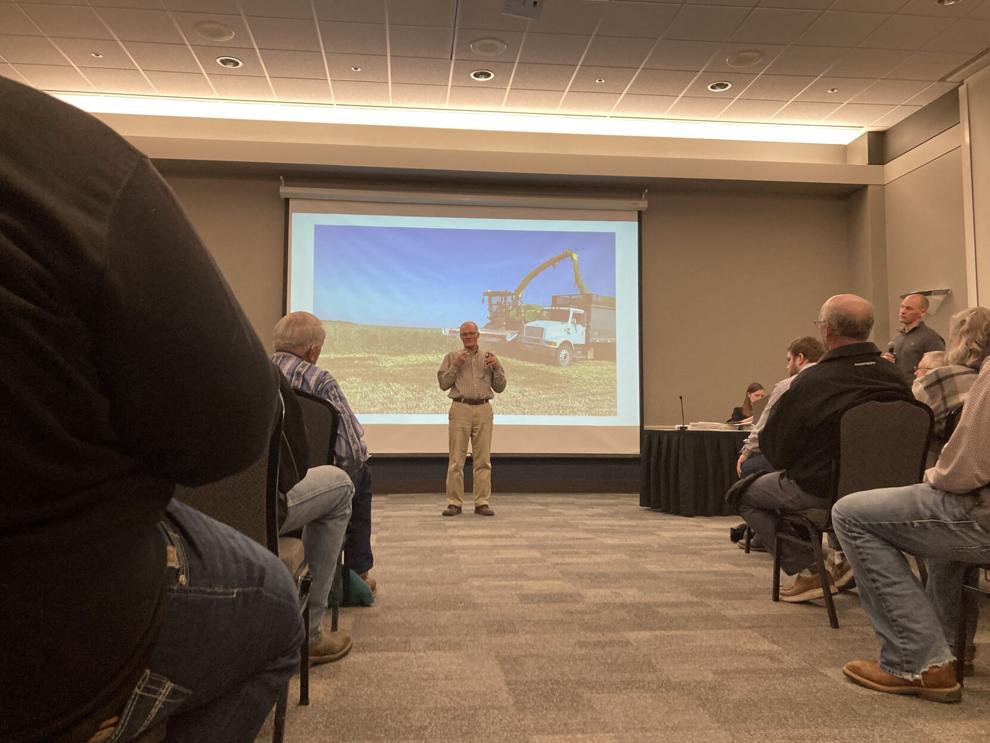 Sustainable practices are a big focus. Patrick Jones of Jones Family Dairy near Spencer, Iowa, talked about how cover crops fit into his operation.
Jones milks 1,300 Jersey cows and farms 1,400 acres while also raising the young stock. He's grown cover crops, mostly winter rye and triticale, for 20 years. It works well as highly digestible forage, he said, when the rye is cut early at the boot stage. It harvests well at 75% moisture. In the bunker, he's careful to pack it well and tarp the sides until it's fed in the milk cow rations.
About half of his acreage he cuts late, when the rye is about 5 feet tall and just about the head out. This makes feed for the dry cows.
Corn is planted without tillage after the rye is sprayed with Roundup. It make a very nice corn silage, Jones said.
"If you lose a few tons, we make up for it in quality," he said.
Forage association members said they hope to share more information like this.
The next meeting of the Northern Plains Forage Association is set for late March during the Central Plains Dairy Expo, held at the Sioux Falls Events Center. Plans are for a business meeting and speaker at 2 p.m. March 29 and 30. There are two attendance options, but the same material will be covered both days.
Janelle is editor of the Tri-State Neighbor, covering South Dakota, southwestern Minnesota, northwestern Iowa and northeastern Nebraska. Reach her at jatyeo@tristateneighbor.com or follow on Twitter @JLNeighbor.