The winter blast in early October dropped about 3 inches of snow and an inch and a half of total moisture in the Hand County area. Fortunately, all of the snow melted in a few days, crop watcher Tom Morog said.
Just before the Oct. 11 snowstorm, the Morogs started combining soybeans and had about 500 acres completed. They resumed harvest last Monday and completed about two-thirds of the soybeans that week.
"It has been a stop and go combining season," Morog said.
Six days in a row has been their longest stretch of harvest work. Rain fell again Sunday, Oct. 20 making it too wet to harvest for several more days.
Mud is a big issue this season. The Morogs had to pull the combines out a few times with a heavy tow strap, attached to the front of the grain cart tractor for extraction.
"So far there have not been any difficulties, other than the deep ruts that are left behind," Morog said, adding that conditions will only get worse as the fields get wetter.
For no-tillers this is a dilemma, he said. In his experience, ruts most often heal themselves over time, depending on the size and type of ruts.
He purchased a pair of low side wall (LSW) tires for one of the combines, which are single tires, 48 inches wide. Compared to the dual tires, they can go through wetter soil and leave smaller impressions and soil compaction.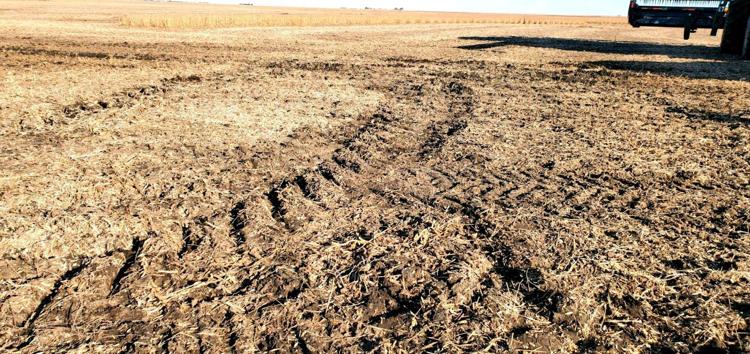 Fall fertilizer application has been non-existent in Hand County. Soils have been too wet to drive over to apply anything, Morog said.
"The most we may get done is getting the crop out of the field," he added.
Water was standing in many fields where it has never stood this late in the fall. It had Morog worried that next year's planting season would be anther wet one.
For now, days are busy with harvest. The Morog crew gets ready each morning by fueling, greasing and checking oil on all of the equipment. They blow off the combines with compressed air and set up the yield monitors. The crew discusses field conditions and makes a plan for delivering the crop to the bin site or elevator. Finally, they wash the windshields and head to the field.
The harvest crew consists of full-time co-workers and two helpers – one who trucks and another who drives a combine, for a total of eight people.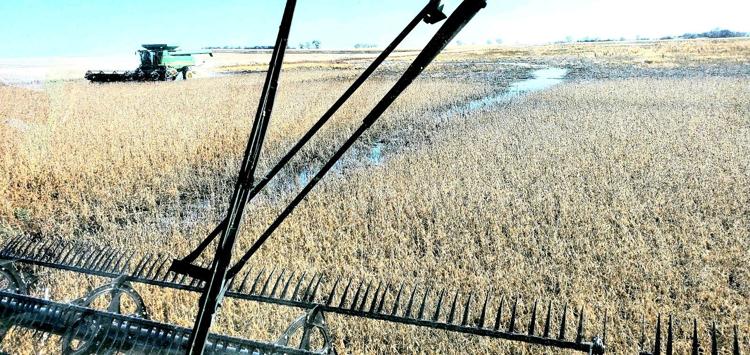 "We are very fortunate and appreciate working with a great group of people who are both talented and easy to work with," Morog said. "It also helps to make things run smoothly, when we all have either planted, sprayed or combined these fields before."
Since the weather dictates the day's activities, the Morogs continue to repair and upgrade equipment as they wait for the harvest to continue.
"The question is when will conditions be right again?" Morog said.