Weather in 2018 made for a challenging year for controlling weeds, but one agronomist is urging farmers to "stay the course."
Winter is a good time to make a plan for the next growing season. Syngenta agronomist Wally West, based in Brandon, South Dakota, suggests looking field by field at which weeds are present and creating a plan to put into action as soon as conditions are right for spring fieldwork.
Preparation is key, especially when many farmers skipped the fall fertility, spraying and tillage work because of the late harvest. Soybean harvest went into late November in some areas, and the ground was frozen by the time farmers were ready to prep for next year.
"It's potentially going to be a stressed spring," West said.
He urges farmers to start next season by running a good residual herbicide program with a strong post-emergence treatment.
Last year, most eastern South Dakota growers were able to make their pre-emergence applications without too much trouble, but it was extremely wet when it came time to do the post-emergence treatment.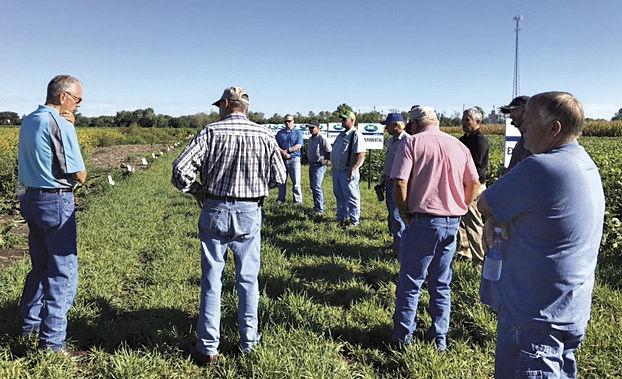 West said it was obvious where the post-emergence treatment was skipped. Water hemp could be seen growing tall above the soybean canopy.
Coming off a challenging year, West reminds farmers not to overact. "Just stay the course. Next year will be different," he said.
In the last few years, volunteer corn has been a challenge. West said it's partially a function of better corn yields and better combines. Combines have bigger capacities and work more quickly, but it can mean more head shatter and grain being left behind. Many growers run a roller ahead of planting soybeans, which makes a good seedbed for next year's beans, but also helps along any corn left in the field.
"All those add up to volunteer corn being more of a problem than in past years," West said.
It's a challenge, he said, because no pre-emergence products are available for controlling volunteer corn in soybean fields. Syngenta's Fusilade is an herbicide that can work for post-emergence applications. Last year, the product was approved for tank mixes with XtendiMax and Egenia herbicides, making it usable on dicamba-tolerant soybeans as well as conventional beans.
Volunteer corn is one issue, but most growers tend to focus on broadleaf weeds. Many broadleafs like waterhemp have become resistant to glyphosate, and as a result, many producers are backing away from using glyphosate in their weed control programs, West pointed out. He reminds growers that it's still an effective tool against problem grasses.
Grasses like foxtail, green and yellow giant, barnyard grass or watergrass and wooly cupgrass will make a comeback without a good weed control program, he said. In western South Dakota, it's biennial grass species such as cheatgrass, and bromegrass that cause problems. West suggests a solid pre-emergence treatment.
West said farmers are good about thinking long-term and planning ahead, and that's the way to approach weed control.
"Good things will happen, but it's all around the planning," he said.