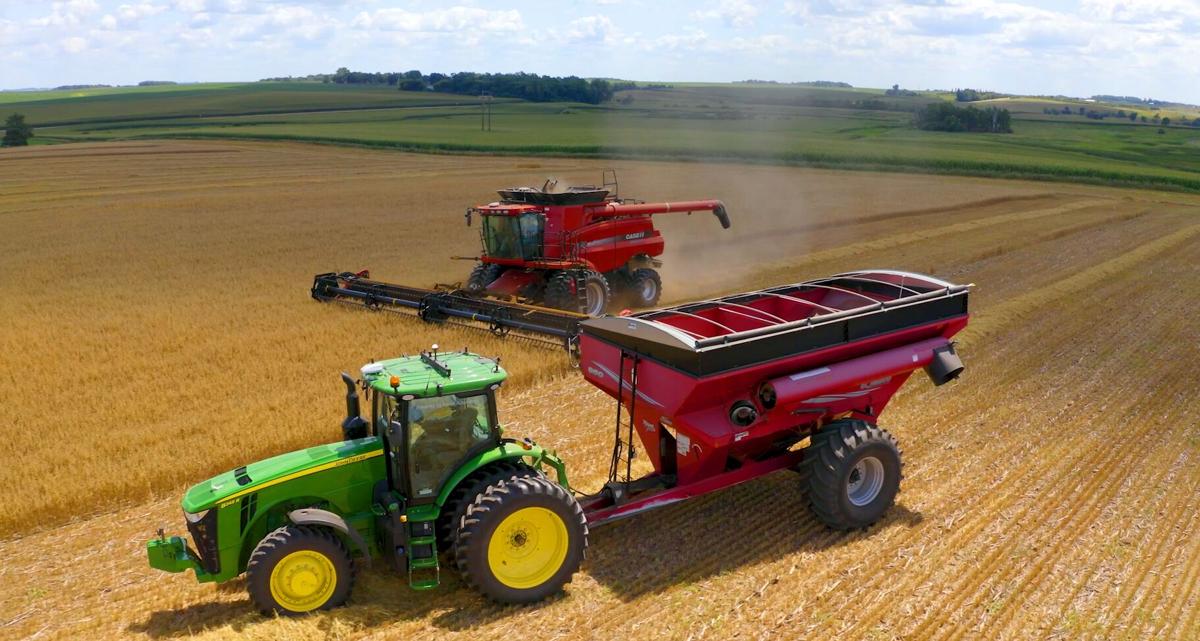 Precision agriculture has exploded in the 21st century, and with it comes the ever more prevalent reality of fully autonomous equipment.
Between drones flying over the field, and tractors pulling planters or sprayers while driving at the will of a computer, many foresee farming becoming more focused and less labor intensive.
At the beginning of the year, one of the world leaders in agricultural autonomy, Sioux Falls-based Raven Industries, began accepting orders for their first commercially available piece of driverless ag technology, the Autocart.
The Autocart is a fully autonomous grain cart that can pair with Raven's Slingshot precision ag equipment to mirror combine activity at whatever pace is set by the farmer.
"That is a level of automation that wasn't available before and it's been in our wheelhouse for a long time," said Sarah Waltner, general manager of Raven Applied Technology.
She and her division have been working on the autonomous platform for many years. The Autocart was the next step in securing a more stable operation for farmers, she said.
"We're looking at those places where the machine can take out the human error and drive for many hours in the day," she said.
Avoiding the task of finding labor at harvest time can also help eliminate some stressors in the field, she said. When it comes down to deciding between getting your crop out or holding off on harvest because there isn't enough help, it's a no-brainer with the Autocart, she said. 
"It's a matter of 'will I get my crop out (or not)?'" she said.
Perhaps the biggest challenge to autonomous platforms, in general, is getting farmers to adopt the new technology. It's something that Waltner said she isn't worried about because farmers, as some of the "most ingenious people around," are able to adapt.
"The only way you make it as a farmer is if you have a whole lot of grit and a whole lot of 'we're gonna figure it out,'" she said. "It's not an easy job."
While some assume that autonomous platforms are only for those with thousands upon thousands of acres to farm and not enough time to do it, Waltner said she sees it more as letting farmers stay in the field they love. Autocart can help eliminate stress on the farmer and allows them to focus on more important things, she added.
For some custom farming companies, autonomous technology is what makes their service work.
Craig Rupp, owns and operates Sabanto, a Chicago based custom farming company. He sees autonomy as simply the most realistic way to complete a task on the farm.
"It's an odd feeling laying in bed at 11 o'clock and I was just remotely watching this tractor out performing in the field," Rupp said.
Sabanto has been pushing autonomous planting and field work for several years now. The company uses four separate autonomous tractors and focuses on smaller, five-row planters instead of massive pieces of equipment working on their own. With the smaller approach, Rupp said they learned that focusing on grower relations has helped introduce autonomy in parts of the country that wouldn't normally change up their strategies.
"If we focus on a grower and introduce autonomy into their operations, we'll get a little further down the road," he said, adding that organic growers looking for smaller tractors to do their fieldwork have taken interest in their services.
Pushing the boundaries is what Craig Rupp and Kyler Laird do best, and bringing autonomous p…
With new autonomous options coming online as the newest decade begins, Waltner said that connectivity will become a major focus. The equipment needs a strong platform available off the field will help make sure the pieces work together. To that end, she said working to improve broadband infrastructure across South Dakota and the rest of rural America will go a long way to make sure agriculture keeps up with demand.
When asked about when full autonomy is coming to the marketplace, Rupp said that his platform is already here and being tested. Following the demand he's seen for Sabanto services, he expects the size and scale to be smaller.
"Autonomy will bring less horsepower and weight into the industry," he said.
It's possible there will be less demand for massive tractors and planters when tasks can be completed over a longer time period without worrying about a driver needing a break.
"There's going to be a day where people drive by a field and see a tractor autonomously performing a field operation and they aren't going to stop like they do today," he said.
Perhaps the biggest step will be when farmers can leave the tractors to their work and focus on more important things to keep the operation moving.
"I could physically go somewhere to work on other equipment or repair some things," he said. "There are other things this person can do."