Pushing the boundaries is what Craig Rupp and Kyler Laird do best, and bringing autonomous planting to the forefront of agriculture is what they've set their sights on next.
Rupp and Laird are co-owners of Sabanto, an Ames, Iowa-based business that aims to use autonomous systems to custom plant for farmers across the Midwest. With a lofty goal of 10,000 acres planted by the end of 2019, Rupp and Laird were bogged down by endless moisture, mechanical and software hiccups at the end of June, but their spirit hasn't wavered.
"The weather sure made that a stretch goal," Rupp said.
Sabanto made it to Iowa, Nebraska, Minnesota, Illinois and Indiana fields this year. There were plans to get into South Dakota and Wisconsin but it just didn't come together.
"It was not enough acres," he said.
Although their goal wasn't met, the successes from their first year out with their autonomous platform cannot be discounted, Rupp said. They worked through software glitches that interrupted GPS. It was weather that was most frustrating, making for what seemed like endless days waiting in water filled fields.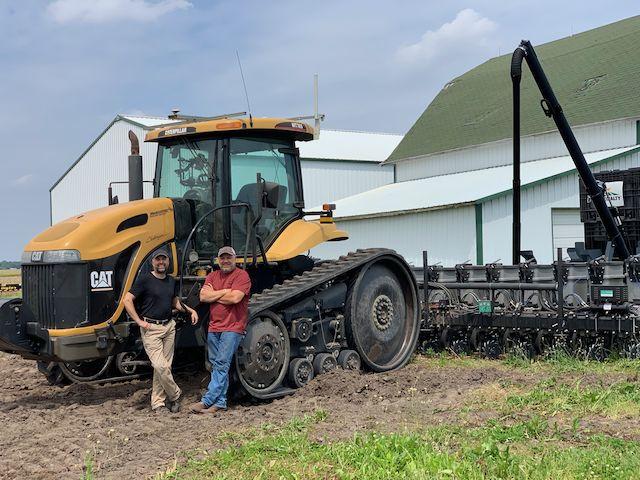 "I got there and saw all the fields and said: 'My god they are all rained out,'" Rupp said. "I kind of love that though. I grew up on a farm. My dad found a solution that would get him by without any issue."
Sabanto, which means "servant" in Japanese was Rupp's design for "something strange sounding." He got into the business when judging an autonomous ag contest. By blind luck, Rupp happened to be there when Laird showed off his autonomous platform that had already planted 500 acres in Indiana.
"I just thought it was pretty interesting," he said.
After long talks about how autonomy will impact agriculture, both Rupp and Laird decided that they'd like to see the process in action. Without much convincing, Laird was on board to start planting this spring.
They went to work gathering all the equipment they needed, and decided they'd do the planting themselves by driving to each location together. With newly acquired trucking licenses and a portable autonomous platform with a JCB Fastrac 4220 tractor, Rupp and Laird hit the road. The small tractor was picked because it fits on a trailer.
Quickly, Rupp said they learned that their lofty goals of wanting to plant everywhere had to be scaled back to a more reasonable approach.
"We wanted to farm from Texas to Canada," Rupp said. "Unfortunately, we learned that there are a lot of different agronomic practices."
Most farmers they worked with just wanted to see how planting would work with autonomous equipment, Rupp said, while a few seemed to reject the idea because they don't want technology to replace the need for farmers. Rupp is certain the equipment can't replace the know-how of a farmer.
"They aren't just tractor jockeys. They are agronomists, marketers, business managers," he said. "This is a tool for them."
As they wrap up their first season of planting, Rupp said they will get to work improving their system for next year.
With a bit of luck weather wise, he hopes to plant 10,000 acres in all Midwestern states.
"I enjoy the country," he said.