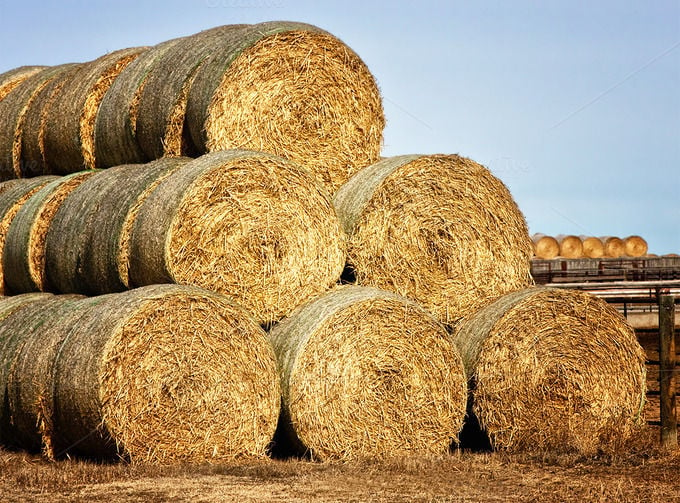 One common sighting on a country road is the hay bale. Round or square, you are bound to pass one or endless rows of bales at least a dozen times in any journey. But the storage of those hay bales is often overlooked.
Hay bale storage was the topic of a webinar presented by South Dakota State University Extension agronomist Sara Bauder as part of the Crop Hour series Feb. 26. She gave insights using data from a 2019 field test SDSU conducted storing hay bales in various ways and configurations.
The testing period, between Feb. 1 and July 31, 2019, came with 20 inches of rain in one of the wettest years on record for South Dakota. The near record rainfall helped the university study the rate of moisture retention and draining in various storage techniques.
"We probed each bale about 30 times and got a good picture of what that bale looked like," Bauder said.
The test looked at four different ways of storing hay bales, with two hay bales stored inside on a dirt floor as the controls. The controls tested at less than 20% moisture, which is the ideal level for hay.
The first test looked at bales stored in rows with the flat side touching and at least a 15-inch gap between rows. Bauder said, and the results were OK with 66% of the hay bales at over 22% moisture.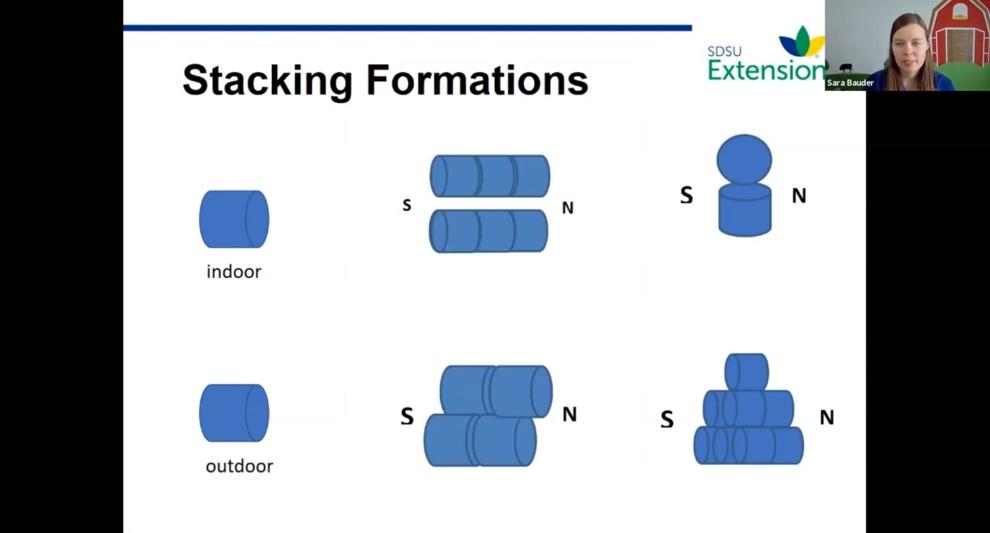 "22% isn't terrible, but it's also just not as dry as those under a roof," she said.
In spaced rows, rounded edges allowed for water to run off and not get trapped between rows. The flat sides pushed together blocked any excess snow buildup between bales but also reduced the drying rate for each individual bale.
"The research behind bale storage is fairly inconclusive on whether they should be stuck together or not," Bauder said.
The next test had the same row configuration, but with the rows pushed together. It's one of the most common methods of hay bale storage because it's the most space-efficient. But the study found it trapped far more moisture than storing with rows spaced. More than 20% of the bales were greater than 30% moisture.
"This isn't the greatest, and we saw less spoilage from bales that were spaced between rows," Bauder said.
The amount of trapped moisture between rows tended to spoil most of the hay before it had a chance to dry, she said.
The mushroom stack – with a bale stored flat-side down and another rounded bale stacked on top – is used as a windbreak as well as storage. But it almost always entirely ruins the bottom hay bale, Bauder said.
"I wouldn't suggest doing this for your entire hay crop," she said.
The data suggested that the top hay bale was perfectly fine because it could dry, but the bottom bale would be in excess of 35% moisture.
The last method of storage the team looked at was pyramid stacking, which the data concluded leads to an excess amount of moisture – over 30% – stored in the bottom bales.
"They didn't measure as bad, but they look bad," she said. "If you were to sell this hay, I don't think anyone would buy it from you."
After the test, SDSU put together a list of recommendations for hay bale storage. Bauder said she understands that all of the recommendations are just ideal scenarios and most cannot be accomplished on every farm, but it's worth looking into to make sure there aren't better ways to avoid hay spoilage.
"You put in a lot of work putting up hay and we want to see you store it well," she said.
The recommendations are as follows:
Avoid shaded areas. Shade from tree belts or buildings don't allow hay to dry. Specifically, trees and shaded areas should not be on the east side of the stack.
Place bales in rows oriented north to south with three to 4 feet between rows. This helps dry the bales after a rain and allows sunshine to hit the most vital parts of the bales.
Use a slight south-facing slope to store your hay bales.
Net wrap bales to retain shape.
If you do need to stack hay bales, cover them to help eliminate environmental pressures.
SDSU has a video guide on the best ways to both store and test hay bales on the extension website. When monitoring moisture, SDSU Extension recommends taking at least 20 core samples from 8-10 bales per lot.