It's been a beautiful week for crop watcher Shawn Freeland at his Caputa, South Dakota operation.
Since Aug. 1, Freeland recorded 3.14 inches of rain, and it came very casually.
"Just beautiful storms with very little wind and nice showers," Freeland said.
Unfortunately for some neighbors, the rain wasn't as nice and relaxed. Just 6 miles north of his operation, 6 inches of rain fell within a few days. The heavy rain derailed a train trying to pass through the flooding, Freeland said.
As for the crops, Freeland said it's smooth sailing for most things on the operation. While last winter's cover crop didn't go as well as he'd hoped for grazing this summer, Freeland said the fall covers are better off.
"The crop looks excellent," he said. "Seems like everything that was planted later is good. If you planted in June it just stayed too cool."
He got done planting a cover crop for his neighbor and said producers in the area are also incredibly pleased with how the wheat turned out. Reports he's gotten said that producers are pushing yields of 60 to 70 bushels per acre on their harvest wheat.
Other crops, however, have been a bit of a struggle as Freeland and his family were late to plant pumpkins but there is still hope for them yet.
"I'm hoping that they'll make something but time will tell," he said.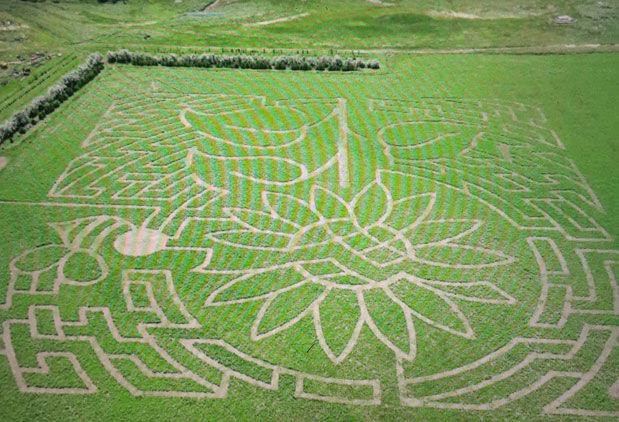 Freeland's other experiment from the beginning of the year, his cover crop maze, is struggling but maintaining at this point, he said. The crops aren't as tall as he'd like, but he still enjoys mowing the ground and getting to walk the maze. He's looking forward to talking with people on why he used cover crops instead of corn for his attraction.
As summer winds down, Freeland said it really hasn't felt like summer at all.
"With the humidity and the moisture I feel like we just kind of skipped summer," he said.
Recent weather has done a number on the hay, Freeland said, as many producers can't put up hay without there being a rain shower in between.
Family summer fun is also drawing to a close for the Freelands as his two daughters will be heading back to school soon and have already begun summer practices for both volleyball and dance.
Freeland said he will make a trek to Dakotafest to sit in on the South Dakota Soil Health Coalition's meeting and walk the grounds, but first he has to get to a wedding in Nebraska and stop by a workshop on alternative cattle judging.