Well, soybean harvest is a wrap! We started on the Sept. 23 and finished Oct 1. We normally start Oct. 1.
Bean yields were variable. We had areas that missed the 1.5 inch rainfall we had the end of July. They ran in the low 50s. Fields that caught that rain were in the mid-70s, so overall a good bean crop.
I got my fourth cutting of alfalfa baled this weekend. It's not much for quantity, but the quality was excellent. When I think that I never mowed my lawn in September and maybe once in August, I guess you can't expect much for hay! My friend has a 336 John Deere square baler, so a few times each summer I get reminded of why round balers were invented!
I have seen some very nice cover crop stands in the area on fields that were chopped for silage. It is nice to see that soil saving practice being used more and more. We had two nights of a hard freeze, so I don't know if it will continue to grow or go dormant, but either way it's established.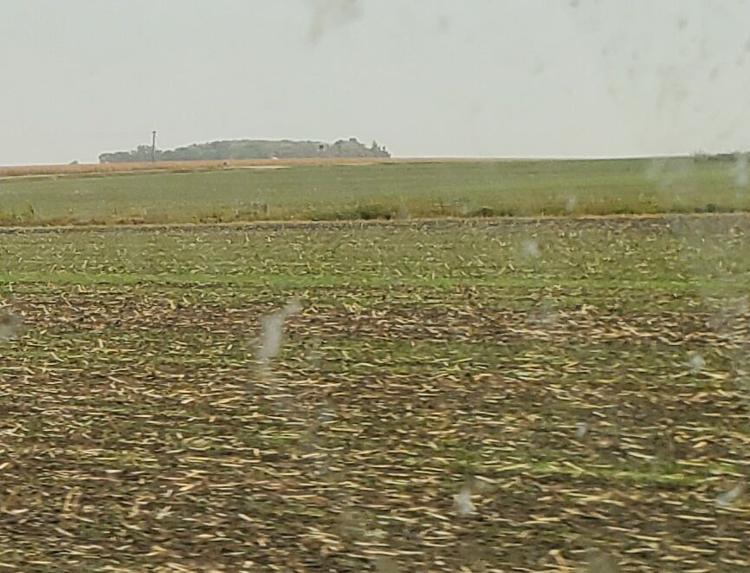 We kind of took the weekend off from harvest to do some catch-up work, but Monday morning we were ready to get back to corn harvest.
We did some corn on corn late last week that was disappointing. We had heard from silage choppers that corn on corn got hurt more from drought, and they were correct. This field was in an area that seemed to miss most rain events, so I figure the worst is done.
Most corn being harvested is ranging from 13 to 19% moisture. From the looks of the weather this week we will dry some more. It's time to get it before it dries too much more.
We plant quite a bit of full season corn, and that is testing 22 to 25% moisture, so this week will help that. Looks like propane sales will be down this year.
We are definitely in need of some rain showers. Our soil profile is empty and the fire risk is very high. The county to the west of me is actually asking farmers to not harvest because of fire risk, and many field fires already have occurred.
I know farmers, and when you have 10 days with no rain forecast you're not taking a break. You have the disk hooked up and fire extinguishers in every implement.
I hope we can get by with less wind this week and everyone stays safe.
Kelly Nieuwenhuis farms in O'Brien County, Iowa. His report was filed Oct. 5.