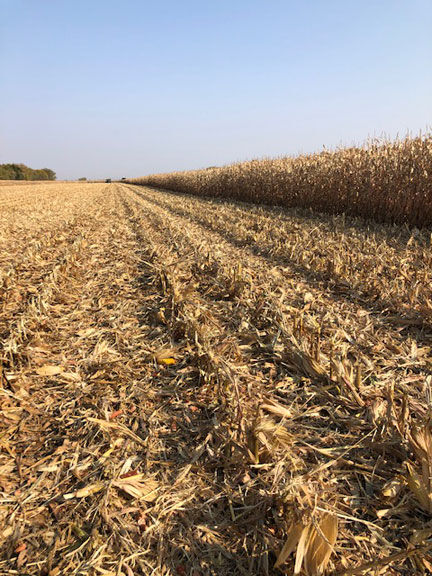 Harvest was brought to an abrupt stop the week of Oct. 19 when we received rain and then 4-6 inches of snow.
The whole week we received around 3/4 of an inch of moisture, which helped alleviate the fire dangers we were seeing. It did however keep us from doing any combining for about nine days.
After we resumed, the fields were definitely greasy for a few days but they have dried out nicely and hopefully we will be mostly wrapped up with corn harvest in a week.
The snow did cause us to have to feed cows on pasture for a few days, which is never a good thing in October. The snow melted off fairly fast and everything is back to grazing now. We hope to get our cornstalk bales made this next week that we use for bedding cattle this winter.
COVID has definitely been increasing in our area with more and more people testing positive. One of the local schools closed down because of it. Hopefully we can all do our part to start going the other way soon and start seeing fewer cases.
On a sad note for our town and state, we unfortunately lost the open class beef barn at the State Fair grounds to a fire this past week. This is a huge hit to the agriculture community in our state that relies on this facility for so many things. Hopefully the state can come together quickly to figure out a plan to rebuild it.
Matt Bischoff farms in Beadle County, S.D. He submitted his report Nov. 2.