The St. Lawrence area was without rain for two weeks when it poured the night of Aug. 25, dumping 1.25 inches on the Tom and Renae Morog farm.
"The corn and soybeans look great," Tom Morog said. "Many soybeans are thigh high, some with up to 60 pods. There are some still blooming, while others have finished and are trying to grow new pods to maturity.
The corn, at 8 to 10 feet tall, has had plenty of rain and has a healthy green color, he said. Ear maturity ranges from just blistered to milk stage.
"If this were Aug. 1, instead of almost Sept. 1, we might be in for a bumper crop," he said.
Winter wheat harvest was wrapping up, but there was spring wheat left in the field, making it possibly the latest harvest on the books.
"We will need an extended, frost-free fall to get the crop to maturity, some good weather to dry it down in the field, for those of us who don't have dryers, and time to harvest before the snow flies," Morog said, adding weather has been uncooperative – too cool to speed plants to maturity.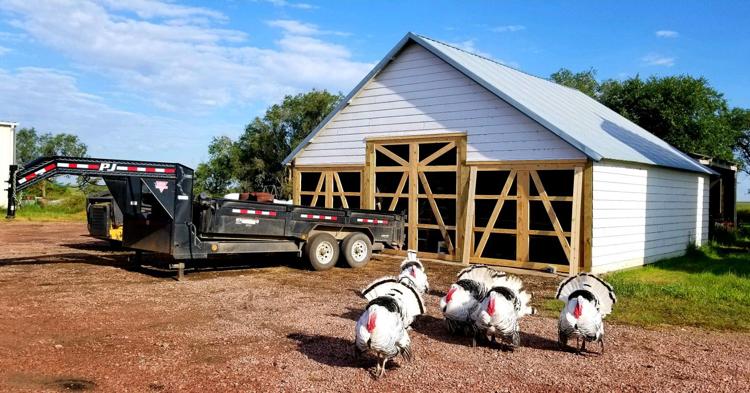 After rain in early August, it took until the 23rd spraying some fallow fields again. Morog sprayed about 800 acres into Saturday afternoon before the southeast wind came up. His new sprayer floater tires made all the difference in not getting stuck, he said.
Sunday was too windy to spray, and Monday morning rain will likely make it another two weeks before work can resume. Weeds were getting tall, and Morog hoped to terminate them before their seeds become viable.
Most farmers completed their second cutting of alfalfa and it looks like there will be a third. A rancher friend said there is so much grass hay this year they don't know what to do with all of it. Pastures that are typically bone dry and brown are still green with growing grass.
The Morogs have been busy restoring buildings, upgrading equipment, improving field approaches, installing grass waterways and landscaping around the farmyard. Renae said it's easy is to pull the weeds in the perennial flower beds after all the rains.
The Morogs hosted a group of reporters and a film crew from Japanese public television who were investigating gene edited, high oleic soybean oil. They found the Morogs through a March 15 Tri-State Neighbor article about the Morogs growing Calyxt, high oleic soybeans.
Gene edited soybeans are hitting their stride in South Dakota, and after lengthy test period…
"They wanted a farmer's perspective, and we spent a full day filming in the field and at the farm," Tom said.
He was looking forward to the State Fair, eating Forestburg melons and an extended fall for the crop.