A new piece of technology is hovering over fields in South Dakota.
Nick and Katie Williams of Mitchell, South Dakota started Williams Drones in August, making them the first South Dakota spray applicators working by drone.
Nick, who spent 10 years with CHS, and Katie, who works as an insurance agent, realized the potential of commercial spraying with drones at a Rantizo demonstration at the company's home base in Iowa City, Iowa this past July. The Williams quickly got started as the first South Dakota subcontractor for the Rantizo drones.
Nick Williams worked to get his drone pilot license and is now able to fly three of the commercial drones in a swarm to spray precisely where it's needed in the field.
"That's where the productivity comes from," he said. "We don't have to cover the entire field, and we have the accuracy that airplanes don't provide. The ability to be precise and only spraying where needed (is huge). It's centimeter-level accuracy on them."
Katie Williams, 34, grew up in Parkston, South Dakota while Nick, 33, grew up in Arlington. After meeting at Lake Area Tech, the couple got married and moved to Katie's grandmother's old place and fell into agricultural life.
Rantizo began three years ago, and CEO Michael Ott said that drones have finally caught up to what people assumed they would be capable of half a decade ago when they emerged on the agriculture scene.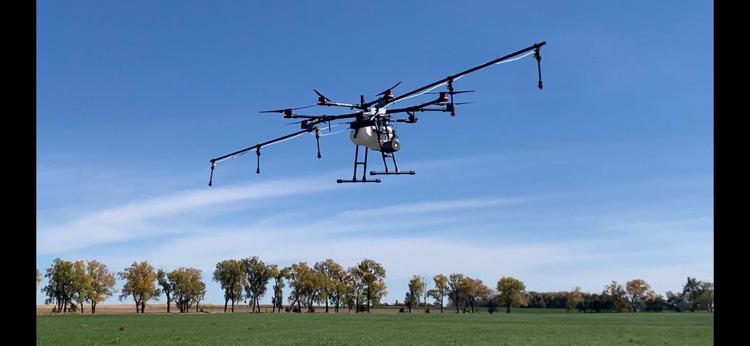 The company developed an upgrade kit for the drone that includes different pumps and spray booms. It's added to DJI drones – the largest drone manufacturer worldwide. By Ott's estimation, Rantizo is the first drone company nationwide legally using drone swarms to apply chemicals, pollinate corn, and even seed cover crops. As they've broken down doors, Ott said there have been "some bruises."
Working through Federal Aviation Administration (FAA) regulations has been tricky. The FAA classifies drones used in this way in the same category as cropdusters, Ott said. Some early hiccups that amused Ott came in the form of seatbelt regulations that required their drone pilots, who often are completely stationary on the ground, wear seatbelts while operating the drones.
The major benefit to the three-drone swarm – which Rantizo is actively lobbying to increase to a five-drone swarm – is that the system can hover over precise locations in a field down to inch-level accuracy.
"We apply without soil compaction, can fly into rain, can have multiple units," he said.
The benefits of drones are being felt in South Dakota. Williams said he has already received requests to spray in places like pastures, or around conservation ground, where farmers and producers don't want to drag heavy equipment through just to solve one problem.
"It's hard to find people who will spray and run ground rigs in that," Williams said.
The drones are roughly 6 feet in diameter when the booms are fully extended. The swarm can cover large amounts of ground using multiple battery packs.
So far, the Williams' have put on several cover crop demonstrations and done a handful of spray applications since August as more customers look to see just how a swarm of drones could replace the tried and true tractor methods. Williams said at one of the demos, people ended up pulling up alongside the road and getting out of their car to watch the drones work.
Up next for the Williams Drone fleet would be adding more, should regulations ease on the drone use, and getting a mix and fill station to automatically mix chemicals for the drones. Both Williams and Ott said that in the next few years, they expect their drone rigs to replace any commercial sprayer in the field.
For now, Williams said he is happy that he can quickly get in and out of problem areas for his fellow farmers and help them spray what needs to be sprayed.