Shatter loss is just a side effect of farming with combines. As the machines turn, kernels get stuck, fall out or shatter, but for Shawn Gengerke, the loss doesn't have to be written off.
Gengerke is the CEO and founder of Leading Edge Industries – a Groton, South Dakota-based ag tech company that focuses on making products to solve issues that crop up on the farm. The company's flagship product, Operation Harvest Sweep, is making its name across the nation by effectively eliminating shatter loss on combine headers.
"We were the first ones in 60 years to build a system that actually works," Gengerke said of Harvest Sweep.
The unit is a header replacement kit for combines. It comes with all new deck plates, gathering chains, and impact pads and sweeps – all designed to make sure shatter loss is a thing of the past.
After launching in 2013, Leading Edge worked to make sure the kit works with every different kind of corn header.
Over the two years of testing Leading Edge did before launching in 2013, and over the last six years on the market, Gengerke said Harvest Sweep is now reducing corn shatter loss by up to 85% across all models.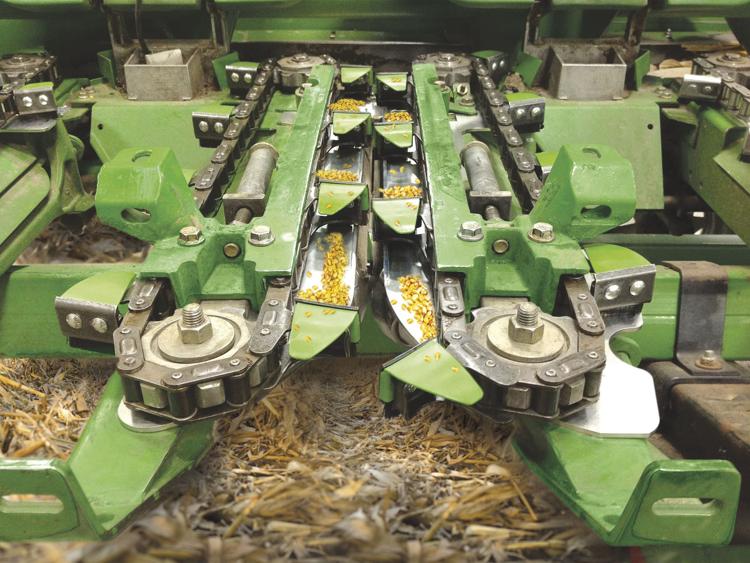 "If you're looking at an ROI it's absolutely huge for the farmers," he said. "It's huge money and our return on our product is 100 to 150% the first year."
Based on quick calculations Gengerke did on the phone, he said farmers typically lose roughly $24,000 during harvest to shatter loss alone. Getting that back in farmers' pockets is his No. 1 priority.
"We're right there alongside them," he said.
Gengerke is a fifth generation farmer himself and, along with Leading Edge, owns and operates his family's ground. Because of his shared experience with his customers, Gengerke said he aims to make products that everyone needs. And they're all unique.
"There can't be any part that's ever been done before. We focus on products that are truly first of its kind," he said. "That's what we're doing – we're fighting for the farmer."
Ten years ago, Gengerke started Leading Edge after noticing a lot of things on his farm were costing him more money than they should. He was losing corn and dealing with poorly loaded trucks.
"I'm just a problem solver, I guess," he said.
When he realized how much of his profit was being lost to shattered corn, he looked around and found that no company had solved the issue – a problem that's existed for as long as corn harvesters have been around, he said.
"We have drones flying in our fields but couldn't stop corn falling out of the head," he said.
Overall, Gengerke said he's glad he can help farmers with the issue and hopes people check out Harvest Sweep if they are suffering from shatter loss like he did.
He praised farmers for being good operators and looking out for their bottom line wherever possible.