"That's dicamba's characteristics," said Edward Fett, pointing to the cupped and puckered leaves of his organic soybean plants.
It's been a perennial problem in his organic soybean fields north of Lennox, South Dakota in recent years. This year, he's stumped over how dicamba got to his field, which is surrounded by corn.
Damaged soybeans can be seen throughout the Northern Plains this year, and everyone seems to have his or her own theory on what caused it.
In northwestern Iowa's Cherokee County, farmer Mark Johnson is puzzled, too. In past years, his soybeans have suffered dicamba injury. Calculating the wind direction, he could always tell where it came from. Not this year.
"I'm half a mile away from anyone I'm aware of that actually used dicamba," Johnson said. "How does it move a mile away to my field?"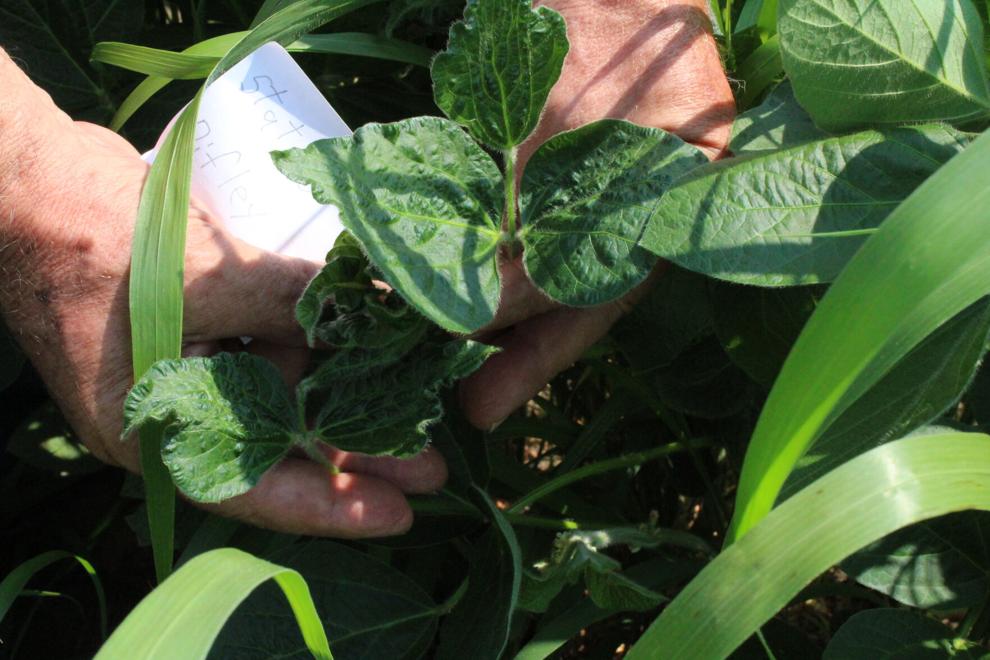 He said dicamba damage is evident pretty evenly across his field of Enlist E3 soybeans, which he grows for seed. Growth is stunted, he said, but the plants don't appear to have fewer nodes. He hopes that means yields won't be hurt.
Johnson and Fett think the weather early in the growing season contributed to dicamba drift.
"We had July weather in June, which makes it move," Fett said.
Daytime highs were around the mid to upper 90s for much of June. It's a problem when temperatures are hot and the air is humid, Johnson said, because dicamba can hang around for so long in those conditions.
Not all puckering plants are suffering from dicamba drift, according to Paul O. Johnson, weed science coordinator for South Dakota State University Extension.
"You can't tell driving by at 60 mph," he said.
Crops across the region are suffering from heat stress. There may be a carryover of chemicals in the soil because of how dry it's been in the last two years, said the weed expert.
"The whole drought and dry conditions are really adding to what we're seeing out there," he said.
Iowa farmer Mark Johnson said the cupping leaves of his soybean plants are more than heat stress.
Fett suspects his damage, which was concentrated at the edge of his field and in low-lying areas, came from dicamba sprayed on neighboring corn fields.
"This did not come from dicamba sprayed beans," he said.
He contacted the local cooperative to learn which herbicides were used on those fields. They told him it was Status, a mix of dicamba and diflufenzopyr, and Diflexx, which is a dicamba blend with crop safety technology.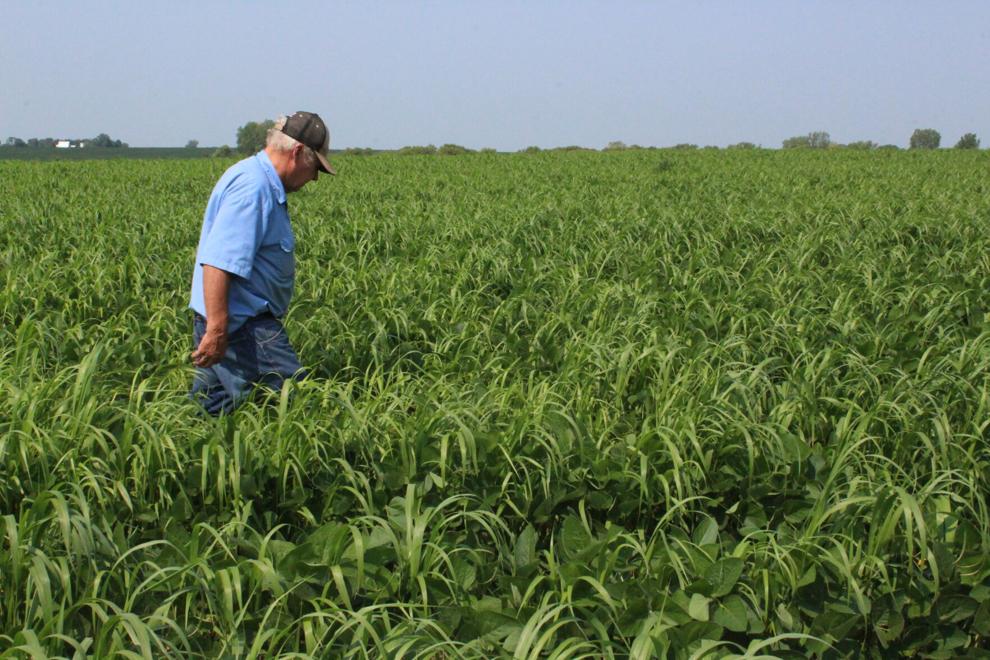 Older forms of dicamba that are often used on corn and in pastures are known to have vapor drift anytime the temperature is over 85 degrees, Paul O. Johnson said.
Federal restrictions for certain dicamba products set June 30 as the cutoff date for spraying the herbicide. That applies to newer dicamba products: XtendiMax, Engenia and Tavium.
When those herbicides and the dicamba-tolerant soybeans to pair with them came on the market for the 2017, complaints about off-target drift and crop damage soared.
Fett estimates that it cost him 5 bushels per acre last year, what he said is significant for his organic crop that sells for $35 per bushel.
"It counts up pretty dang fast," he said.
Growing organic since 1995, he follows those rules that don't allow for planting genetically modified seed like those dicamba-tolerant varieties.
"People buy them just to be protected," he said. "I can't do it."
Fett logged his complaints with the state each year. Last summer, a representative from the state's ag department visited to see the damage, but Fett said nothing more came of it.
Dicamba damage is not an insurable risk. A farmer with lower yields due to dicamba drift will not receive indemnity from his or her crop insurance policy for that specific damage, explained Alejandro Plastina, economist with Iowa State University Extension.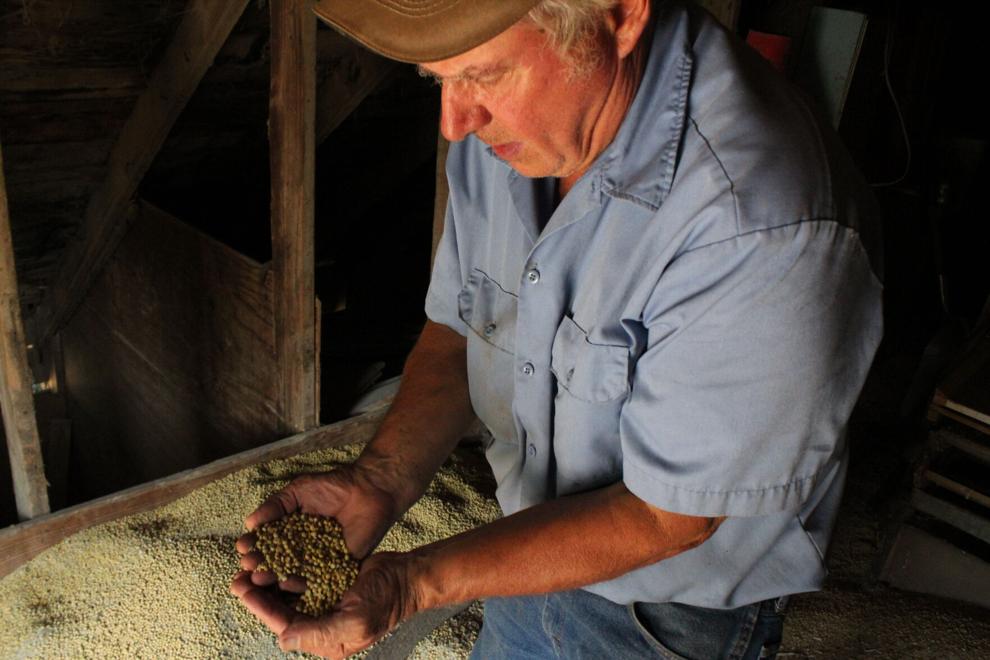 In South Dakota, the state receives about 50 pesticide incident reports per year, according to Brian Walsh, spokesman for the South Dakota Department of Agriculture and Natural Resources. In 2019, 14 reports were related to dicamba. Last year it was 17, and as of Aug. 2 there have been 14 alleged dicamba incidents.
The ag and natural resources department investigates each report to determine if state law has been violated. That might include talking to the person who filed the report, talking with applicators, reviewing files, site visits, and sample collection, Walsh said in an email. The department isn't involved in damage claims between parties.
"There's got to be some stricter regulation in dicamba," Fett said.
He would like to see a trust fund set up to cover farmers who lose yield from dicamba damage.
Johnson said he has seen a lot of fields that appear to be dicamba damaged in his area north of Cleghorn, Iowa. But he doesn't want to lose dicamba as a tool. He likes to use it before planting his no-till acres or spray it very early in the season before warm weather is an issue.
"It's a problem when people spray when it's 90 degrees," he said.
Janelle is editor of the Tri-State Neighbor, covering South Dakota, southwestern Minnesota, northwestern Iowa and northeastern Nebraska. Reach her at jatyeo@tristateneighbor.com or follow on Twitter @JLNeighbor.