During the planting season in Slayton, Minnesota, the average wind speed is 11.5 mph, according to tracked weather data from the National Weather Service. That number may not mean much to those outside of Slayton, but for farmers in the area it's the difference between a damaged field or a fine crop.
Josh Bonnstetter, a Slayton area producer who farms with his Aunt and Uncle, Sue and Tony, and cousin, Mike, knows exactly what the wind speed is when the sprayer comes out. Every farmer has to, and it is even more important for Bonnstetter's neighbors.
Before 2020, Bonnstetter planted Xtend soybeans on the 150-acre farm bordering his and his neighbor's property lines. When his neighbor planted Liberty-tolerant beans and Bonnstetter planted his dicamba-tolerant beans, nothing seemed to go right.
"It seemed like every year it didn't work," Bonnstetter said.
In 2020, Bonnstetter became one of just 21 farmers selected to be part of Asgrow's stewarded introduction program for its newest soybean variety, XtendFlex. The variety derives its name from its tolerance for both dicamba (Xtend) and glufosinate (Liberty) products.
"Having the option to go either way, I was excited," he said.
The Flex program came at a good time for the Bonnstetters. The 150-acre field has seen hard times as of late. In 2016, a major hail storm wiped out most of the crop and weed growth exploded. After they switched back to corn, in 2018, the same problem occurred except this time, they were ready to apply their Xtend package.
"I wanted to spray Xtend that year but we never got that northeast wind that we needed," he said.
Once planning for the 2020 year came around, Bonnstetter knew they needed a change. As he was accepted into the trial program and as the field was planted, Bonnstetter said he made plans for a normal herbicide treatment with the Xtend package but the very next morning, the California court ruling came down banning dicamba products from use. After a bit of deliberation, the Bonnstetters were able to go into the field with Liberty that same day.
Bonnstetter, 36, lives with his wife, Ashley, and his three young children, Alaina, 7, Merryck, 5, and Brielle, 3. When he isn't out in the field, he runs a custom feeding hog operation of 1,000 head. Between the three partners, Bonnstetter and his family farm about 3,500 acres.
Even with the scope of the operation and the many hats Bonnstetter has in the ring, he said they were excited to get into the stewarded intro program to try out XtendFlex soybeans. Once the offer was made from their local Chandler Co-op, Bonnstetter welcomed the opportunity.
"They've always brought to us new opportunities," he said. "We're always willing to try new stuff if we can see benefits in it. We just don't like snake oil products by any means."
The steward program
Bringing not-yet-approved soybean varieties to farmers looking to try the new Flex line is something that Asgrow brand manager Clint Chaffer said is a major part of product development. While the whole process of putting out a new line of seed technology involves many years of work, this last growing season guarantees XtendFlex works the way it's intended.
"We want to make sure we are focused around bringing that highest profitability," Chaffer said.
As the program advances and the beans grow steadily, Chaffer said the next step is to gather all the data and make sure each of the 47 unique XtendFlex varieties planned for a full 2021 launch perform as intended in the field.
"Whether it's droughts, floods, wind events, hail events, whatever it may be," he said. "That's why we do our stewarded trials. You hope you have your cards spread out enough."
One key aspect of the stewarded introduction program is a caveat that the farmer has Climate FieldView working on their operation. FieldView is a staple of the Bayer brand that Asgrow operates under, and its data collection allows Dekalb to study the necessary data points throughout the farmer's operation.
"They really turn their whole operation into a trial," he said. "Being able to do all that testing on our own farm has opened up a lot of data collection that farmers have been seeing."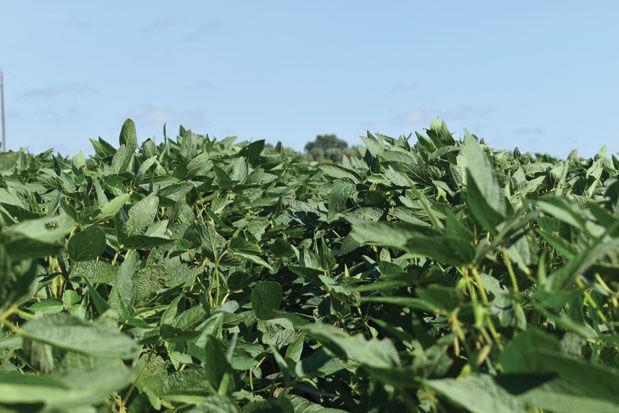 The intro trial has been a major success for Asgrow in the past, and the XtendFlex lineup is looking to follow suit, Chaffer said. As harvest approaches, Bonnsetter said the crop is looking better than anything he has used, but he has his fingers crossed.
"It's 2020," he said jokingly. "You just know that something can happen to crush your dreams."
However cautious Bonnstetter may be about the 2020 growing season, he said he is excited for the approval of the XtendFlex lineup so that he can plant all his soybeans to the newest Asgrow package.
"If they can approve this for next year, every acre I have will be XtendFlex beans," he said. "You just never know what your neighbor is going to plant nowadays between Liberty and now even Enlist beans out there."
While covering his bases when it comes to drift risk is important, Bonnsetter also likes the ability to cover products at all stages of the growing process.
In a typical year, if a field was having weed pressure, he'd come in with a pre-emergence herbicide treatment and then follow it up later with the Xtend Roundup package that the Xtend soybeans have been famous for. Now, with the Flex lineup, he can mix up his strategy to save money.
"We could maybe not do a pre and just come back late in the season after the Xtend program," he said. "If you can just do the full Xtend program, you'll save $20 an acre but if you have to come back with the Liberty, you're still saving about $10 an acre."
This flexibility is why Nebraska Asgrow technical agronomist Kevin Keller said he'll be recommending the XtendFlex lineup to all of his customers in 2021. While Nebraskans deal with slightly different weed pressures than southwestern Minnesotans and South Dakotans, Keller said the Flex lineup gives producers the ability to select a wide range of maturities while protecting against Nebraska's No. 1 soybean weed, Palmer amaranth.
"It's the wicked stepchild," Keller said.
While many producers in Nebraska will continue to do the pre-emergence package to control the weed, Keller expects those who were too late will be able to apply Liberty later in the year due to Flex's tolerance.
As 2021 plans begin to take shape, Keller said the biggest hurdle will be convincing producers to ditch their highest yield performers, which is why he is excited to see the field trials on the XtendFlex beans in 2020.
"We're bringing it because of the weed control tolerance, but a majority of our soybeans is all about the top yield," he said. "We worry about disease and standability, but the yield piece is the No. 1 checkbox."
Of the 47 varieties that Asgrow is attempting to bring to market in 2021, Keller said his area of south central Nebraska is looking specifically at 15 of them that continue the Xtend performance.
Growing a new variety
XtendFlex soybeans might be new for farmers in 2021, but for Bayer commercial development soybean breeder Mark Newell, the Flex line represents 10-15 years of work that many producers don't get to see.
Newell works with what he called "the final two stages" of plant development. The first step began when Asgrow looked at what traits were needed for farmers to prosper and then followed with testing and retesting until the variety met the company standards.
"Some traits take a lot longer than the breeding program," he said.
The in-filed trials farmers see is about 5-10% of the total number of trials that were run internally between growth chambers and greenhouses.
"We have to know that performance before it gets to farmers," he said. "We're trying to increase yield but bring another level of secondary traits – like disease or insect resistance."
As new technologies get developed, Newell said the time to market new traits may shrink dramatically.
"Gene editing gives them more power on where that gene can be inserted," he said. "The things universities are working on helps provide evidence that gene editing is safe."
As Asgrow continues to work with the Environmental Protection Agency (EPA) to approve the XtendFlex lineup for the 2021 growing season, an Asgrow representative said the company is also working closely with the EPA on approving the XtendiMax dicamba herbicide package for 2021. Earlier this year, three dicamba products were banned from further use in the U.S. due to drift damage, although the labels were already up for reauthorization at the end of the year.
Whatever the decision becomes for the XtendiMax lineup and other dicamba products, Bonnstetter said being able to grow XtendFlex soybeans will help give farmers the ability to use any product they need, regardless of court rulings.