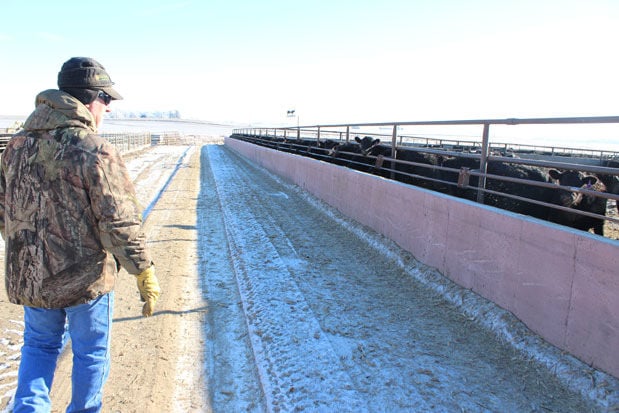 Doug Van Duyn won the South Dakota Soybean Yield Contest with a record breaking harvest, but for many years he didn't grow soybeans because it didn't pencil out financially.
Then Van Duyn started to approach his crops the way he cares for the cattle in the feedlot outside of his home southwest of Colton, South Dakota. Plants, like cattle, respond to their environment, and both are managed in relation to the weather and the nutrition they need throughout their lifecycle, as he sees it.
"It just took a different mindset," said Van Duyn, 65, a third generation farmer who works with his wife, Deb, and one employee.
Cattle producers understand the nutrition a cow needs in each trimester of pregnancy and what a calf needs in every stage, he pointed out. Producers can project the rates of feed conversion and daily gain. All that information goes into raising a better calf. Crop farmers can use similar data points to track plant growth and reproduction.
Van Duyn talks about being a "student of the plant." He and his agronomist watch fields closely throughout the growing season. He swears by soil samples, and also takes weekly tissue samples to track which nutrients the plants need.
Four years ago, when 100-bushel soybeans were still largely unheard of in South Dakota, he started his quest to raise high yielding beans. Working with his agronomist, a spot in one field hit 90 bushels per acre by year two, giving them the confidence to keep pushing for more.
This year, his winning plot yielded 113.94 bushels per acre. That's the highest yield yet for the contest put on each year by the South Dakota Soybean Research and Promotion Council.
Though he pays close attention to nutrient needs, he stresses that whatever inputs go on his crop need to pencil out economically.
The idea is to protect the plant as much as possible, to encourage it to produce flowers and retain the flowers as long as possible.
It's like when he starts a pen of cattle on feed, he said: "I want them to never have a bad day."
In the spring, the beans get a start with in-furrow fertilizer, fungicide and insecticide. Keeping the field weed-free is important, too.
Van Duyn starts taking tissue samples at the second or third trifoliate stage and continues through the R6 reproductive phase. It's difficult to keep nutrients balanced, he said, especially when an overabundance of one can keep the plant from being able to use other nutrients it needs.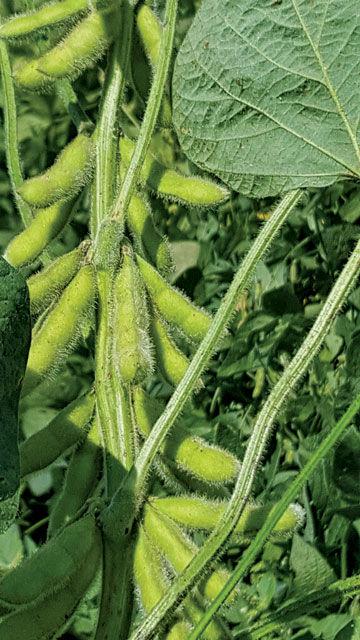 When the plants get what they need, it's easy to tell. Soybeans respond well to foliar applications.
"You see an almost immediate response," he said.
Giving his seeds the best environment in which to grow means caring for the soil. He sees his job as being a steward of the land while managing whatever Mother Nature brings.
This year brought record rainfall to the Colton area. Drain tile was laid last fall in his field with his high-yielding beans. Without it, he wouldn't have won, he said. It helped keep his beans from getting drowned out, and it reduces erosion.
"The change is noticeable," he said.
He's finding an abundance of earthworms in his soil, and he's seen the texture change to the chunky "black cottage cheese" form soil health experts talk about.
Van Duyn chooses his seed varieties for maximum production. He plants early. This year, despite the wet spring, he was able to get his soybeans in by April 30 – even before his corn.
He plants at a lower population – about 90,000 plants per acre – in 30-inch rows. He aims for in-row seed spacing around 1 ¾ inch in order to encourage a large, bushy plant. He was pleased with the number of pods that set this year.
Now that he's passed the 100-bushel yield in his winning plot, he aims to hit that mark for the entire field and eventually across his whole farm.
"Through continued learning, we can slowly move forward," he said.
He knows it's a slow "marathon" of a process, but it's what makes farming interesting.
Van Duyn is happy to take lessons from others and apply what they've learned on his own operation. Conveniently for him, his seed company does a lot of on-farm research just down the road in Baltic. Van Duyn has planted Hefty brand corn for years, and his winning soybeans were Hefty's H19R6R2. He's able to capitalize on the research Hefty does in its test plots.
"We can really fast forward though a lot of this learning process," he said.
This winter, Van Duyn will make his first trip to the Commodity Classic trade show in Florida, giving him the opportunity to pick up more ideas from fellow farmers.
Growers throughout South Dakota can share in the advice of others as the soybean council hosts its annual Soy 100 Seminars. Agronomists will use data and best management practices gathered through nearly a decade of yield contests to lead the educational seminars meant to help farmers increase soybean yields and quality. Two sessions are planned:
- March 13 in Brookings on the South Dakota State University campus.

- March 14 in Aberdeen at the Best Western Ramkota.
A complete agenda will be available upon registration. The seminars begin at 7:30 a.m. and run until 3 p.m. To register, visit www.SDSoybean.org or call the South Dakota Soybean Office at 605-330-9942.
Below is a list of South Dakota Soybean Yield Contest winners by category. Each first place winner received a $2,000 cash prize, $1,500 goes to second place, and third gets $1,000.
Master Class: Tim Hofer - 109.12 bushels per acre, Hutchinson County
Non-Irrigated Group 0: Rodd Beyer - 87.16 bushels per acre, Roberts County
Non-Irrigated Group 1: Doug Van Duyn - 113.94 bushels per acre, Minnehaha
County
Non-Irrigated Group 2: Blake Carda - 83.18 bushels per acre, Yankton County
Non-Irrigated Group 3: James Hora - 76.98 bushels per acre, Hutchinson County
Irrigated Group 0 or 1: Kory Standy - 100.77 bushels per acre, Charles Mix County
Irrigated Group 2 or 3: Kory Standy - 95.75 bushels per acre, Charles Mix County.
No Till Group 0: David Johanson - 78.64 bushels per acre, Moody County
No Till Group 1: Charles Miner - 74.07 bushels per acre, Beadle County
No Till Group 2: Jacob Waldner - 89.90 bushels per acre, Clark County
No Till Group 3: Jay Kokes - 84.86 bushels per acre, Charles Mix County
Youth Class Non-Irrigated: Brady Johnson - 75.8 bushels per acre, Moody County
Youth Class Irrigated: Samuel Bender - 74.84 bushels per acre, Hutchinson County
Five years of top yields in South Dakota
The first time a South Dakota Soybean Yield Contest entry broke the 100-bushel-per-acre mark came in 2014. Aside from last year where drought conditions plagued much of the state, yields have inched ever higher. Here is a look at the winning yields, starting with 2014.
2014: Scott McKee, Union County, 103.7 bushels per acre
2015: Scott McKee, 106.61 bpa
2016: Scott McKee, 110.85 pba
2017: Tim Hofer, Hutchinson County, 98.63 bpa
2018: Doug Van Duyn, Minnehaha County, 113.94 bpa
Janelle is editor of the Tri-State Neighbor, covering South Dakota, southwestern Minnesota, northwestern Iowa and northeastern Nebraska. Reach her at jatyeo@tristateneighbor.com or follow on Twitter @JLNeighbor.