Iowa farmer Loran Steinlage thought if he could keep a living root in the soil 365 days a year the soil could reap multiple benefits.
That seemed like a lofty goal when the growing season in northeast Iowa averages 140 days a year. After doing his research, he found the solution in relay cropping.
At the time, he was growing continuous corn-on-corn, and doing it successfully from a yield standpoint. But he knew he could do better for the soil and wanted to improve his bottom line. After a few years of conducting field trials, in 2015 he transitioned to growing corn, soybeans, winter wheat, malt barley and buckwheat on a rotational basis to keep a living root in the soil year-round.
In August, he planted rye into the corn and harvested the corn in the fall on established rye. In the spring he will plant soybeans into the standing rye and harvest the rye in July. After doing a couple of rotations similar to this, the rye yields match the soybean yields.
"We have reached the point where the sum of both crops equals two or greater crops," he said. "If your sum is under two you're losing somewhere and need to evaluate how to change your system."
Steinlage sells the rye and buckwheat to the cover crop market for seed, which he said is their best option for the time being. He's sold some food grade product, but for now, the cover crop market pays better. The barley goes to a malter.
Asked if there are there any crop insurance consequences related to relay cropping, Steinlage said that after three years of proven data and yields, farmers can get a waiver and start insuring.
"But right now I believe our best option is self-insuring by having two crops," he said.
He sees the benefits of having a living root in the soil 365 days a year.
When Steinlage talks about his desire to improve soil health he mentions a humbling experience. In 2017, he proudly received an Iowa Farm Environmental Leader Award only to return home to notice a massive rain event created pockets of erosion on his farm.
"I knew we had to do even better," he said.
He believes he's on the right track with relay cropping.
"Having a growing root between rows of corn and soybeans preserves moisture, suppresses weeds and adds organic matter to the soil," he said. "And I'm doing this while adding few crop inputs. As long as I can benefit from two crops a year from the process, it's worth it – I'm maximizing the fixed assets."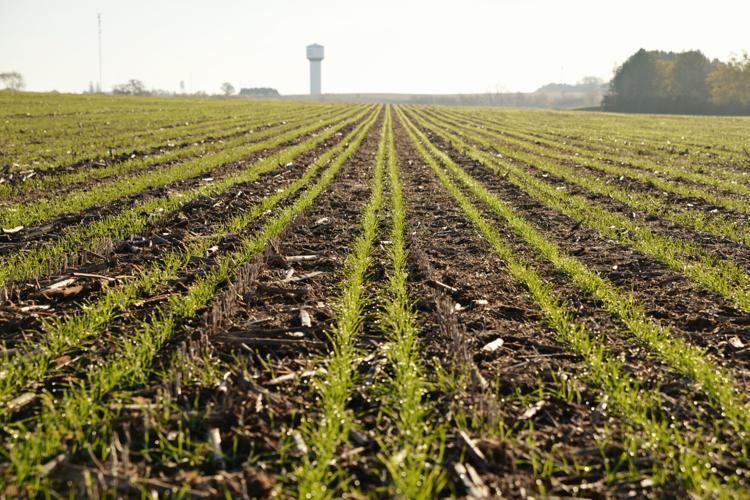 When Steinlage walks across his soil he notices the difference.
"The living root is holding the soil in place and breaking up the compaction. The soil is mellow," he said. "Moisture sensors prove the rain is soaking into the soil, so crops get the full benefit from the rain."
Still, he's turning his research and focus to further improving the water-holding capacity of the soil.
"I realize we've come a long way from tillage and removing the residue, but I'm focused on continual improvement," he said. "Now I've turned my cover crops into cash crops. All this has been done by thinking differently.
"Soil is our most valuable asset," he added. "Everybody wants to talk about removal rates, but how many people factor in the removal rate of the soil from erosion? We're talking about exporting tons of soil per acre off our farms. We need to keep the soil in place."
To ask Steinlage a question about his operation scroll to the bottom the story at 4rplus.org. For more information on soil health, visit the 4R Plus website at 4rplus.org.