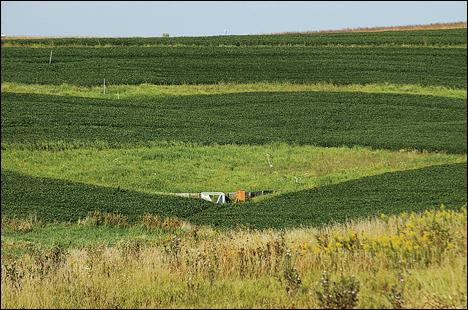 This year has not delivered many heavy, high intensity rain events to Northwest Iowa. A lack of rainfall can hurt crops, but it does have a positive side – erosion and soil loss are reduced. However, I believe most farmers would prefer adequate moisture, and heavy rainfall events are something that often accompanies that gift of moisture. At any rate, we have a great soil resource in northwestern Iowa and keeping it that way is a long-term benefit to all of us!
Not all of northwest and west central Iowa have the same erosion risks. Some areas erode much more rapidly than others even with the same rainfall events. But to be honest, the damage that I have observed over the years has concerned me. This resource is the cornerstone for profitable agricultural production in this part of the world. History has shown us several cultures that had rich soils, but those cultures no longer exist – nor do their rich soils. Stewardship of these soils is needed.
Dr. Rick Cruse at Iowa State University has presented some information at the Crop Advantage Conferences in past years discussing soil formation and losses. He reviewed three different scenarios looking at soil formation, and all three indicated that it took over 1,000 years to form an inch of topsoil. In Iowa, if you have highly erodible soils, allowable soil losses in conservation plans try to limit losses per acre per year to 5 tons.
Five tons per acre per year would be like losing soil about the width of a dime off of all of your acres. A roll of dimes has 100 dimes in it. How many inches long is that? It's about 4 inches long. So, if you farm a century farm, and have averaged 5 tons per acre per year, it looks like we might have lost several thousands of years of soil formation on those soils in the last century. Again, not all farms erode that fast, but some do.
It is important to note that we erode slower now than we saw historically, thanks to the implementation of more conservation practices and less tillage in recent years.
Dr. Cruse helped develop Daily Erosion Project, which calculates daily soil losses on a rather small watershed basis (HUC12, for those familiar with how watersheds are sized). The Daily Erosion Project estimates soil erosion and water runoff occurring on hill slopes in Iowa and surrounding states. Estimates are based on hill slope conditions (for example, topography, crop, precipitation) identified via remote sensing tools like satellites. The DEP team then posts daily estimates of average hill slope soil loss (and water runoff) occurring for each watershed in the DEP coverage area. For more information on the project and its findings, visit https://www.dailyerosion.org/.
Harvest is a good time for landowners and those working the farms to evaluate residue cover, erosive areas, and areas that need improvement. Have discussions with NRCS staff about your farms. Run different scenarios of tillage practices, rotations, residue removal, waterways, terraces, etc. to see how that impacts the erosion on your farm.
The staff at those offices would like to have those discussions before there is a problem. They enjoy them less if it is a complaint situation. And these discussions only refer to what it is doing to the land. We haven't even discussed the value of nutrients lost with eroded soil, costs of sediment removal in ditches and other areas, and sedimentation fill in ponds, rivers, lakes, and other water resources.
High crop prices do not appear to increase the number of grass waterways, buffers, or even terraces. It seems that equipment size has also reduced contouring, terraces, and other practices - and some fields have shown graphic evidence of the results.
Evaluate the farms you manage or own. Not all farms have the same risk. Know the risks of soil loss on your farms. Hold discussions with landlords on the long-term value of keeping this resource in place. Evaluate what you have been doing and explore options for improving your management. The responsibility belongs to all of us!