Producers can learn how to increase yields and decrease input costs by improving soil health during the South Dakota Soil Health Coalition Soil Health School Sept. 4-6 on the Kurt and Kathy Stiefvater farm near Salem.
Designed for agriculture producers and others interested in managing their soils for resiliency and profit, the Soil Health School brings together soil health experts, experienced producers and those new to soil health, to discuss tried and true management practices.
"Attending the Soil Health School changed my whole perspective on soil," said Don Nickelson, a Frederick farmer.
Prior to attending the Soil Health School, Nickelson had been struggling to farm saline areas of a field. He implemented what he learned and instead of crops, he planted salt-tolerant perennial grasses for grazing and forage.
"Today, I think about treating the cause of soil issues, instead of symptoms. I'm doing this with my kids in mind. I want to pass on good soils and management principles instead of bad habits," he said.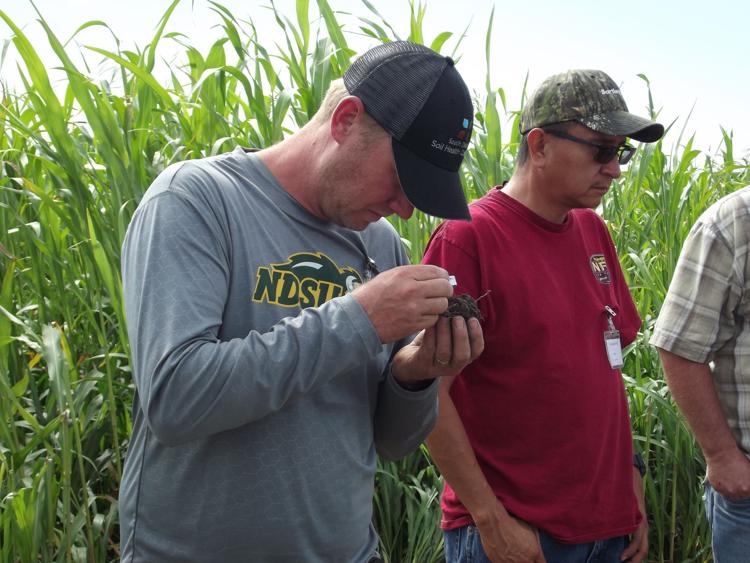 During the three-day Soil Health School, local and regional soil health experts will discuss holistic management, soil properties, agronomics, no-till planting and planter set-up, crop rotational diversity, cover crops, farm resources, soil assessment and monitoring, managing soil salinity, water infiltration, economics, soil biology and beneficial insects, fencing and watering systems, forage allocation and grazing practices. 
"For anyone interested in soil health, this is one of the best events to attend," said Leola farmer Trevor Zantow. "The presenters are not only involved in the practices but are knowledgeable of the science. This experience helped build my confidence to change my farming practices."
Some of the local and regional soil health experts and producers presenting during the 2019 school include: Dr. Dwayne Beck, manager of the Dakota Lakes Research Farm; Dr. Paul Jasa, extension engineer with the University of Nebraska-Lincoln; Jay Fuhrer, soil health specialist with the Natural Resources Conservation Service (NRCS); Kent Vlieger, South Dakota soil health specialist with NRCS; NRCS state soil scientists Nathan Jones; NRCS agronomist Eric Barsness; Gared Shaffer, SDSU Extension weeds specialist; Anthony Bly, SDSU Extension soils specialist; Dan Forgey, soil health coalition director and manager of Cronin Farms, the 2016 Leopold Conservation Award Recipient; soil health coalition director Doug Sieck, a producer from Selby; Nick Jorgensen, Ideal producer and 2015 Leopold Conservation Award Recipient; Dr. Jon Lundgren of Blue Dasher Farms; and agronomist Lee Briese.
To attend the 2019 Soil Health School, register at www.sdsoilhealthcoalition.org and click on the Events tab. For more information on the Soil Health School, or if you have questions about the event, contact S.D. Soil Health Coalition at sdsoilhealth@gmail.com or call 605-280-4190.