Wetlands can be a beneficial part of a farming operation, and a group of conservation organizations are out to prove it with a new demonstration farm in South Dakota.
Just south of Huron, 310 acres of crop land is being managed in ways that improve wildlife habitat, soil health, and ultimately, farm income. It's a place where conservation groups hope to show that while wetlands can be a headache to farm around, they can be an asset in other ways, like when it comes to grazing.
"We kind of shift the value of those wetland acres," said Bruce Toay, a Ducks Unlimited biologist who manages the organization's conservation programs in South Dakota.
"You can have healthy, functioning wetlands and a working crop rotation on the same acres," Toay said.
Ducks Unlimited purchased the 310-acre Huron property from the Baum family through private donations and public grants in 2016. This fall, the organization signed the property over to the Beadle Conservation District in an agreement that will have the land managed as a demonstration farm into the future while keeping it open for hunters, too.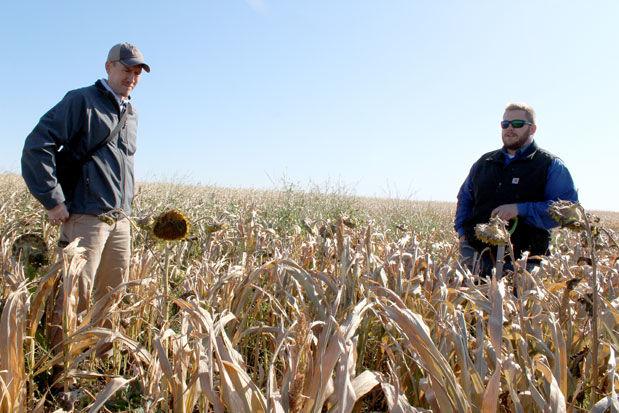 The land is divided into four parcels of about 80 acres each – half irrigated and half dryland. This year, two parcels were planted to full season cover crops, one to soybeans and one to corn.
In years like this when planting was touch and go, cover crops can allow for a farmer to be flexible in the field, Toay said. They offer a Plan B when the soil is too wet for conventional crops or when planters can't make it in the field until later in the season.
Covers can also allow the producer to make some money. This spring, cereal rye was baled before planting a full season cover crop. All the land will be grazed this winter after cash crops are in the bin. Covers and livestock help reduce the need for synthetic fertilizer.
Even with the challenging conditions, the planting and harvest work was done in a timely manner – something Ducks Unlimited agronomist Brad Schmidt attributes to no-till practices. To top it off, the heavy equipment did the work without making ruts in the soil, Toay noted, because healthy soil structure has better carrying capacity.
The land was conventionally tilled for years, and wetlands were drained with a system of ditches. In just three years of no-till management, Schmidt is noticing changes.
Turning over a spade full of soil, he noted the dark color, the crumbly texture and the abundance of earth worms. When observing from the air in pictures taken by a drone, Schmidt said it's clear that saline spots have shrunken.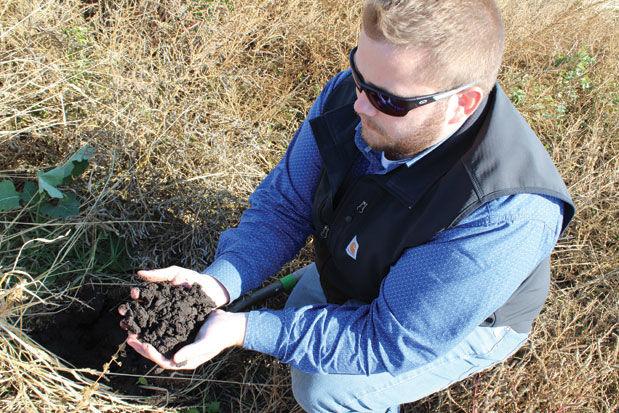 Toay attributes the results they're seeing to applying several management practices at once, from no till and cover cropping to putting livestock on the landscape.
"Once you dive all in, that transition is much faster," he said.
The goal with the demonstration farm is to mimic what a producer could do given what Mother Nature throws at them.
"We've got to roll with the punches, kind of like every other farmer out there," Schmidt said.
Already, the practices are catching on. The farmer that rents the land started using some of the management tools on his other farm ground, Schmidt said, and the neighboring farmer tried cover crops for the first time this year.
"It's turning heads, and people are asking questions," Schmidt said.
That's the idea of the demonstration farm. Schmidt has visions of hosting tours of the property when people are in Huron for the South Dakota State Fair. Management decisions will come from a board made up of representatives from Beadle Conservation District, Ducks Unlimited, the Natural Resources Conservation Service, South Dakota State University and other partners. They hope to include local producers as well, to give input on what types of crop and management practices they'd like to see on the land. They also vow to be open about yield results and expenses that go into to production.
The Beadle Conservation District isn't new to managing farm land. For about 25 years, it's owned the Cain Creek property just a mile and half south of the new farm ground. Those 400 acres have hosted tours, schools and curious visitors learning from their example of a working pasture and grassland that went from supporting 25 head of cattle to 110 pairs.
District chairman Craig Rearick spoke at a formal signing of an agreement between the district and Ducks Unlimited in Huron Oct. 22.
"You can have clean, clear water … You can have healthy, productive soils. You can have livestock integration … you can have a thriving wildlife community. You can have a focus on sustainability," he said. "You can have all these things even as you are striving toward profitability and productivity,"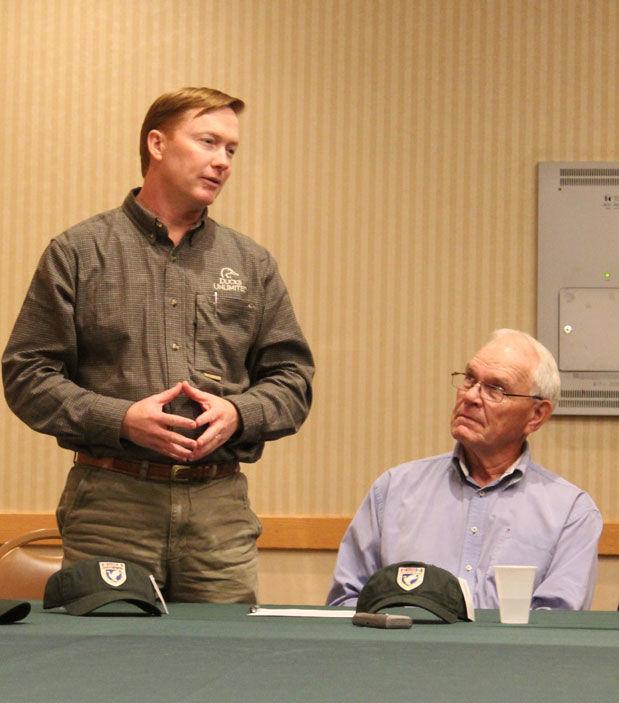 Ducks Unlimited CEO Adam Putnam was on hand for the ceremony. The former Florida Congressman stepped into the CEO position this spring, and this was his first official visit to the Prairie Pothole region that is a key duck nesting area.
Putnam noted the importance of organizations and agencies joining forces in the name of conservation. Farmers and ranchers, and hunters, too, play an essential role as stewards of the land, he said.
"Together we're going to be able to make sure that this part of the world continues to feed the planet and this part of the world continues to be the duck factory," Putnam told the group.