Opening a new business location three states away can be daunting. Opening a new location and needing 5,000 dairy cattle to fill it is even more challenging, but for Tri Cross Dairy in Viborg, South Dakota, the challenge is what made it worth it.
Tri Cross, which is owned by Tom Koolhaas and his brother-in-law, is the first dairy operation in the Midwest for the California native. As co-owner in three other dairy barns in California, Koolhaas and his brother-in-law explored other ways to expand their dairy herd and chose Viborg as their newest site in 2017. Two vital assets to dairying were in ample supply in South Dakota.
"Really the feed sources and water situation was better than most places," Koolhaas said during a tour of his dairy operation on Nov. 20.
Koolhaas opened his doors to any and all producers who wanted to visit as part of I-29 Moo University's dairy field days. As a new, massive dairy operation in southeastern South Dakota, Koolhaas has generated a lot of interest in the Tri Cross cattle herd model that tries to use onlycrossbred cattle instead of pure Holsteins, the industry standard.
Koolhaas isn't alone in his move away from Holsteins. His father-in-law began the enterprise he is part of today in the mid-1990s as he realized that crossbred cows provide a better return on investment compared to Holsteins. The breeds that these dairymen are mixing into their herd are traditionally healthier, more fertile and have better procreation rates.
After years of building a cross breed herd without wavering belief, Koolhaas and his family have validation of their efforts. A 10-year study with the University of Minnesota and several other partners took data on their herd. Amy Hazel, a PhD graduate from the university, was on hand during the tour to discuss their most recent investigation into the benefits of crossbred dairy cows versus their traditional Holstein counterparts.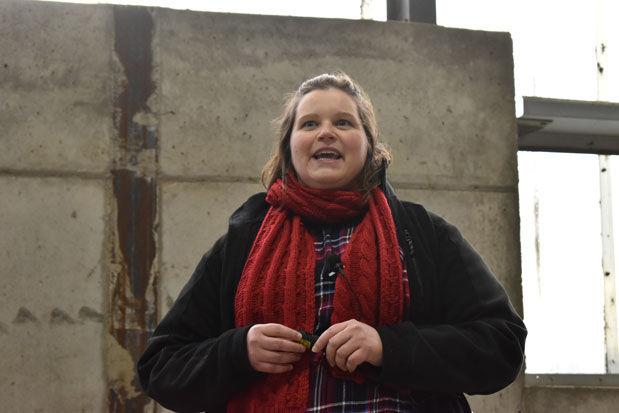 The study, which began in 2008, gathered data on eight pens of 250 cows over 10 years. The goal was to determine what benefits, if any, crossbred cattle had.
After 10 years and endless calculations, Hazel presented the group of roughly 30 producers evidence to suggest that the return crossbreds have is significant enough for an industry shakeup.
Right away, Hazel identified three key reasons for using crossbred cows over Holsteins. Starting with genes, Hazel said that mixing Holstein's with Montbeliard and Viking red cattle was done entirely to promote healthier genes in the herd.
"When you crossbreed, you can grab those genes you want. In this case, we compliment the health traits of the other breeds with the productivity of Holsteins," she said. "That's kind of why crossbreeding is really interesting because the selection of health traits should have a good background than what we are able to offer here with Holsteins."
Next, crossbreeding fixes an escalating problem with inbreeding in the U.S. Holstein herd. According to Hazel's research, the Holstein herd is rapidly approaching double digit inbreeding numbers. We've already passed the point that is considered dangerous, she said.
"The Holstein breed has over 6.2% of their genes with duplicates. We are essentially breeding the same thing as a first cousin mating," she said.
The third reason crossbreeds shine is because they are typically smaller. As margins get tighter and return on investment becomes more important than productivity, smaller body frames mean less feed per day, Hazel pointed out. On average, during the study, the team found that crossbreds cost over 50 cents less per cow per day.
"It's a pretty significant advantage when you consider the cost of that feed to your equation," she said.
The full study can be found on the university's website, but the rising debate between crossbred cattle and Holstein's is one that Koolhaas doesn't even have to debate. In his South Dakota herd, he runs roughly 65% crossbred cattle and 35% pure Holsteins. The only reason he keeps Holsteins in the herd is because they're the breed he had to buy to fill out the 5,000-head barn.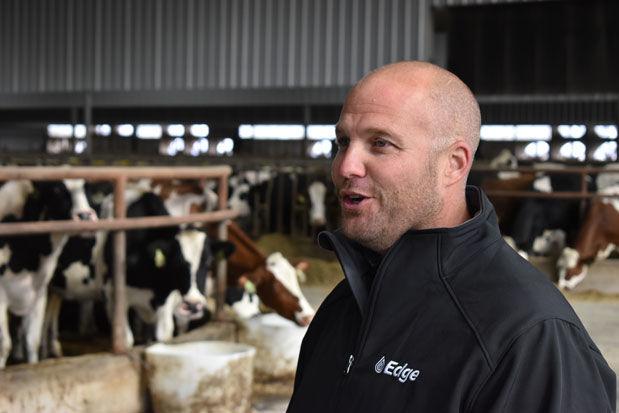 This shift toward more efficient cattle was done specifically because of poor pregnancy rates in his father-in-law's Holstein herd. After switching, Koolhaas said their families' operations average around 30% pregnancy rates with no added hormones.
Are crossbreeds the next big thing?
While the debate rages on between whether or not producers should begin shifting away from purebred Holsteins, Fred Hall and Marin Bozic both said there are other concerns in the struggling dairy industry that are taking precedence as we approach a new year.
Bozic, an assistant professor in dairy foods at the department of applied economics at the University of Minnesota, said that three key factors – the U.S.-Mexico-Canada trade agreement (USMCA), milk supplies from the European Union, and New Zealand's dairy herd – will play a big role in the dairy industry's longevity.
Despite many small dairies in Minnesota selling their herds, Bozic considers 2019 to be the first "good year" for dairy in the last half-decade.
"It's really come at the right time, but unfortunately too late for many," he said.
In 2015, Bozic said that once the European Union abolished its milk supply management program, supply rose dramatically and flooded the world market with too much milk powder. This has been the first year producers have been able to move milk without much issue.
"It took us a few years to get from under it," he said.
While the overabundance of milk powder has tapered off, Bozic said we've mixed that success with slightly lower milk production. That's raised demand. Even though the dairy industry shrunk, he said that demand has never been better.
"With higher-income came a desire for more dairy," he said.
New Zealand is another market influencer. Over the last 20 years, the island nation has been able to grow and shrink its dairy herd has needed. In 2019, Bozic thinks New Zealand has realized they don't have unlimited space to expand their dairy herd and meet demand. That's caused U.S. producers to ship more milk worldwide.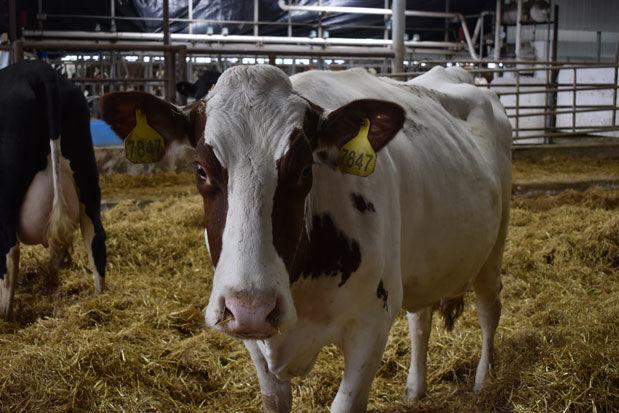 "They discovered they're an island and they just can't add more cows," Bozic said jokingly. "That's a game-changer for us because they were competing."
Hall, who is a dairy herd management specialist for Iowa State University Extension and Outreach, said that he thinks the dairy industry could see an extra $1 added onto the current prices as supply slows down with demand increasing steadily.
"Simply because we've got good consumption domestically and seem to be seeing more exports," he said.
However, Hall remains cautious on how this year's bump will actually play out. Part of the reason behind better prices comes from producers cutting down on the size of their herds, which will slow in 2020.
Perhaps the biggest question mark for all facets of the world economy continues to be tariffs and trade deals, which Hall said will make or break 2020 in the long-run. While USMCA will get the headlines this December and into next year, Bozic and Hall both said the trade deal is not about trading dairy products, as much as it is about building market confidence for all agricultural industries.
"(USMCA) can bring some stability and confidence," Hall said.
Bozic sees USMCA as a way to get out of the endless cycle of tariff bullying the U.S. and other countries have been employing. Opening already established trade avenues can help settle down the politics around trade, he said.
USMCA has been ratified by both Canada and Mexico and awaits U.S. approval. Coming into December, the resolution sat in the House of Representatives while impeachment hearings took center stage.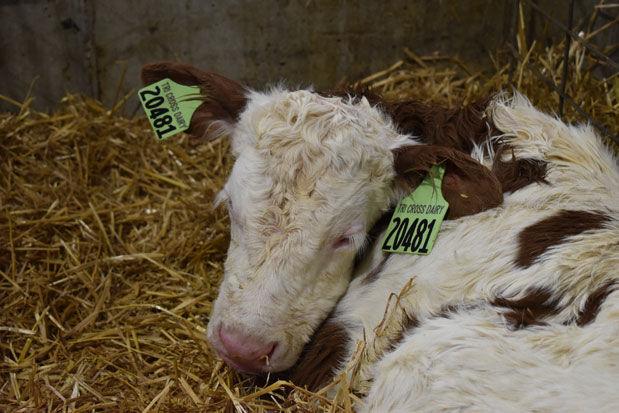 "Silence is absolutely deafening," Hall said. "We're being let down by Congress."
What did make it through Congress, however, was the 2018 Farm Bill that introduced better margin protection programs for dairy producers in the U.S. These programs have added an extra $300 million to producers' pockets, Bozic said, but cocooning the dairy industry with great margin programs may hurt producers long term. It's possible producers won't be able to effectively lower production when needed.
The harsh reality, he said, is that the dairy industry has done well this year specifically because more dairies have been forced to close out.
"As cruel as it is, it is indeed the exit of these 7 or 8% of these dairy producers that have helped support dairy prices," he said. "The best cure for low prices is low prices. They signal to those affected that their skills and talents are maybe used somewhere else."
Another factor impacting the dairy market comes from the early November announcement that Dean Foods filed for Chapter 11 bankruptcy. It's a way for the company to restructure with help satisfying its debts, and it's almost always followed by a sellout of some kind. Both Bozic and Hall said the sellout is what will disrupt 2020, not the fact that Dean Foods ran out of money.
"Dean Foods's bankruptcy is an inflection point for our industry long term," Bozic said.
While the fluid milk market did not react strongly to the largest dairy company in the U.S. filing for bankruptcy, Bozic said that over time as dairy becomes more and more consolidated, producers will struggle to have a say.
Dairy Farmers of America (DFA) is considering purchasing some, if not all, of the Dean Foods processing plants. Bozic is concerned that should the group buy the plants, the cost of it all will be passed onto their customers. DFA is a producer-owned company though, so Bozic said there is no crystal ball as to what will happen with the processing plants.
Hall said producers shouldn't worry about Dean Foods until after the bankruptcy "negotiations" are finished. Producers are protected until then.
"Unless it really stretches out and isn't sold, the crystal ball isn't very clear here," he said.
Historically, monopolies have been a concern worldwide, Hall said. The federal government will eventually get involved in how Dean Foods is sold or divvied up, but he said there isn't anything to suggest this will go one way or another.
For Koolhaas, he said his South Dakota dairy is protected as he sells directly to Agropur, which has a plant in Lake Norden, South Dakota. But his California dairies are all with DFA and could be shaken up depending on how prices go, he said.
"In terms of impacting the dairy farmers, it won't affect too much," he said. "Really, we're intertwined whether we want to be or not."
Hope for the coming year
As producers move into 2020, Bozic urges them to remain cautious. Dairy prices never remain high for too long, and while the outlook looks better, staying on your toes is the best way to approach the year, he said.
"I need to remind everybody of the maxim, 'only the paranoid survive,'" he said. "We have to hope for the best prepare for the worst."
Hall suggested that more producers acquaint themselves with risk management tools and futures options to lock in their prices for the following year. But overall, he is worried that the dairy herd issue will continue to force people out whether the prices are good or not.
The most fragile dairies, he said, are those with 300- to 1,000-head herds. They can't adequately move with economies of scale and will be forced to diversify or change as time moves on, he said. While Hall doesn't think the massive 100,000-head herds will take over any time soon, he is worried that they will continue to get stronger in the market.
"The public wants the image of grandpa's big red barn, but it's just not practical," he said.
One of the best options is looking beyond our borders and broadening the market, the experts indicated. Hall urges producers to keep pestering local and state politicians about expanding trade deals at home and abroad.
"Trade is a shell game. If one country sells to another, then someone is going to sell to them," he said. "We may not sell to China but we can sell to other countries. Commerce is still being done but will look a little different."
For producers in-state like Koolhaas, he said that going forward is just about more.
"It (is) just more of everything we thought," Koolhaas said.