Since Edward Kavanagh bought KC dairy in 2004, he has been working hard with a dedicated staff to improve all dairy operations.
The work paid off.
The dairy, located near Elkton, South Dakota, was one of six operations that received a silver award from the Dairy Cattle Reproduction Council last November for excelling in reproductive efficiency, fertility and well-implemented management procedures.
Built in 1996, the dairy's two barns hold 1,660 cows that are milked three times a day. Even though facilities are not as modern as many dairies in operation today, Kavanagh said the hard work and dedication of the staff keeps the dairy running smoothly and efficiently.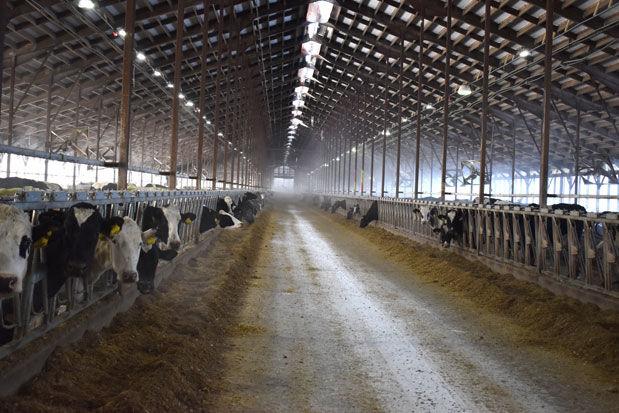 "We have a good team of people," he said. "There are no egos around the place. People that know it all – we don't have that. I've had that in the past and that can destroy a place."
To improve reproductive efficiency, KC Dairy puts its cattle into a synchronized program after 70 days from when they calf. If they show heat, they are inseminated. If any are called open, they get re-synchronized, explained Dr. Larry Goelz from the Pipestone Veterinary clinic. Pregnancy checks are performed at 30 to 36 days since their last heat.
Goelz is at the dairy every Monday to perform pregnancy checks on about 70 cows. The total average conception rate in 2018 was 51 percent and the conception rate for young stock was 55 percent.
Around 70 to 80 cows and 30 heifers are bred each week. Goelz credits the dairy's success to good cow management and attention to detail.
"Reproduction is a luxury, so you've got to get enough dry matter intake, energy, or calories to first of all maintain the cow and second of all produce milk," he said.
"Reproduction is on top of everything else. So, when we get heat stress, reproduction is going to suffer. If we get cold stress, reproduction is going to suffer. If they didn't get the feed there on time, reproduction is going to suffer," Goelz added. "It's the thing that falls first, so everything else has to be clicking."
When it comes to milking, KC Dairy has a rolling herd average of 30,228 pounds of milk. Each cow's milking records are tracked on a computer to determine which animals are producing the most.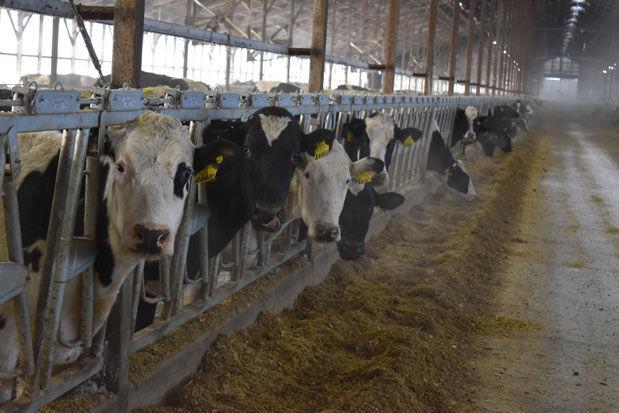 KC Dairy has placed a bigger focus on improving reproductive efficiency since it stopped using bovine somatotropin (bST), a drug that increases milk production in dairy cows, two years ago.
"One of the big things that we feel is that bST was a disaster," Kavanagh said. "We didn't know any better at the time, but we were putting cows under far too much pressure."
The Dairy Cattle Reproduction Council is a nationwide organization made up of farmers, workers and researchers that are involved with the dairy industry. The organization gives out platinum, gold, silver and bronze awards to 24 farms that are judged on things such as pregnancy rate, voluntary waiting period, interbreeding intervals, heat detection, conception rate, value of reproduction and culling rate. KC Dairy was chosen from more than 100 nominations from seven countries.
Dr. Ken Learmont, a dairy technical service veterinarian for Zoetis, nominated KC Dairy for the award.
"They are doing exceedingly well at managing and caring for their cows, treating their cows right, feeding them correctly, and then the team of advisors that they have working with them have done a great job of making sure that every T is crossed and every I is dotted on getting a great animal performance out of their herd," said Learmont.
Kavanagh said he is happy that the KC Dairy workers are getting recognized for their hard work.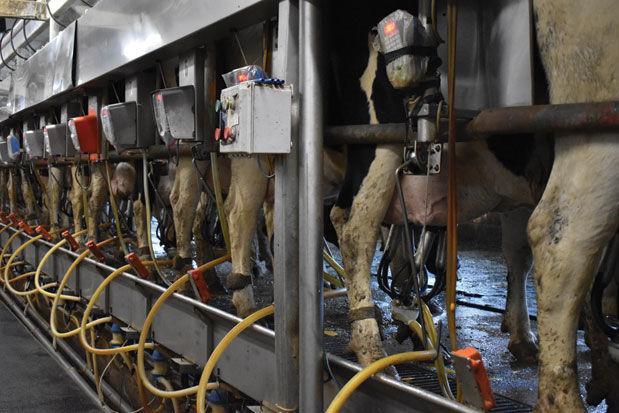 "I'm very happy for the guys," he said. "It's good for morale."
Kavanagh also said that the KC Dairy team needs to keep striving for the best. As a native Irishman, he compared the operation to the Irish national rugby team, which was ranked number two in the world and predicted to compete well in the national championships in 2018, but lost to England in the first round of the tournament.
"You can't become complacent," Kavanagh said. "You have to keep your feet planted."
"It's a battle," he added. "Every day is different. Every week we come here, it's a new game."
Noah Wicks is an English and journalism major at Augustana University in Sioux Falls. He grew up on a farm near Nunda, South Dakota, where his family raises hay, grain and cattle.