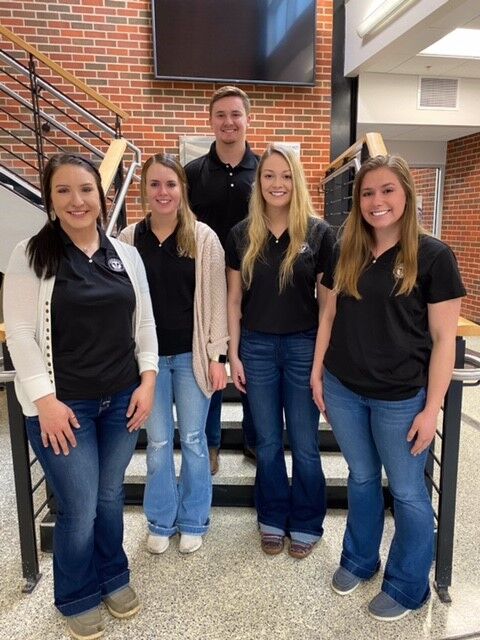 Five South Dakota students will represent the dairy industry in a variety of activities this year after being selected as the 2021 group of Dairy Ambassadors for South Dakota.
All give are South Dakota State University students:
Johannah Nielsen, majoring in dairy production and animal science/pre-vet
Morgan Kohl, agronomy and animal science
Tyler Gilliland, dairy production
Kerstin Thoms, agriculture leadership
Kelsey Erf, dairy production
Erf is returning as dairy ambassador, and she said she is excited for the leadership opportunities she'll have as part of the program.
"The Dairy Ambassador program has offered me tremendous opportunities to develop as a future dairy leader. Having the ability to continue to meet with dairy professionals, learn about the dairy industry, and share my knowledge and experiences with consumers is what I look most forward to during this 2021 year," she said.
Dairy ambassadors interact with consumers at county and state fairs, school presentations and attend industry meetings. The program is put on by Midwest Dairy.
"At Midwest Dairy, we are committed to developing the leadership skills of young dairy advocates to secure a strong future for the dairy industry," said Tom Peterson, farmer relations manager. "We're thrilled to welcome such a promising group of dairy ambassadors who reflect the hard-working, innovative values that contribute to a strong dairy community."
Each ambassador will receive a $1,000 scholarship at the end of their one-year term.
Beginning six years ago in Nebraska, the Dairy Ambassador program is a coordinated effort between Midwest Dairy and various colleges and state extension programs in eight states.
Students interested in applying for the 2022-2023 Dairy Ambassador program can apply at MidwestDairy.com, in the Young Dairy Leaders section, under Ambassador Programs. Applications are due Dec. 1.