For 20 years, Victory Farms Dairy has been continually improving its milking operations at its farm in northeastern South Dakota.
Ten years ago, the dairy switched from a primarily Holstein herd to a focus on the Jersey breed, tailored for cheese making. It was a better fit in a number of ways. The smaller breed literally fit more comfortably in the barn's small stalls. And the milk Jerseys produce, with higher fat and protein content, was better for cheese making.
Victory Farms, between Revillo and Milbank, South Dakota, sends all of its milk to Milbank's Valley Queen cheese plant.
The farm made even more improvements when in 2015 it added a second farm site and built a new barn and milking parlor from the ground up. There, they milk 4,400 cows three times a day.
"The facility really helped with cow comfort," said Kevin Souza, owner and manager of Victory Farms.
Located about 9 miles south of the original farm, the new barn is cross ventilated, giving them the ability to control temperature in a way that keeps the building cool in the summer and comfortable in the winter months.
Victory Farms also focused on reproductive efficiency, using a synchronization program with timed artificial insemination and breeding with sexed semen. The pregnancy rate improved by 10 points from about 28 percent to 38 percent, Souza said.
"We just try to be efficient and keep the cows happy," he said. "You take care of your cows and your cows take care of you."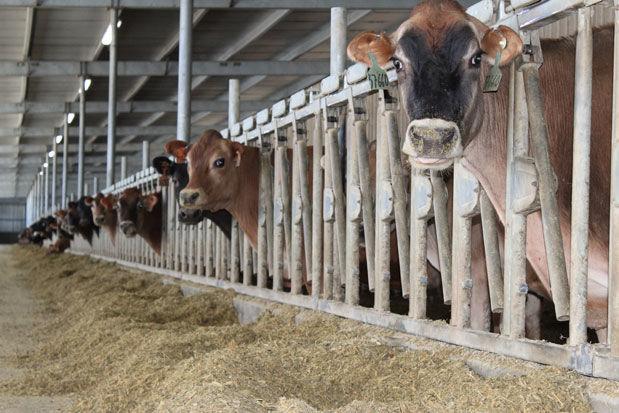 Victory Farms was recognized this fall by the Dairy Cattle Reproduction Council for its work in reproductive efficiency, fertility and management procedures. The dairy was one of six platinum winners and the only South Dakota dairy amongst the top award winners.
Brandon Thesing works with Victory Farms in reproductive and genetic consulting as an account manager from Select Sires. The farm's pregnancy rate is in the top 1 percent of all herds the company works with nationwide, he said.
They use tools such as daily heat detection to help improve their conception rates. The Victory Farms herd was built on elite genetics, Thesing said, and they're continually improving.
"They really pay attention to detail," he said.
Thesing appreciates that when he comes to the management with critiques and suggestions for improvement, they listen. Beyond that, they communicate with employees not just what they should do to care for the herd by why they should do it. They understand what's best for the cows, and it shows in their work, he said.
"I think everything starts with really great people. Everyone involved at the dairy is extremely good at what they do," Thesing said.
Souza owns the dairy with two partners, Dave Nuss and Peter Orradre. Souza takes care of day-to-day management. The other two live in California, running a feedlot and farming.
California's Central Valley is where Souza came from, too. He grew up there and worked on dairies for many years, but land was hard to come by when the partners started looking to start their own farm.
"California 20 years ago didn't fit us," Souza said.
South Dakota is the "place to be" for dairy, he said, adding that he likes to be able to focus on dairying rather than also doing the farming and feeding work.
"We just concentrate on dairy," he said.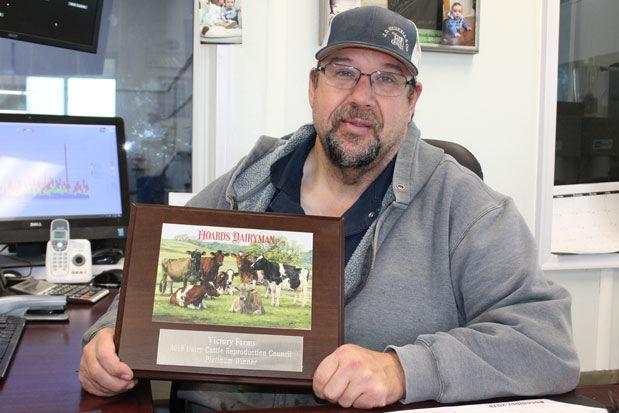 His wife, Suzanne, comes from a dairy background as well. She grew up on a dairy farm in California, and when the couple moved to South Dakota, she was quick to get involved in dairy judging and working as a 4-H coordinator in nearby Big Stone County, Minnesota.
The Souzas have two daughters and two grandkids. Their oldest, Hayley, is married to Ryan Anderson, and they both work for the dairy. Their kids are Kylyn, 4, and Jace, 2. The Souzas' youngest, Audrey, is in her first year of veterinary school at Iowa State University.
All the employees are treated like family, said Thesing from Select Sires. He likes that those walking into the office at Victory Farms are greeted with pictures of every employee, from those working in hoof care and milking to the management and owners.
"Even though it's a large dairy, it's a family dairy," Thesing said. "They treat their people with such respect."
Souza said the award from the Dairy Cattle Reproduction Council is a credit to Victory Farms employees. He doesn't seek recognition, but he likes his employees to know how well they're doing, he said, and he appreciates their long-term commitment. Some managers have been with Victory Farms since the beginning.
"It's all about the people," Souza said.