Shoeing horses and trimming hooves is backbreaking work.
Farriers spend hours bent over, cleaning and clipping. It requires muscle to maneuver a horse into position. The job is hard on a body.
But for a former bull rider, it's a suitable way to earn a living.
Zach Nelson has been trimming hoofs and shoeing horses for 19 years, since he bought his first horse.
His rodeo days ended when he was thrown from a bull and landed on his shoulder blades.
"The body said, 'you're done, dummy,'" he said.
Now Nelson Hoof Care has been his full-time venture for the last four years.
It was a rodeo buddy that showed him the ropes. Nelson broke his wrist and couldn't ride, so he took the down time to shadow his friend on his farrier work. On one of their first stops, they worked through 50 head.
"I knew how to trim and fit by that time that day was done," Nelson said.
He's continued to learn since that day. Correcting aliments and injuries through hoof care and shoe fitting is a bit of an art from.
"A lot of this is full-out practice," he said.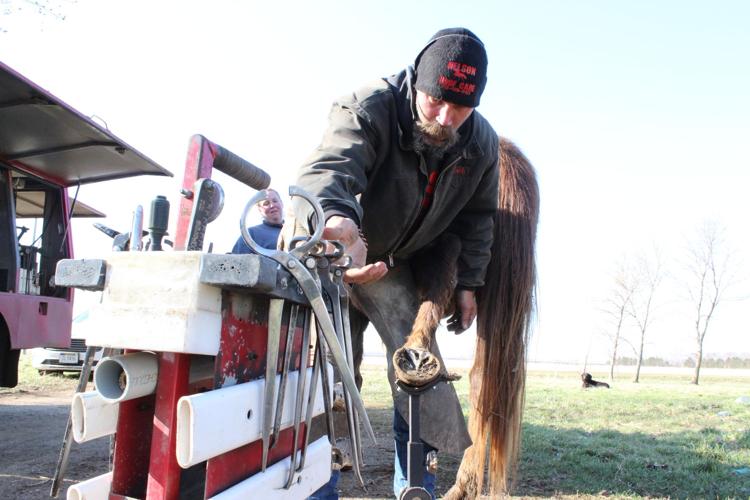 When Nelson runs into a medical problem that stumps him, he calls on some experts who have been in the business for a long time. He keeps equine podiatrist Darwin Kern in Aberdeen, South Dakota, on speed dial.
A good farrier
"Finding a good farrier is not easy," said Lynda DeMent as she held the harness of her 25-year-old Arabian named Taz.
That's why she's sure to keep on Nelson's schedule when he visits the area every eight weeks. He dodged flooded roads to make it to her place near Spencer, South Dakota, on a warm spring morning in mid-April.
When they first met, Nelson came recommended because no one else would work on a neglected miniature horse DeMent had rescued. The little horse, named Titan, was in rough shape with his hooves starting to curl back on themselves. Others told her it would be better to put him down, but Nelson was willing to help.
Nelson fixed him up, and Titan was rehomed to a family near Coleman, South Dakota. DeMent said the kids there love him so much that they got another miniature horse.
She's grateful that Nelson put the time in to save the horse. He's fixed old horses and worked with those that are out of balance. DeMent is also grateful that he's taken the time to teach her about caring for her horses' hooves.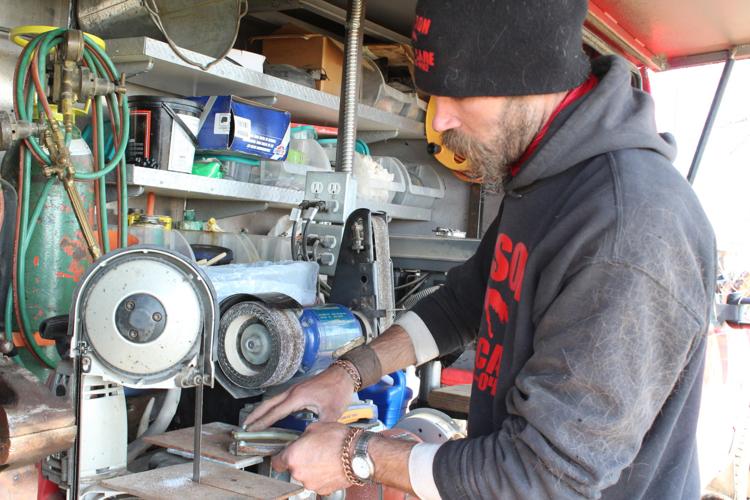 Long days
Spring is the busy season for Nelson Hoof Care. COVID-19 stay-at-home orders have played into his business, as well.
"Everybody is at home and they want to ride," Nelson said.
They're eager to get their horse's hooves in shape for summer.
Like most hoof care services, Nelson travels to clients. Dement's home in Spencer, east of Mitchell, South Dakota, is about at the edge of the territory he covers. It's near the farm where he grew up. Now he lives in Hull, Iowa, and he travels as far as 120 miles to care for horses.
Some days, he's on the road for 15 hours. His truck is equipped with head lamps and spotlights that allow him to work in the dark if need be.
"You've got to love horses or you will not make it in this job," he said.
His rig is a self-contained shop with everything he needs to fit a horse. One side opens into a fabrication shop with saws and presses. He bulls an anvil from the back and gets to work bending a horse shoe into place. The truck carries shoes of many sizes that hang on metal racks, all made by Nelson himself. He adds a personal touch on all of his tools. The handles of his files and hammers and even his hoof stand are fashioned from deer antlers.
The ways of the Old West
Nelson's hobby and retirement plan is blacksmithing. He makes cooking and camp gear and does Old West reenactments.
The Old West captures his imagination, and he has an encyclopedic knowledge of the time period from around the Civil War to 1880.
"People inform me I was born 150 years too late," Nelson said.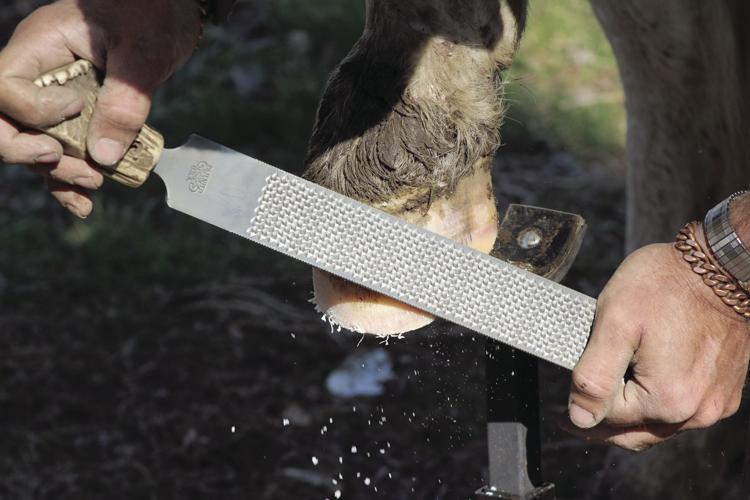 Growing up, Nelson spent two weeks each summer with his grandparents in Oklahoma. Riding horses there, he learned about the importance of sound hooves. His grandpa did all of his trimming and shoeing work himself.
Now Nelson doesn't get much time to ride.
"I spend a lot of time with horses, but it's always under them," Nelson said.