For 23-year-old Tabitha Demers of Hinton, Iowa, tractor pulling is in her blood.
Since age 14, she has been watching her dad, Jeff Demers, of Storm Lake, pull the "Smokin Hot Deere" at various events throughout the country. The two exchanged places when Tabitha took the tractor seat and dad took the track seat.
"I've been watching my dad pull his 1999 diesel super stock," said Tabitha, whose first pull was in June 1999. "I knew watching him that tractor pulling was something I wanted it do. It gets in your blood."
Drivers must be 16, so Tabitha practiced driving around the farm yard until she was 17. In August of that year, she drove the tractor at Concord, Nebraska and placed fourth.
"I love watching tractors pull and love being a part of the sport," she said. "It's something our family can do. We all go along. We have made some amazing friends."
Dad is kept busy farming in the Storm Lake, Albert City and Sioux Rapids areas.
He drives the semi-truck to the pulls and is the one that makes the majority of the decisions, such as where to set the sled on the track. Mom, Cody Ann, is the official videographer. Brother, Trevor, assists in the decision and can also drive the semi to the various tracks.
"Dad always told my brother and I that if you are going to run it, you have to know how to work on it," Tabitha said.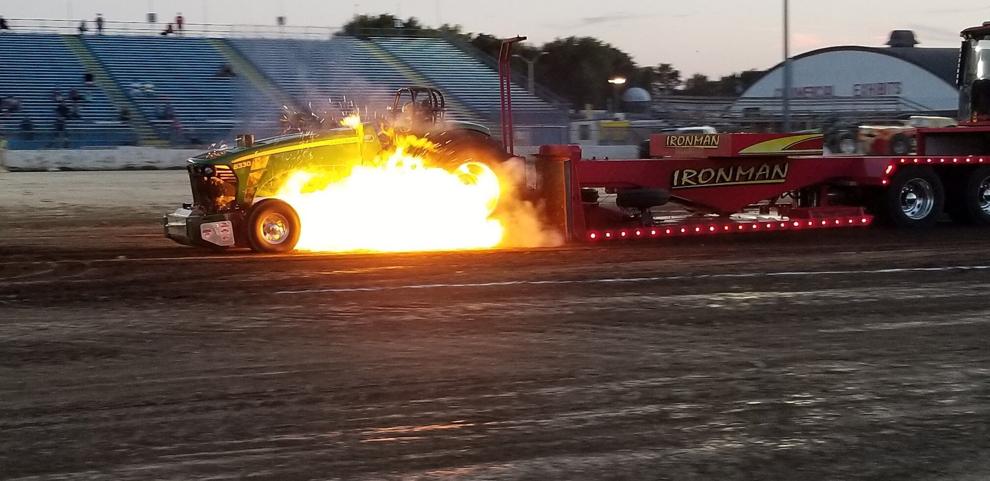 It helps them to be able to figure out what goes wrong and allows for better conversations with fans and announcers, she said.
"We know what we have," she said. "It's nothing major but it's just a rule we live by."
Under the hood of this tractor is a 619 big block out of a John Deere tractor, decubed 619 to 540 cubic inches to fit class rules. It has three "pretty large turbos" with two feeding into one to compress air going into the motor. They have a water and fuel injection system. The motor produces over 5,000 horsepower and runs on straight diesel fuel out of the barrel. It takes three gallons of fuel and five gallons of water from the starting line to the finish line which is roughly 320 feet.
The family travels in a semi-trailer and they have a Go Tractor to pull the tractor around at the pulls. The paint job on the tractor was completed by Ryan "Ryno" Templeton from the television show, "Trick My Truck."
After watching various episodes of the show, Tabitha said they decided to "take a shot in the dark" and send an email to Templeton to see if he would paint their tractor. The request caught his attention and the sheet metal was sent to California in 2011 to be painted. Since then, Templeton has painted the tractor three times, along with Tabitha's helmet and the Go Tracker.
Typically the family takes the winters off. From June to the middle of September they hit pulls with the outlaws, NTPA and the Pro Pulling League from Canada to Texas and Nebraska to Pennsylvania. They don't run a full circuit with any one association, but at the height of the season, they are gone close to every weekend.
"We will be at the Clay County Fair this year if we are not broke," Tabitha said.
"Broke" could mean a ruined turbo, a rod outside of the block, oil pump or fuel injection issues.
They planned to stay a little closer to home this year. Tabitha moved to Hinton. She and her brother both have jobs to attend to. Tabitha, her boyfriend Riley Riediger and her brother started Next Gen Ag, featuring Beck's Hybrids and Latham's Hi-Tech seeds. Tabitha also farms 112 acres in the Storm Lake area and works on her boyfriend's farm.
We will just keep pulling tractors and see what we can do," she said.
It takes more than spare time to keep up with tractor pulling. There have been so many changes in technology and parts, Tabitha said, and every year tractor pulling is very expensive.
"We do it for the fun because the payout is not quite worth it," she said.
Three of the biggest highlights in Tabitha's pulling career include her very first pull; when she placed fourth out of 12 to 15 pullers at the country's largest outdoor tractor pull in Bowling Green, Ohio; and when her tractor started on fire.
"At my very first pull in Concord, I was so nervous but with the support of my family and other tractor pullers, I made it," she said.
It was July 2018 when her tractor started on fire in Chapel Hill, Tennessee. She came prepared with a three-layer suit, fire shoes, a helmet and a collar.
"If you have the proper equipment you will be safe being on fire," she said. "I only felt a little heat on the visor of my helmet."
The Clay County Fair, in Spencer, Iowa, will host the Outlaw Truck and Tractor Pull on the final day of the fair, Sept. 18 at 1 p.m. and 5:30 p.m.