Discovering your passion early on in your life is often a struggle. Some kids want to be astronauts, and some want to race cars. But for Jacob Rausch, his family's Hoven, South Dakota operation taught him that simply feeding cattle may be one of the most rewarding experiences in life.
"I got to sit in the feeding tractor and I got to feed all winter long," said Rausch, 19, a sophomore at South Dakota State University. "That's when I realized I loved feeding cattle."
Rausch and 21 other 14 to 18 year olds will be participating in the South Dakota Cattlemen Foundation's (SDCF) first annual Fed Cattle Challenge over the next six months.
The program is meant to help teens learn the process of finishing cattle. They'll do so by purchasing a share of cattle at the Winner Circle feed yard in Winner, South Dakota. The feed yard will take care of housing, feeding and vaccinating the animals through harvest, but the students will have to calculate costs and profits and ultimately present what they learned.
The Fed Cattle Challenge is South Dakota Cattlemen's Foundation's first program of its kind. Through it, foundation members hope younger kids experience what they call the most underappreciated side of the livestock industry.
"One of the deficiencies we noticed was there were no young people interested in the cattle feed business," said Tyler Melroe, South Dakota Cattlemen's Foundation board member and program director for the challenge. "Very few kids grew up in that environment and it's an extremely important part to keeping people around."
The the new program comes after the waves the South Dakota Cattlemen's Foundation's scholarship program made earlier this year. With the success of the scholarship for young students and the interest in continuing education initiatives in the livestock industry, Melroe and the cattlemen's foundation decided this fed cattle program could help further the industry's goals.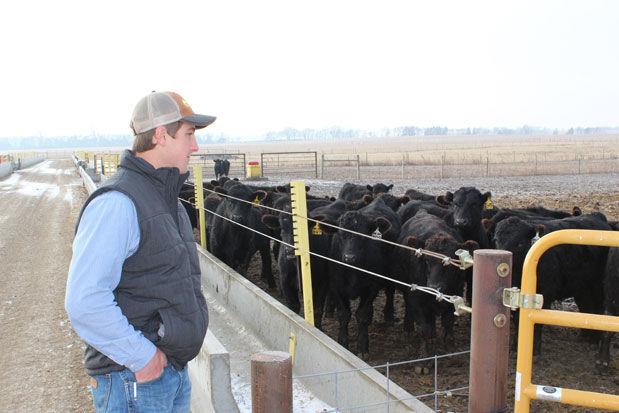 Participants will buy 30 percent of three head of cattle and work with the feed yard to manage those cattle. The students will participate in learning exercises throughout the coming spring and will get to calculate a closeout based on invoices for their animals. After slaughter, they'll get to be present for carcass grading.
For Rausch, it's exactly what he was looking for during his time at South Dakota State University. Because of his interest in his family's farm and ranch, Rausch wanted to experience another side of the cattle industry. His family runs a large seedstock operation and because of that, he hasn't seen much of the industrial feeding and slaughtering process that goes into other operations.
"I'm always looking for opportunities to learn and to grow," Rausch said.
Rausch is the fourth generation on the farm and is the brother to six siblings. He is the fourth out of five boys, but that doesn't deter him from his ultimate goal of ending up back on the family ranch.
Rausch's ambition to be better for his operation has led him to realize that feeding cattle may be the one area his family can improve.
The knowledge and the skills he hopes to gain during the Fed Cattle Challenge can help push him toward a career in the feeding side of livestock and Rausch said he can apply that to his family's operation when it comes time for him to return.
"If the opportunity presents itself, I would love to build my own cattle feeding facilities and add a new aspect to our existing operation," Rausch said.
Along with following their cattle through the feeding process, students in the Fed Cattle Challenge will participate in several webinars and learn to calculate a closeout for the animals.
Participants will use information from the feed yard, purchase price, care cots, weight and carcass value to calculate closeout costs.
Once the closeout is completed, the participants will get to view the carcass in the cooler while the USDA grader is evaluating it. Rausch said he is excited to see this side of the business as well. That will take place at the Demkota Ranch Beef plant in Aberdeen, South Dakota.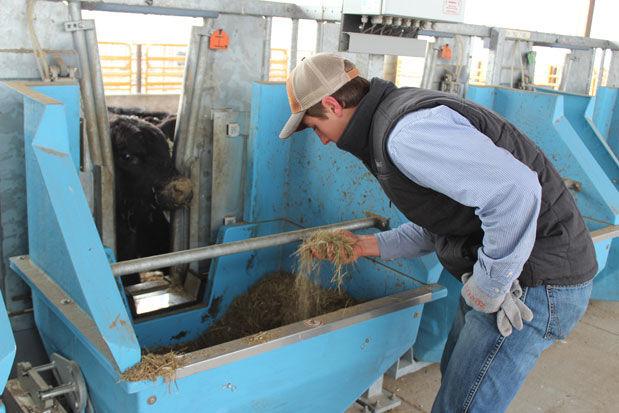 Students will present what they've learned to a panel of judges. They'll be graded on their closeout accuracy and knowledge of 27 different key aspects of their animals.
There's an incentive to do well. Prizes of $1,500, $1,000, and $500 will be awarded to first through third place.
Rausch is ready for the challenge. The competitiveness growing up with older brothers and working on his family's farm has helped foster his interest in the program, he said. He hopes to win the prize, but ultimately his biggest goal is just gaining knowledge.
"As seedstock producers we're trying to grow superior genetics and meet the customers' needs," he said. "If I know what they want going up the chain, I can be better."
That's what the cattlemen's foundation is hoping for, too.
"Our goal is to train and foster interest in the cattle feeding business in South Dakota," Melroe said.
Fostering that interest is key to sustaining the livestock industry in South Dakota, Melroe said, because without it, younger generations of ranchers may not understand one of the key things going into their herd when it comes time to run their family's operation.
As for Rausch, although the program hasn't started yet, he is excited to get his hands dirty and learn as much as he can.
Currently, he has two jobs alongside his SDSU schooling that involve working with a feed producer near Brookings, South Dakota but nevertheless, he wants to have a stake in the industry.
"It's nice to get skin in the game by purchasing the animal (for the challenge)," he said.
The competitive nature was good for Rausch growing up and has helped push him to be a better producer. He said he is grateful for the help his family gave him growing up and continues to give him as he pursues his education.
"I had quite a few teachers as I grew up on the family farm and ranch," Rausch said of his siblings.
The registration period for the challenge closed in October, but Melroe said they plan to continue this program annually and learn from it as they go through this first year of the program.