Teaching agriculture is becoming harder and harder according to Brandon Wagner, the Yankton, South Dakota FFA chapter advisor and Yankton High School CTE teacher.
Wagner and his FFA team from Yankton have almost finished a multi-season project building a fully functioning greenhouse in town. The greenhouse, which was constructed by the high school students, will be ready to be used come late April, Wagner said.
The team decided on building a greenhouse last year and at the time Wagner worked with the school district to form an ag strucuture class to teach agriculture to his more urban Yankton students. Like much of the farmers in southeastern South Dakota, the 2018 spring season was filled with water – which provented the team from building the greenhouse. In the fall, the students finally got the building in place.
"It was crazy. It was a big undertaking for those kids," he said.
The greenhouse is 26 by 48 feet and features fully automated shutters and fans with hard walls, Wagner said. There were no shortcuts taken in ordering or building the new ag teaching space.
In the long run, Wagner hopes to get his FFA students into the greenhouse to learn how to plant and grow vegetables and fruits while his horticulture class at the high school manages the space. Ultimately, he said he hopes to get the entire community involved and interested in the greenhouse.
"It's fun to get older kids involved with the elementary kids," he said.
Wagner said he hopes this can help push students to a deeper understanding agriculture more.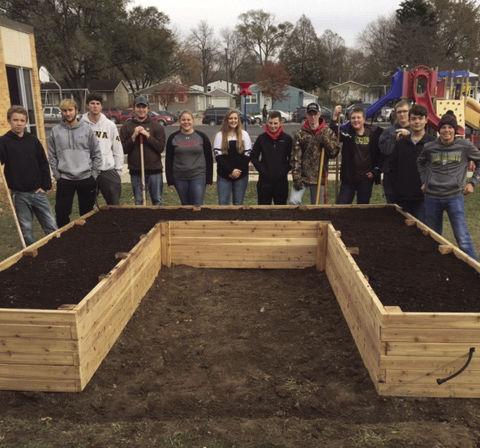 "Your goal is to introduce and cultivate a tiny interest," he said. "If you can just raise awareness on how things happen, it's important."
As the electrical equipment inside the greenhouse gets set up, Wagner has been working with members of the South Dakota Soil Health Coalition and range health specialists to arrange speakers for his high school students. He said the greenhouse is the perfect way to help students understand techniques being used by farmers and ranchers to preserve the land.
"It's just (on a much) smaller scale is all," Wagner said.
Wagner has also been working with local producers to allow his ag students to come out and help plant and grow soybeans to further their ag education.
When the greenhouse is up and running, Wagner plans to focus on how he can pique studentss interest in agriculture beyond just growing plants.
"The greenhouse can open their eyes," he said.
"They can take their plants and take care of them or give them to someone to take care of them."