Koen loves his farm in rural South Dakota, but the 7-year-old spends some long, stressful days away in treatment for his respiratory disease.
As part of his Make-A-Wish gift, Koen hopes to make those long hours in the hospital waiting room a little more fun for kids, while teaching them about his family farm.
The Avera pediatrics clinic in Sioux Falls recently redesigned its waiting room with an agriculture-themed play area, revealed to Koen in a celebration on World Wish Day, April 29.
"It's very exciting to see him so lit up about it," said his mom, Shanda. The family asked that their last name or town of residence not be used for privacy purposes.
Koen has helped to plan the farm exhibit over the last year, working with the designers to make sure the details matched his real-life farm. The dog on the wall has a nametag that says Toby, just like his dog. He insisted the cow be black, not a Holstein. And the kiddie tractor? It couldn't be green, and it needed a cab.
"Dad doesn't have any old tractors," he said as his mom described the planning process and what it's meant to him.
"It has given him so much hope," she said.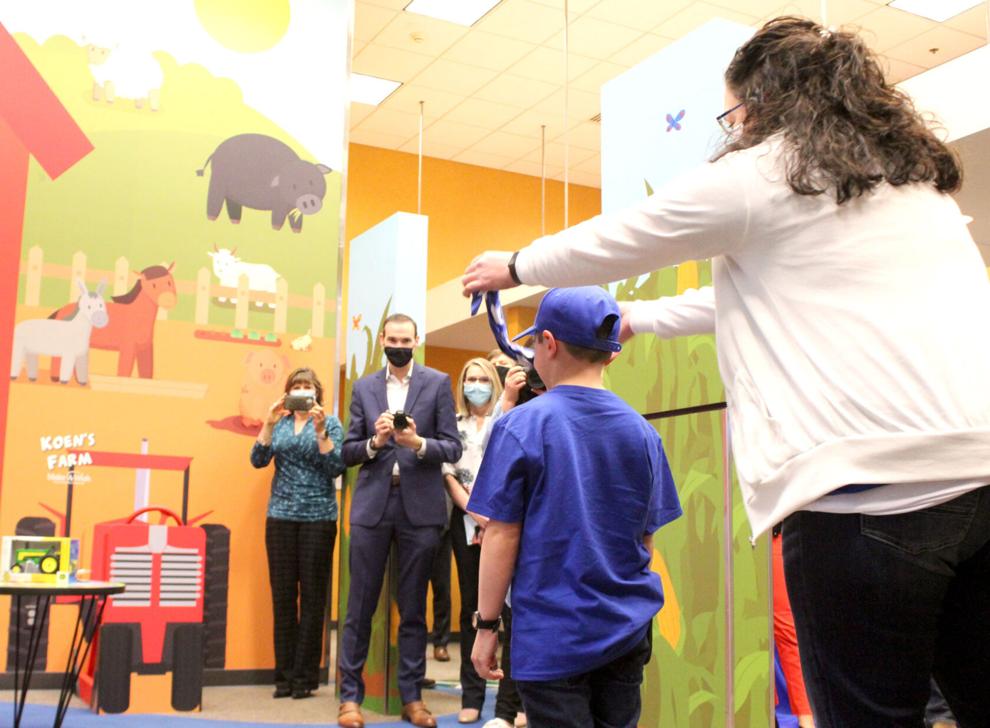 It wasn't until Koen decided what he wanted for his wish that his parents, Shanda and Nate, realized just how stressful his doctor's appointments were. It's more than just a long drive, hunger and getting off schedule, Shanda said. Koen worries about what the doctor might say, and about how many "pokes" he might get.
"Sometimes I have 11 tubes of blood," Koen added.
Now the waiting room is a place kids can take their minds off pokes and doctor's notes, if only for a short while. In addition to the play tractor they can steer, kids can explore videos shot at Koen's family farm, where the young farmer-in-training guides them through the cattle yard and explains the uses of various pieces of equipment. Kids can also color a tractor on the touch screen. While they're sitting still waiting for their vitals, they'll get a farm-themed activity book – another part of Koen's wish.
At the end of the visit, they'll get to choose from a treasure box filled with big, die-cast tractor toys. It's quite an upgrade from the prizes they had to choose from before, Shanda said.
"To go through that and get bubbles wasn't too exciting," she said.
Ty Eschenbaum knows about long days in the waiting room. He was a teenager when he came from his Lake Preston area farm to Avera for cancer treatments. He was always amazed at what the littler kids had to go through.
Eschenbaum, who now works in ag development, donated to Koen's wish through the Ty Eschenbaum Foundation – In Honor of Autumn, named for his late girlfriend.
As a former wish kid, Eschenbaum was impressed that Koen was so selfless in selecting his gift.
"He just wanted to do that for others," he said.
Koen has to take extra precautions on the farm, as the dust can aggravate his respiratory issues. His doctor advised he get a pet goldfish instead of spending so much time with the cattle, too. But noting deters Koen. His favorite thing is still riding in the tractor with his dad.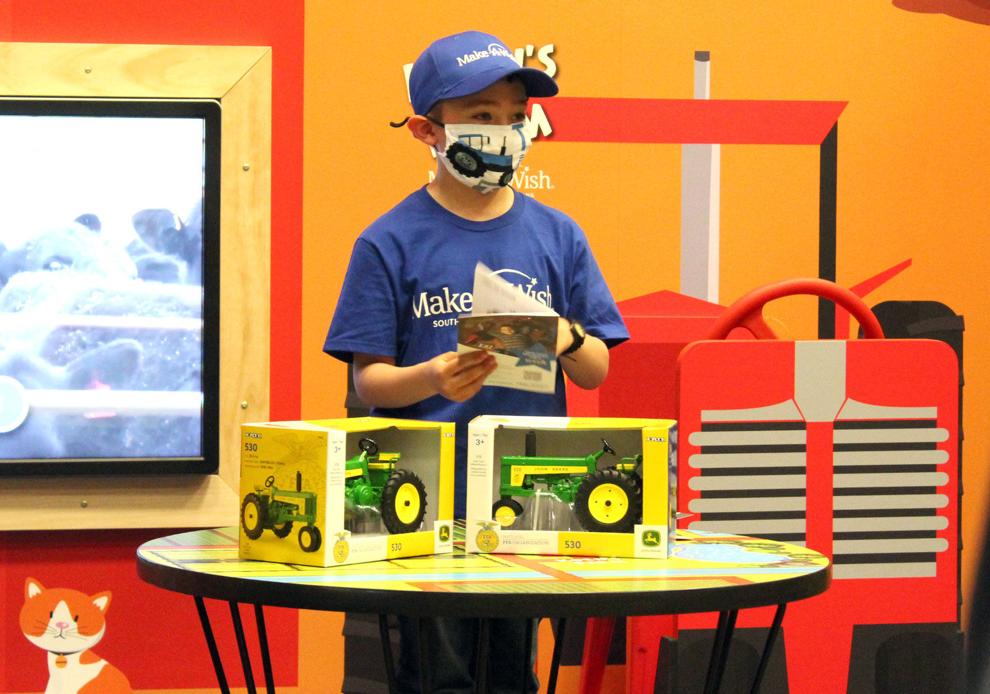 During his doctor visits, he's constantly teaching his medical team about farming or telling jokes in the clinic manager's office. He even had one to share on Wish Day: "What's the quietest animal on the farm?" he asked. "The shhhheep."
Koen is always happy to share his farm knowledge.
"I can speak the cows' language," he said. "I moo to them."
"He's an amazing kid – full of life, fun loving, and amazing parents," said his doctor, Wilfredo Veloira, known as Dr. Wils.
The outgoing kindergartener is full of questions, too. When his dad first took him along in the field at age 3, he was so exhausted from answering questions that he had to call Shanda for backup, as she tells it. "He said, 'you've got to come get him. I'm talking about the gravitational pull,'" she said.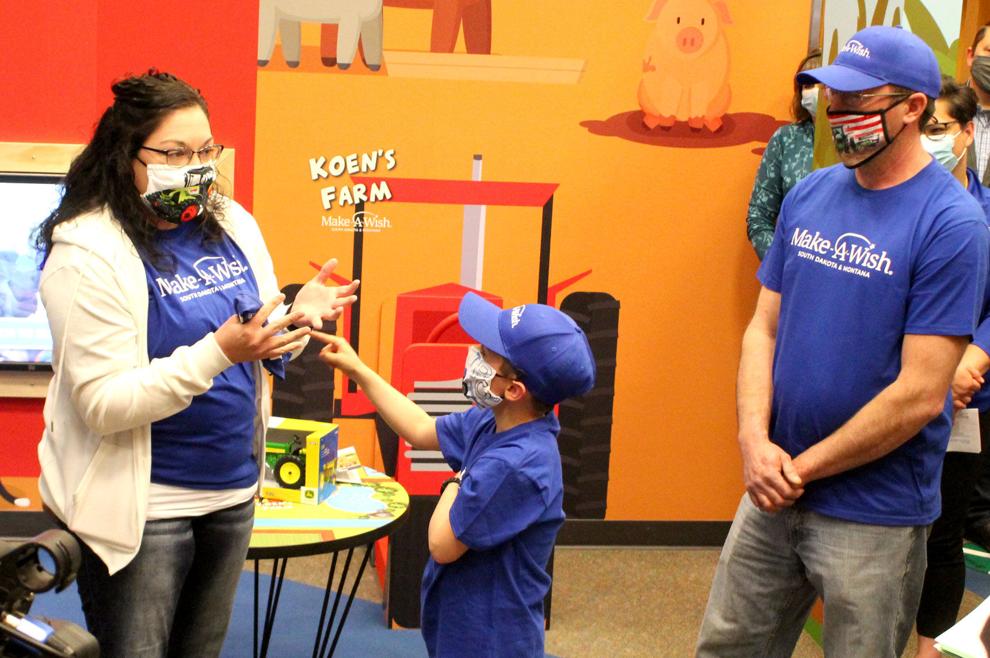 She's happy their son can pass some of his excitement for farming on to other kids battling medical issues, waiting long hours with hungry bellies and wishing they were somewhere else – just like him.
"It's not just for him, it's for all the kids," Shanda said.
Janelle is editor of the Tri-State Neighbor, covering South Dakota, southwestern Minnesota, northwestern Iowa and northeastern Nebraska. Reach her at jatyeo@tristateneighbor.com or follow on Twitter @JLNeighbor.