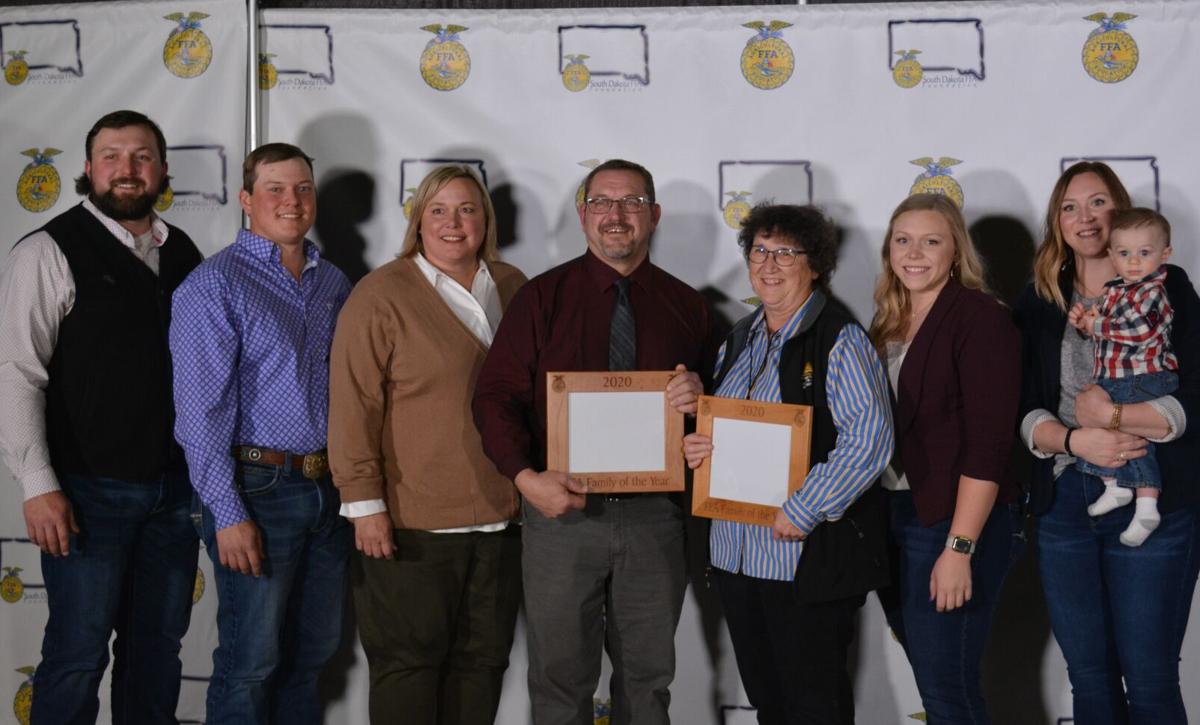 The Tonak family of WHERE put the phrase from the FFA Creed, "a faith, born not of words but of deeds" into action. 
The Tonaks received the FFA Family of the Year award at the South Dakota State FFA Convention April 12 in Rapid City.
Active at the chapter, state, and national levels of FFA, their association with the blue corduroy jacket spans decades. 
Brother and sister Dan and Lori Tonak each served as ag teachers. They reflected on how it came to be:
"The biggest influence I had in becoming an ag teacher was the love for agriculture our father instilled," Dan said. "My first choice was to be a farmer, but that wasn't in the cards."
Lori started college as a dairy production major but was intrigued by the variety of courses ag ed majors were taking, she said.
"After much soul searching, as my mom never wanted me to enroll in an agriculture course in high school, I switched to ag ed and never looked back," she said. 
Their father was an FFA member, as were three additional siblings. Their youngest sister LaDonna was the first female state degree recipient for Clark FFA in 1983.
Lori, as one of the first female agriculture education teachers, has taught more than 28 years. She started FFA chapters in Artesian and Kimball, as well as taught agriculture education in Tulare and Newell, and currently teaches online ag courses for the DIAL Virtual School.
Dan has taught Ag Ed in Willow Lake for 34 years, where his wife Nicole has been a huge supporter. Dan has advised 27, and Lori six, state winning teams or individuals in different events that advanced to nationals.
Roxanne and Eric Knock had Lori and Dan, respectively, as advisors.
"They had a way of getting students invested in their own education and developing in them a drive to succeed," they said. "Lori had a passion for developing students and uncover their strengths. Dan helped students apply Farm Business Management principles to real life situations. Each of them gave students opportunities never imagined." 
The Tonaks are the 2020 recipient of the award from the FFA Foundation. Because last year's convention was virtual, they were recognized this year. 
On hand to accept the award were Lori, Dan and Nicole, and their children, spouses and grandchildren: Samantha Tonak and fiancé Michael Pettit;, Ashley (Tonak) and Jordan Wiesen and son Holten, Logan, Jennifer, and Reed and daughter Camryn.
Both Lori and Dan are active members of the South Dakota Association of Ag Educators and South Dakota Association of Career and Technical Education organizations, serving in officer positions and being recognized with various awards. Dan serves as past president for SDAAE, and Lori serves on the National Agriculture Education Council and South Dakota FFA Board of Directors.
They also serve as liasons for FFA Leadership and Career Development events, and Dan is a member of the South Dakota FFA Foundation board.
As parents and teachers, their children were active, influential and successful FFA members in the Kimball and Willow Lake chapters, where their FFA chapters served the community and its members by conducting countless service projects.
Dan, Ashley, Jordan, Samantha, Jennifer, Reed and Logan served in chapter and district officer leadership positions. Nicole has judged and chaperoned countless FFA events and through her business contacts has helped coach, and secure various sponsorships for local, district and state events and activities, including a grant for the FFA Ag Adventure Center at the State Fair.
The family has seven State and four American FFA Degree recipients and were members on eight teams that advanced to a national competition. Lori, Dan and Nicole have each received the Honorary State FFA Degrees. Ashley and Jordan are in their second year of sponsoring a scholarship for South Dakota FFA. Ashley and Jennifer actively judge numerous competitions at the district and state level.
Nicole works with Farmers Business Network. Samantha works at Wagner Super Foods and does photography. Ashley served as a state FFA officer and now works for ADM. Jennifer interned for the state FFA association and now works for LG Seeds. Logan works in production agriculture raising a small flock of sheep, growing crops and working for a local farmer. Reed works for Farmers Implement and Irrigation.
The Tonaks say FFA helped grow the values and personal traits they wanted in their children, and they want to help others receive that experience, too.
FFA was a part of their children's lives before they were members, Dan said. They were around FFA activities from a very early age, with memories of pancake feeds and early morning parliamentary procedure practices.
"After three generations of FFA, it was a part of everyday life for our entire family," he said. "FFA was something we didn't stop and think about, we just did it and it still remains a part of everyday life."
Being involved meant developing communication and leadership skills while getting a hands-on approach to all the agriculture industry has to offer, according to Ashley.
"I met people, traveled and developed my most valued friendships. Ultimately it shaped the trajectory for my career and my life," she said. 
The Tonak family not only gives their time to the FFA – they give it to several other organizations, including: their church, city council, local ambulance and fire services, community daycare board, Kimball Center Food Pantry, Cargill Cares, Paragon Ridge CTE Consortium, 4-H, Midwest Cattlemen's Association, American Society of Agronomy, College Students' Association, hunt safe program, South Dakota Sheep Growers and Snowdrifters.
"The actions of the entire Tonak family through multiple generations have modeled the FFA mission ... developing premier leadership, personal growth and career success through agriculture education. We are proud to recognize them with this special award," said Gerri Ann Eide, South Dakota FFA Foundation executive director.