When driving west on Interstate 90 from Sioux Falls, you may have noticed something new roaming the plains. It towers over the fields and is made of solid steel. 
It's a metal horse that has been growing for 10 years, and it's the newest addition to Wayne Porter Sculpture Garden in rural Montrose, South Dakota.
Standing at just over 40 feet high from horseshoe to the tip of the ear, Porter's new mega statue stands as a symbol of the cowboy way of life on the prairie, something that is very close to home for Porter himself.
Porter grew up in Saint Lawrence, South Dakota where his main residence is today. Working with his father from a very young age, he took lessons in blacksmithing and learned all about his father's past life as a cowboy.
"He was a cowboy that happened to get into blacksmithing. I do things the way dad learned them many years ago," Porter said.
The newest statue at the sculpture garden stands next to the most iconic creation on Porter's resume – the bull. Those who've driven I-90 over the last decade know the 60-foot head that has served as an invitation to visit the sculpture garden and view Porter's life's work.
The horse moved in this past November. Though it has been standing on the property for quite some time, Porter moved it to the sculpture garden for guests to see. 
Porter does his sculpture work outdoors, even in the cold. When it's nice out, he prefers to be at the garden talking with people. He spends his summers at the sculpture garden. Those three months where he gets to be with people and "teasing tourists" has become his second life, he said.
Sculpting an icon
The newest statue was modeled after his neighbor's horse, Cinnamon. When asked about how he started work on a metal horse that size, Porter didn't hold back on criticizing himself.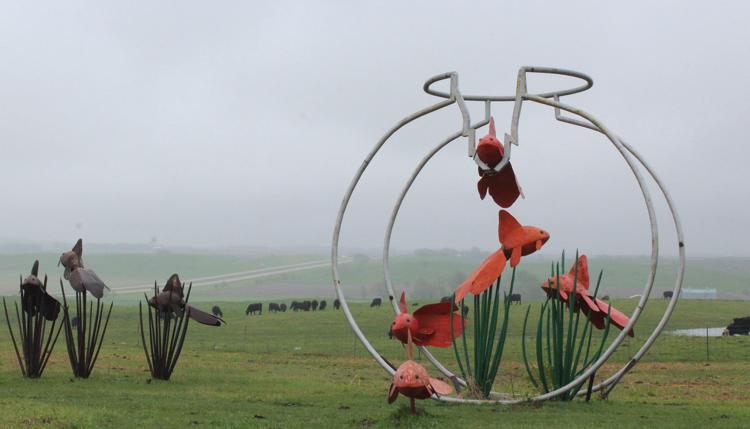 "Gah… you have to be crazy," he said. "I can't draw, so that doesn't help. I'm working on things so big and so close to me that I can't even see it."
Because of its size Porter didn't get to see his completed work until it was moved by truck to its final destination in Montrose. There was a tree blocking his view when he'd get off the horse to see his progress.
Now Porter said he hopes he never has to climb the horse again. Several years ago, he broke his leg and several other bones falling off another of his statues – a fish bowl. The incident made him more cautious as he worked on the horse over "10 stupid years" of bending metal.
Although a majority of it is completed, the horse is not yet finished. The last bit of work will be to remove the scaffolding seen underneath the horse. Structural engineers first have to check its integrity.
The life of a sculptor
Porter started working with metal at age 12 at his fathers shop, but that hasn't always been his primary focus. He went to college and got two degrees in history and political science. Afterwards, he moved back to Saint Lawrence to start a sheep farm.
"I grew up in cattle country, but to get into livestock it's much easier to get into sheep," he said.
After plummeting prices in the 1980s and a growing interest in his sculpting work, Porter realized that he had to sell the sheep farm and pursue sculpting full time. While he can weld and knows blacksmithing from his father, Porter said he prefers to think of himself as a metal bender – like the cartoon character Bender, from "Futurama."
"He's my idol," Porter said. "Except I'm sober."
When Porter realized that he could make a living sculpting, he quickly got to work with his brother to find more accessible land to display his creations. Originally, Porter wanted to move to the Black Hills but realized that option wasn't going to work.
"We went out west but all the good land was taken. So, we just decided to go the other way," he said.
After finding Montrose site, everything moved in quickly, and it's has expanded ever since.
Even though he did not follow a career from his degrees in political science or history, Porter said those studies and his fascination with the human mind have helped him connect with visitors to his sculpture garden.
The bull is a representation of his childhood life in cattle country and the horse has prairie connections. When it comes to picking his next subject, Porter lets his thoughts "fight" and then "figures it out" once his hand starts tracing an outline in chalk – always starting with the head.
As the summer comes to Montrose and more tourists flow through South Dakota, Porter said he's excited to get to know more people and not think about his next major project.
What's waiting back home in Saint Lawrence won't be a step down from a 40 ton, 40-foot horse. He has already begun work on his next sculpture – a 25 foot rabbit made from an old cement mixer. Porter's works will not get any less ambitious, nor any less heavy.
"I wanted to finish the ears on that rabbit, but the dang weather never let up," Porter said.
The Porter Sculpture Garden is a half a mile south from the Montrose exit on I-90. There are admission fees only on the good days, he said. Fees are $10 for adults, $5 for kids ages 13-17 and those 12 and under get in free.
The park is open daily 7 a.m. to 8:30 p.m., May 21 through Sept. 20. He invites people bring their families and dogs to visit while the weather is nice. More information can be found at portersculpturepark.com.
Reach Reporter Jager Robinson at 605-335-7300, email jager.robinson@lee.net or follow on Twitter @Jager_Robinson.