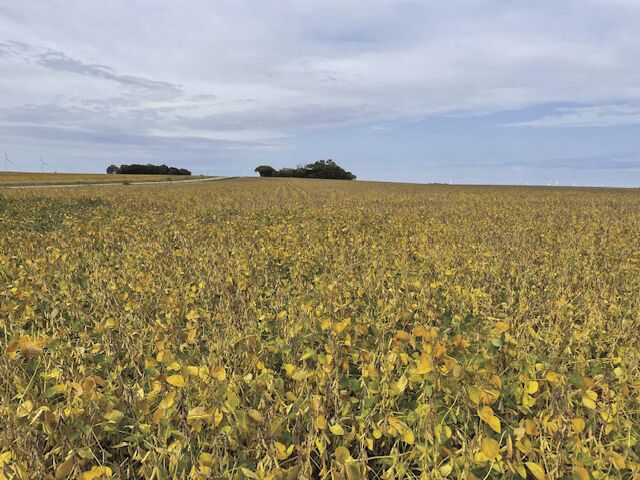 Since my last report, many of us have gone through a period of reflection and remembrance with the 20th anniversary of the Sept. 11, 2001 attacks. I doubt I'll ever forget being glued to my chair watching the events unfold that day on TV.
Our family wasn't personally impacted like so many were with the subsequent military action and service or loved ones lost due to that attack, but it became more personal when Susanne and I visited New York City in the last decade to represent soybean farmers while promoting biodiesel and bioheat.
Twice while I was serving on the Iowa Soybean Association board (in 2012 as Demand committee chair and 2015 as ISA President) we were part of the National Biodiesel Board's annual December NYC Biodiesel/Bioheat tour.
So what does this have to do with Sept. 11, 2001, you might ask? The World Trade Towers were the headquarters for the Port Authority of New York and New Jersey and biodiesel is the primary fuel for the huge fleet of equipment used to operate and maintain the infrastructure under their watch. We were there as the face of farmers growing soybeans that become soybean oil, the primary feedstock for biodiesel they use in their fleet as well as for bioheat, which has favor as a green heating fuel. "What's bioheat?" you may ask. It is heating oil equivalent of biodiesel and heating oil is a big deal in the northeast region of the USA due to lack of natural gas infrastructure.
As is often the case with promotional tours or meetings, the atmosphere was about people sharing the whys and wherefores of product. Visiting with management level people as well as mechanics who work on biodiesel powered equipment over a really good lasagna lunch from a local Italian place there is a lot of sharing. NYC may be a mystery to us folks where there are only a few people per square mile but it is the "people" connection that's always important.
The guy who pulls wrenches to keep a million dollar airport snow plow running is as interested in how a combine works as we are with his big equipment.
One thing to think about is if we farmers don't use biodiesel, how can we ask someone else to use it? My pickup is always filled with E85 or blend and my farm runs on biodiesel blend.
In the case of our visits with folks at the Port Authority, it was also their personal stories how or why they survived that terrible day 20 years ago. Hearing their personal connection to the buildings some called their work home and visiting the 9/11 museum was quite impactful to my wife and me. If you need a good reason to visit New York City, that museum is a great one. We have visited the Pentagon 9/11 Memorial and intend to visit Flight 93 National Memorial as well.
On crops, things keep progressing as expected. The shift toward fall and lack of killing frost has the corn that had decent moisture holding color well while the droughty spots are being watched for stalk quality.
Some high moisture corn has been put up for feed with likely more on deck. I'm hearing some interest in harvesting corn and drying it to capture some basis opportunities.
The neighborhood is in the front end of soybean harvest as I'm seeing a few fields off or opened up. Lawns have greened up and we have mowed more in the last month than most of summer. I have yet to get the lawns sprayed for dandelions as I often promise to do, we'll see.
Above all, be safe out there. A shout out to all the first responders be they medical or public safety. We need you, but I hope not to see you on my place.
Tom Oswald farms in Cherokee County, Iowa. He is on the United Soybean Board, serving as chairman of the supply action team.