In a year of uncertainty and relative unease, agriculture has had to truck on.
Whether you were in row crops, livestock, construction, ag support services, or any other sector of the industry, ag was deemed "essential" and the show went on.
While the COVID-19 pandemic raged on, ag construction projects continued to climb as producers looked to store more grain or house more animals, said Jon Gustad, sales manager for Sioux Steel, an ag construction company based in Sioux Falls, South Dakota.
Large grain bins and cattle buildings marked the two areas for the company's contracts. The growing interest in livestock structures was unexpected for Gustad and his team.
Gustad said he suspects that the last two years of miserable weather have helped contribute to an increased sale of cattle barns. Many producers have begun to search for ways to protect their cattle from the near endless rain.
"A lot of people were on the fence and then 2019 knocked them over the fence," Gustad said.
Down in Emerson, in northeastern Nebraska, Gustad and contractor Auston Darnell, co-owner of Midwest Hoop Confinement, have been working with a producer to build a new 400-foot cattle barn that can house all of their animals during rough weather.
"We've been plugging away," Darnell said.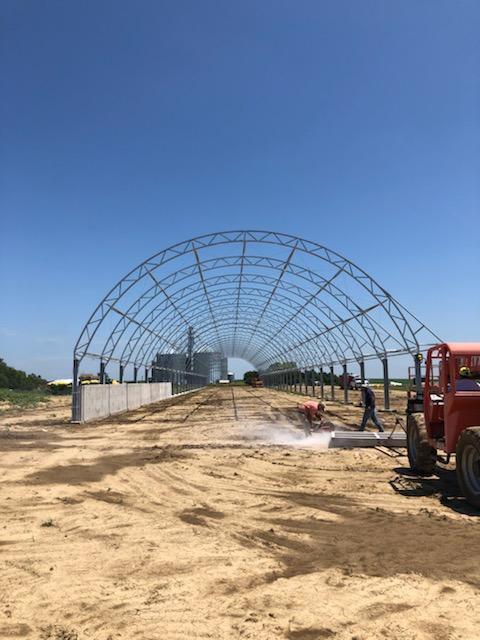 Darnell said that all of agriculture has had a bit of a slowdown during this pandemic. But, producers are looking to take advantage of a few aid programs to plug away at new building programs.
The U.S. Department of Agriculture expanded loan provisions for FSA loans that typically help cover the cost of new livestock buildings. In May, the agency broadened the use of the "disaster clause" to allow those affected by COVID-19 to set aside some payments. Gustad said this could be a big reason construction never slowed.
Darnell said the uptick in cattle confinement started more seriously four or five years ago when commodity prices began to rise.
"More and more pasture was taken out for row crops," Darnell said.
Once hoop barns and other cattle confinements started to pop up, Darnell said many across the livestock world began to see the benefit of having cattle under roof during harsh weather and extreme temperatures. He said that even smaller benefits like pure manure not mixed with dirt has been a benefit to those who farm and ranch.
"The comfort level and ease of use (could be the reason)," he said.
As the buildings have popped up, so has the technology to accompany them. Darnell said that over the last few years he has seen more and more tech-integrated cattle buildings that allow producers to check on their cattle or calves on their phones and manage control settings remotely without having to trek through the snow or mud.
Sioux Steel was one of the first ag construction companies to close their main facilities to prevent the spread of COVID, Gustad said. Back in early April, the company closed its doors and shifted online work.
"Once a week we heard that someone else in our industry had several cases go through their facility," he said.
As the pandemic progressed, so too did regional lockdowns. Gustad said that the construction industry remained largely unaffected, but he was still happy states like Kansas, South Dakota and Nebraska remain open to allow those in agriculture to do what they needed to do.
"We feel lucky here," he said.