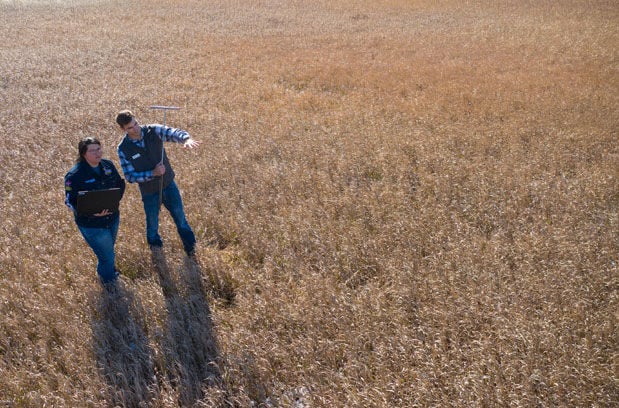 Wall, S.D., native takes on ranch management program at Western Dakota Tech
Many teachers will tell you that teaching found them – whether it be those who happened into the position after many years in their field or those who found a calling early in life. However, for 24-year-old Kaden Eisenbraun, teaching didn't come as expected.
Eisenbraun is Western Dakota Tech's farm and ranch management program director. He was brought on a year and a half ago to revive the program at South Dakota's West River tech school in Rapid City.
"I remember just seeing a spark in him," said Todd Anderson, Eisenbraun's supervisor and a fellow professor at the university. "His answers were just so progressive, for lack of a better term. We asked about his ideas and he was full of enthusiasm about bringing his ideas."
Eisenbraun came to teaching right out of university. The Wall, South Dakota native earned his associate's degree in agricultural sciences at South Dakota State University and then his bachelor's degree in agriculture at New Mexico State University. After a brief respite at the South Dakota Farm Bureau, Eisenbraun applied for the position at Western Dakota Tech.
"I threw my hat in the ring and somehow I did get an interview and it went well," he said. "Never really imagined I'd be doing this, but I am super grateful I'm doing this and I absolutely love it."
Like many generational agriculturists, Eisenbraun assumed he'd return home from his time at university to work on the family operation, but fate had other plans. Eisenbraun went to New Mexico to study from the best range scientists in the country with the goal of bettering the family's seventh generation operation in Wall.
It turned out the knowledge he gained in his time away from South Dakota was a major difference-maker when considering his current position.
When Anderson and his colleagues considered Eisenbraun for the job, his extensive experience from his ranch at home, coupled with his enthusiasm and outside knowledge of the industry made him an easy choice to head the ranch management program, Anderson said.
As Eisenbraun enters his third semester, after the second was cut dramatically short due to COVID-19 struggles, he said he is excited to work with his students and colleagues to continue to grow the program. It's a balance of using what he knows and learning from others.
"I really have to earn their respect," he said.
This fall, seven students are enrolled in the ranch management program. It covers a range of topics, but they're able to cover a lot of ground touching every aspect of the agriculture industry, Eisenbraun said. It's grounded in the goal of successful marketing.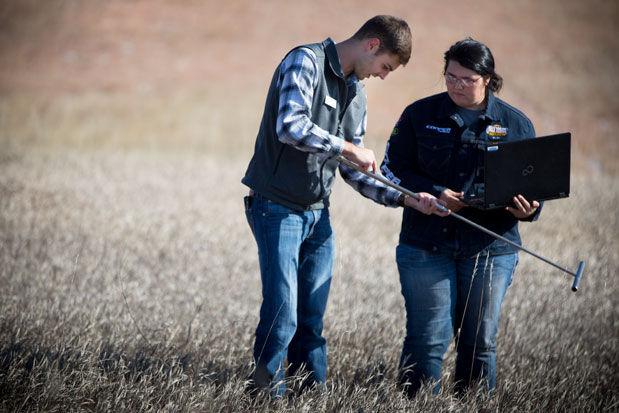 "Every single class that I teach talks about the marketability of what they do and the scope of what they do," he said.
As the class evolves, he has been finding ways to incorporate past lesions with future goals. Using 2020 as an example, Eisenbraun said discussing how to overcome major obstacles like low cattle prices and a failing ag economy help his students understand what it takes to keep an operation in the family for seven generations like his parents have before him.
"We have real conversations about rolling with punches or you will get stopped by what's coming down the pipeline," he said.
Getting people interested in a brand new program has been tricky, Anderson said. But he added that Eisenbraun has spent hours of his personal time going to meetings and promoting the class that he feels can be for producers of all ages.
"This is a good opportunity for those with downtime," he said. "Ranches are unfortunately going to be suffering for the next few months for a variety of reasons."
As Anderson considers Eisenbraun's progress over the last year and a half, he said finding a program director and an instructor who could inspire their students as well as teach was ultimately the right choice.
"You can't teach that, and you can't gain that overtime," he said. "It's something you have or you don't."
The Eisenbraun operation, run by his father Juston, had been Kaden's entire life leading up to college. His whole family has been involved in agriculture from a young age, and he hopes to continue the family operation one day in the future.
"Until that time comes, which probably still won't be for a while yet, they know that I'm devoted to this program and to making it successful," he said.
Reflecting on his time leading up to his current position, Eisenbraun's high school and college career helped prepare him for a teaching career. In FFA, Eisenbraun was a prominent high school public speaker and attended any event he could. After working as a South Dakota state FFA officer, Eisenbraun attended the national FFA convention to help educate younger students during their time in Indianapolis.
Eisenbraun was featured on AgGrad's 30 under 30 list for his preeminent role as a leader in agriculture. He was nominated and awarded due to his time at Farm Bureau Financial Services, but his nomination came as he accepted his current position at Western Dakota Tech.
"I just want to do the best I can for the industry, but I also feel like there were other deserving people out there that I just don't come close to," he said.
As the semester begins, Eisenbraun has worked closely with his colleagues to offer new things for his program. Starting this year, live cattle will be brought on to campus, and many guest speakers and lined up to talk with his students.
"I rely heavily on guest lecturers because I don't know it all," he said.
Watching from a safe six feet away during the pandemic, Anderson said he couldn't be happier about Eisenbraun's progress in his role.
"I just can't say enough about him," Anderson said. "I like him personally, and admiring your colleagues is important."