As water levels rose and didn't stop, it became apparent to farmers and ranchers that 2019 was going to be a different beast to deal with. It was wet in 2018, but fortunate dry spells allowed farmers to plant and grow a good crop. This year, they aren't too sure.
For a pair of ranchers in Minnesota, 2019 was just an extension of what they already believed – changing weather means changing your practices.
Tom Cotter, an Austin, Minnesota farmer, and Grant Breitkreutz from Redwood Falls spoke at the Iowa Cattlemen's Association BeefMeets in Cherokee, Iowa June 11. The two Minnesotans came to deliver their perspective on using cover crops on their farming operations in an effort to better serve their livestock.
Cotter is a fourth generation farmer on his family's operation that started in 1875. After nearly 150 years of farming, the Cotters started something new at the turn of the century by incorporating cover crops.
"We've made a lot of mistakes, but saw a lot of good things," Cotter said.
Along with the shift to cover crops, Cotter started no-tilling his row crops and moved toward organic seeds. It's all an effort to both increase grazing capacity and diversify his farm fields – something that Cotter said he sees the value most during seasons like 2019.
"Times like this year when traditional crops are terrible, we've learned to look at other crops and recognize they are worth some good money," he said.
Cotter runs a 50 head cow-calf operation along with raising crops.
Like most farmers growing up, Cotter said his dad taught him a hard work ethic, one that started with Cotter drilling holes into the soil for drainage. Through this process which continued until he was an adult, Cotter started recognizing the value that no-till practices and cover crops had on the soil over time.
"I noticed that the soil smelled better. I noticed that it dug easier. And best of all I noticed that I could take my kids fishing because we had worms," he said. "Now, I have no problem finding worms."
Breitkreutz, on the other hand, started with cover crops simply for cattle feed. He is the owner and operator of Stony Creek Farm, and since his turn to cover crops 20 years ago, he has become a teacher of the practice as well.
"We started planting cover crops to produce more feed for the livestock. It wasn't even called cover crops at the time," he said.
Stony Creek Farm went through troubling times, he said, and with it came an increased focus on grazing and pasture management as a way to reduce costs for feed. After planting cover crops, his pastures exploded to house more than 40 native species. Once his grazing pastures started doing well, Breitkreutz switched poor farming land over to grazing as well. What resulted was not only a plethora of native species, but of native wildlife as well.
Once cover crops became a staple on the operation, Stony Creek Farm moved to no-till and low chemical use as well. When the soil health improved, healthy profits returned, Breitkruetz said.
"In the first year, we saw about $87 profit on that wheat acre," he said. "But what we found out many years later is that the savings come after."
In total, Breitkreutz and his wife estimated that they were saving $200 an acre after a few years of no-till, cover crops and low chemical usage.
Cotter, who also serves on several advisory boards for soil health, echoed Breitkreutz's sentiments. He said many people still try to convince him that their higher yield numbers mean they are doing better overall.
"I have people tell me yield is king. Bull crap. Return on investment is," Cotter said.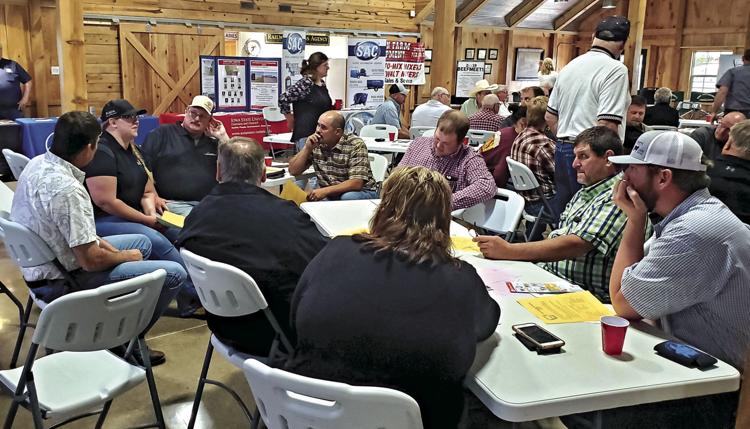 Above all else, both Cotter and Breitkreutz have cover crops to thank for improving water infiltration over the last two years. As dust storms swirl across sugarbeat farms in Breitkreutz's area, he said he was able to plant into standing water and see his crop thrive.
"They told me I couldn't (plant in water) and that it'd never work, but I did," he said.
After several inches of rain, the water disappeared into his soil in a matter of hours rather than days like on his neighbors' farms.
Cotter's efforts to grow cover crops earned him an award for clean water initiatives on his operation. He said he was just "doing the right things to help the soil."
Along with Cotter and Breitkreutz, Iowa State Extension beef specialist Erika Lindy was on hand to share insights ISU has gathered from various tests throughout the state. The main study done detailed how grazing cover crops doesn't actually impact weight gain in cattle as much as initially thought. Both Cotter and Breitkreutz intentionally have smaller cattle, but Lindy doesn't believe they have to.
Through the ISU Extension study, they saw a 0.8 pound per day weight gain grazing on cover crops, which fit in with the operation they were studying.
"With this study, we were able to graze for about 45 days," she said.
Because of the small grazing window, Lindy said the test wasn't as complete as she and ISU would have liked, so they will be expanding it in the coming years.
Even if weights are lower, Cotter said that the real benefit is nutrient retention while cattle graze the cover crops. Along with the deep root systems and constant soil coverage, Cotter said his cattle leave manure in the field for his crops to gain for the next planting season.
"No better use for that manure is to grab it and use it for next year," Cotter said. "I've got the livestock above, but I've also got livestock below. You get that nutrients and that soil energy going."
For both Cotter and Breitkreutz, cover crop management has become a hobby, as well as a business practice. As they teach others how to use them, they both said that there is no silver bullet for any operation regardless of how well they are doing. In the end, Cotter said it isn't even about being a leader for those who want to try cover crops.
"Everyone here has to try cover crops. You have to make your mistakes and learn your pluses and minus. I could tell you all you want, but until you put it into your own practices, you'll never know," he said. "I don't know what it takes to be a leader, but if you're just doing something because everyone else is doing it, you're doing it for the wrong reasons."
As the topic of water quality regulations came up, Cotter said that if anything, he hopes that people try to improve their soil health simply because it would bring fewer regulations upon them.
"If everyone is doing the right thing and has good soil, they can't say much about (our operations)," he said.