Mark Beitelspacher followed his heart's calling when he returned to his family's cattle and crop operation near Bowdle in 2004, just a few years after college.
"Either your heart is into it, or it isn't. I've always been into the livestock side more than farming," said the third-generation cattleman, who also raises corn, soybeans and wheat.
Loving what he does day-in and day-out is important, especially when working conditions were what they were this calving season.
"This was the first year, in a long time, that it got so bad with snow that I had to check cattle with a tractor instead of the four-wheeler," said Mark, 43. "The death loss on the calf crop during those April blizzards was pretty high this year. And then with the rain this spring, even hauling cattle out to pasture is a challenge."
At their worst, the blizzards dropped 2 feet of snow on Edmunds County, shutting down Highway 12, which runs right through their farm. Sharon Beitelspacher, Mark's mom, says she's never seen a spring like 2019 when the area received a total of 115 inches of snow.
"It just didn't give up. It kept coming and coming," said Sharon, who together with her husband, Richard, raised their four children, on the farm where Mark and his wife, Tara, now live and raise their sons, Bryce, 15, and Brady, 13. Mark has two sisters, Krecia and Kindra, and a brother, Lance.
"We are very, very happy Mark is continuing the farm. And his two boys are super great. They are such good helpers. Fun to see them grow up and take on more responsibility and do things that Richard and I used to do," Sharon said.
Raising her children on the farm taught them responsibility and gave them opportunities, she said.
"They learned responsibility, yet we had fun times. We were involved in 4-H, and family outings always revolved around livestock shows. To take a resort vacation was not in our plan, it was always structured around livestock shows or Rangeland Days."
The couple moved onto the place in the early 1970s. Richard, like Mark, loved cattle and was a purebred breeder. Mark continues to raise purebred Angus and Simmental herds.
"We like the genetics, which are good for implementing into crossbred programs," said Mark, who is always working to improve herd genetics. "I breed for lightweight calves. I'm also looking for efficient calves, so they get up and grow fast. Pounds pay, especially when I sell bulls to guys who are selling calves off the cow."
The family holds an annual sale the final Friday in February every year where they sell 80-90 head of Simm X Angus and purebred Angus bulls.
When Mark moved back to farm full time 15 years ago, he and his wife, Tara, found a home in town 2 miles from the farm.
He rents crop and pasture acres from his parents and they run their cattle together. In 2017, when Richard and Sharon decided to build a new home, Mark and Tara and their sons moved onto the family's farm.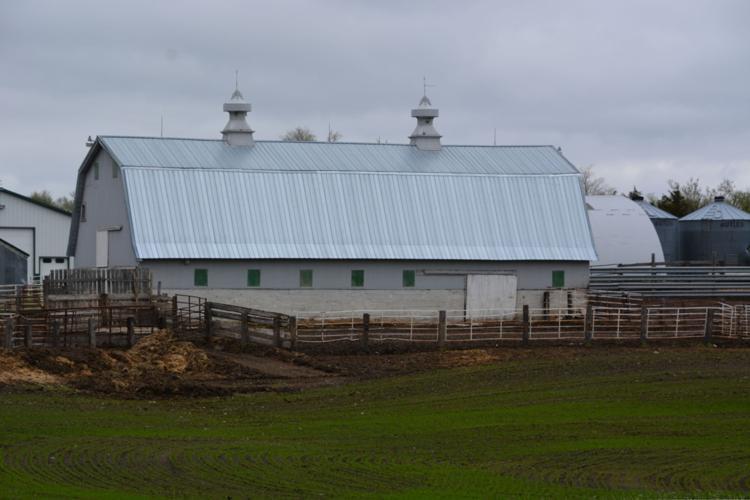 "I'm grateful for the opportunity. In my mind, my end goal is to pass the farm onto these two (Brady and Bryce) to keep it going for the next generation," Mark said. "We're still transitioning. The decision-making is all on my shoulders now, but my mom still helps out and does all the cattle records."
Since they were little, Bryce and Brady have helped out quite a bit.
"They are definitely learning skills they would never learn otherwise," Tara said. "I went out with Bryce a couple times during calving and I thought I'd need to call Mark out to help, but he pulled the calves and took care of everything like a pro."
Following in their dad's footsteps, Bryce and Brady enjoy working with cattle and are both avid showman – which means a lot of work year-round, Brady said. "We get up early to wash and blow our show calves every day."
Their work pays off. During the 2018 South Dakota State Fair, they received third overall in the 4-H market beef show. Bryce achieved several top-five showmanship mentions in the past year, but is most proud of winning the overall showmanship title at the American Royal in Kansas City. His steer was also in the top six – receiving reserve champion in the Division III Category of the Junior Market Show.
Mark and Tara are both 4-H alumni and currently serve as Busy Bowdle Stars 4-H Club leaders.
"We wanted to make sure to offer the opportunity because we were both in 4-H and enjoyed it and learned a lot from it," said Tara, who spent her summers growing up traveling from farm to farm throughout Texas, Kansas and Colorado, custom harvesting and completing 4-H projects.
"One year, my sister, Jada, and I each had 60 4-H projects – that is no joke."
Tara gained communication and business management skills from 4-H, having served as a state FFA officer. She also learned by watching her parents, Perry and Candice Hoffman, manage their harvesting crew.
Today, as the owner of Bowdle and Eureka's newspapers, The Pride and Northwest Blade, she leads a team of seven part-time employees as they work together to meet weekly print deadlines.
"Those experiences definitely shaped how I work with people," she said. "My dad had to trust and train a lot of people who were running big equipment."
Tara and her sister began The Pride in 2007 when the previous owner passed away. They were asked to purchase the Northwest Blade when its owners were ready to retire.
"Our local newspapers are like the scrapbooks of the community. Everyone looks to them for history of how a community evolves," she said.
In addition to cattle, the family raises crops, implementing no-till and other conservation practices such as maintaining a crop rotation that includes cover crops.
"Dad started no-till because this is sandy soil, and it helps conserve as much moisture as we can," Mark said.
Cover crops build organic matter and provide extra grazing for their cattle. They also help with compaction and water infiltration.
Mark added that the cattle love turnips, which have large tubular roots that help break up compaction when they grow to about a foot in diameter.
"You can't believe how the cows dig them up to eat them because they love them," he said.
Editor's Note: South Dakota Farmers Union features farm and ranch families throughout the state. Read more on its website www.sdfu.org.