We sort of put our advertising representative in the hot seat the other weekend. Luckily, the very capable and adaptable Ryan Simmons is a good sport.
Ryan showed up at the Grillin' on the Green Burger Battle event thinking he and his two boys would watch from afar and be there to support South Dakota's beef producers. Then he was handed an apron.
Over the next 30 minutes, he and his teammate, Lane Peterson – a central South Dakota rancher who didn't have much more prep time than Ryan – sweated it out to create a one-of-a-kind burger to put before a panel of judges.
"It was an experience," Ryan said. "The kids thoroughly enjoyed watching this thing go on."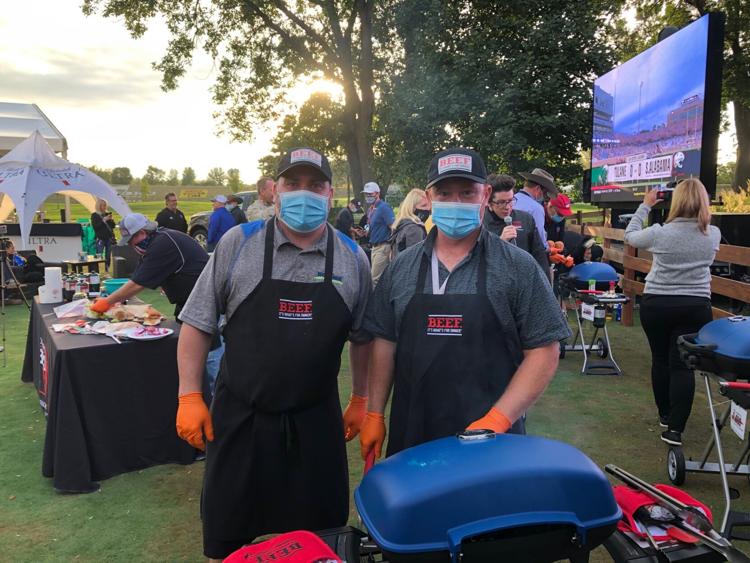 The burger battle was part of the festivities surrounding the Sanford International PGA Tour of Champions in Sioux Falls. Beef played a big role throughout the golf event, Sept. 7-13. The South Dakota Beef Industry Council set up its popular restaurant, The Ranch, at the prime viewing area for the first and 18th holes. The Hereford Association and the South Dakota Beef Breeds Council worked together to served more than 1,600 ribeye sandwiches to Pro-Am players, military members and first responders.
On Saturday night, the beef council turned up the heat by hosting a cooking competition with celebrity chef Justin Werner from the Food Network as one of the judges.
Ranchers from across the state were paired up with folks from local media outlets. The nine teams each got three pounds of hamburger and the basics such as salt and pepper. They were each allowed to bring one unique item. Lane's wife helped out with that by running to the grocery store for some bacon and Worcestershire sauce that afternoon.
They also got to choose from a table of ingredients, toppings and condiments galore – but they had just 30 seconds to scope the table, and they were trying to out-grab the other teams. Lane got that job while Ryan mixed up the burgers.
"There was some elbows being thrown, some pushing out of the way," Ryan said. "I told him, 'I played football in college, just start chucking that stuff back to me.'"
Along the way, Chef Justin was streaming the event live and interviewing the cooks. He asked Ryan what the key was to making a perfect burger patty. Ryan's no celebrity chef, but he could be considered a grill master. His rules are "consistency and thickness," adding that it's important to size the burger right so it fills out the bun once it cooks down.
Ryan added chopped onions, garlic salt and pepper when mixing up the burgers. Lane had snatched a big Portobello mushroom from the ingredient table. They sliced that thick and grilled it off with a little butter. The bacon went in a sear pan.
Lance and Ryan constructed their burger with lettuce, tomatoes, bacon, the Portobello, pepper jack cheese and barbecue sauce on a toasted bun. It didn't win, but they got rave reviews from those in the crowd who sampled it.
The winning burger – which featured the sack lunch favorite peanut butter and jelly – was made by the team of Jenny Johnson from the South Dakota Cattlemen's Auxiliary and Terry Vandrovec from Sanford Sports.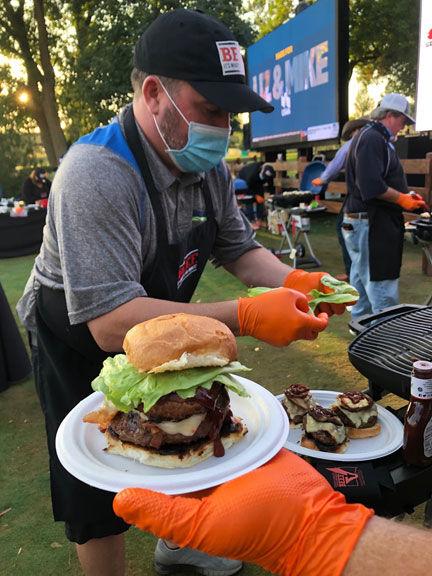 "You might not think PB&J has any place on a beef burger but the winning team manages to make it work," Chef Justin said. "The sweetness and richness were a perfect pairing to the seasoning on the patty, with crunchy red onion for texture. 10/10 would eat again and again and again."
The other teams were:
• BJ Hansen from South Dakota Farmers Union and Donnie Leddy from Cattle Business Weekly,
• Morgan Kontz from the South Dakota Cattlemen's Association and Terry Anderson from KBHB radio in Sturgis,
• Leslie Reuer of the South Dakota Cattlewomen and Ashley Thompson from KELO,
• Ty Littau of the South Dakota Stockgrowers Association and JD Collins of KIKN radio,
• Michelle Rook of AgWeek TV and John Szezch of the Par Caterers food service team,
• Elaina Lanson from Midco and Greg Hanes of the Cattlemen's Beef Board, and
• Reid Jensen of South Dakota Farm Bureau and David Viger from WNAX.
At the end of it all, they gave away the competition grills donated by Karl's TV & Appliance to those in the audience who had signed up.
South Dakota Beef has done other grilling challenges before, but this was the first one of this scale. Executive director Suzy Geppert hopes to do more.
"I think it's really important to do things like this," she said. "It offers the opportunity to engage with consumers. It also offers ranchers an opportunity to engage with the checkoff."
As for Ryan, maybe a cooking show is in his future.
"It was intense. It was a lot of fun," he said.
Until then, he'll fire up the grill anytime. "I don't care if it's 20 degrees below zero," he said.
And what do his biggest critics think of his cooking? Ryan's boys, Maxim, 10, and Kellan, 8, can be kind of picky. Watching the burger battle made them hungry, he said, but they settled for slushies and chicken nuggets at a local pub after the battle was over.