South Dakota beef producers are showing some gratitude in the grocery store.
A campaign by the checkoff-funded South Dakota Beef Industry Council featured ranch families in videos, commercials and posters hung in local grocery stores.
"I think sometimes we forget to thank the consumer. They have lots of choices," said Laurie Johnson, who took over as president of the Beef Industry Council this past fall.
Johnson and her husband Brandon both work full time jobs while running 50 cows and 120 sheep at their farm near South Shore in northeastern South Dakota. It's easy to get wrapped up in day-to-day chores and forget the big picture, she said.
"If we don't have consumers, we don't have an industry," Johnson said.
Having South Dakota producers participate in the beef promotion provides a unique connection with the consumer. The posters went up at more than 60 grocery stores around the state.
Johnson's boys were excited to see their picture when visiting the Dakota Butcher store in Watertown, she said. Kolt, 5, and Elliot, 4, spend time in the calving barn and in the pastures during the summer. Elliot especially loves the cattle, his mom said. But even around Watertown, some consumers are disconnected from raising food.
"Some of the kids they go to school with don't necessarily understand what we do, how we live or what our place looks like," Johnson said.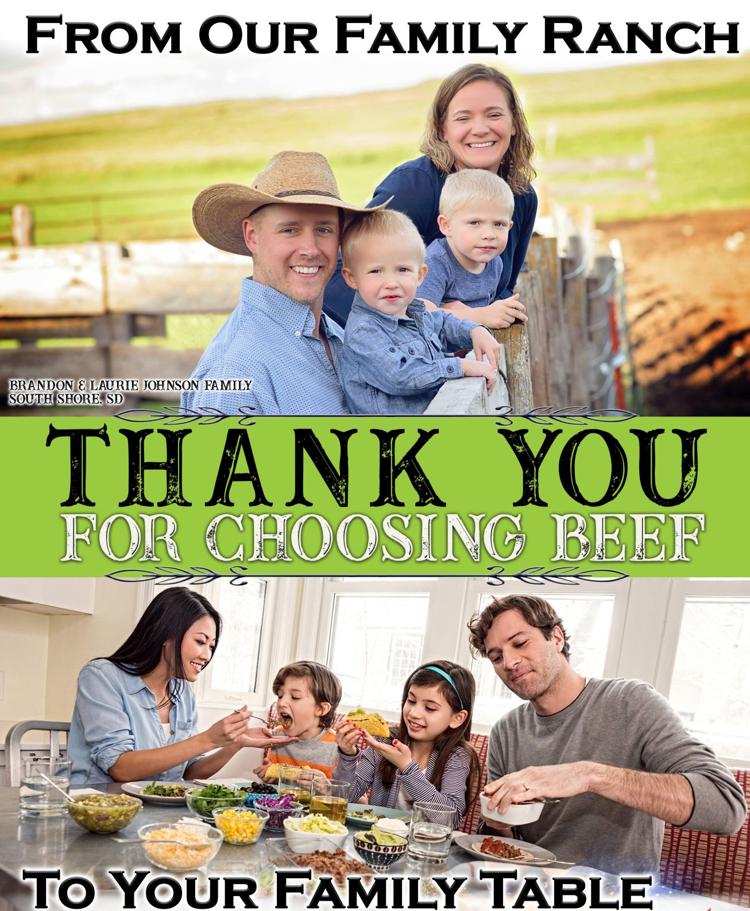 Featuring local families helps tell the beef story by putting a face to the product, said Suzy Geppert, executive director of the state's Beef Industry Council.
About 10 families from different regions of the state were featured on posters or in videos for the campaign. The promotion took place throughout the last year with an extra surge before the holidays, which is the second biggest retail season for beef after grilling season.
Posters carried a QR code shoppers could scan with their phones. It linked to information and recipes on sdbeef.org and a sign-up form for Beef Bucks giveaway. Geppert said it drew a lot of people to their website. Her team will be analyzing the results from retail surveys and other data points and evolve the promotion for the coming year.
Geppert said they hit on something important with the "Thank you for choosing beef" campaign.
"We have to remember that each time that consumer walks through that grocery store door, they have a choice to make, they don't have to choose our product," she said. "Our role is to increase consumer confidence in the purchase and let them know we appreciate it by saying thank you."