At the Renner Corner Locker, on the highway in the little town north of Sioux Falls, items in the meat case are marked with a seal in the shape of South Dakota indicating that the product was inspected for safe and healthy handling.
That package of meat couldn't be sold 13 miles away in Minnesota, however.
Selling across state lines would require a federal stamp, even though the rules for safe handling and the inspection are much the same.
South Dakota's senators are looking to change that. They have sponsored a bill that aims to make interstate sales easier. If included in the next farm bill, they say the legislation will provide new markets for cash-strapped producers.
"It's one more opportunity to market their product," said Sen. Mike Rounds, R-S.D., during a media call after announcing the bill.
Rounds, along with fellow Republican Sen. John Thune and Sen. Angus King, I-Maine, introduced the New Markets for State-inspected Meat and Poultry Act May 10. It would allow meat with a state-approved inspection stamp to be sold in other states.
Currently, only federally inspected meet can be shipped to out-of-state markets. One exception is for states that have signed up for a sort of middle-ground inspection program that allows state inspectors with special federal training to give a federally approved stamp.
That Cooperative Interstate Shipment Program came out of a previous discussion about allowing interstate sales. It became part of the 2008 Farm Bill, but it hasn't been popular.
Four states have signed on to the program, including North Dakota in 2013. Three shops there are participating in the program.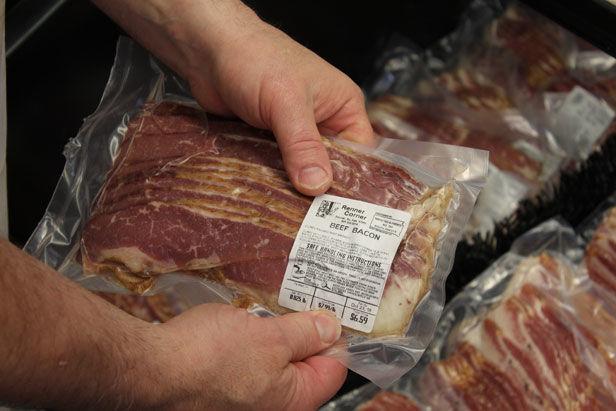 "I'm glad we have this service in place," said Dr. Andrea Grondahl, director of state meat inspection for the North Dakota Department of Agriculture in Bismarck. "North Dakota has a fairly low population."
For shops on the border, this opens a couple of extra markets, she said. That's the case for L&M Meats in Grand Forks on the North Dakota-Minnesota border.
The company joined the Cooperative Interstate Shipment Program in order to grow, said processing manager John Watts. L&M's beef sticks are the only of its products inspected under the program. They're sold in retail shops as far as western North Dakota and Duluth, Minnesota.
The company wanted to capture customers in a more populated state, and it decided to focus on its most popular product, the beef stick.
"They're the best in the West," Watts said.
L&M Meats is the largest North Dakota processor in the interstate shipment program, processing at least 1,000 pounds per week. The others in Langdon to the north and in west-central Beulah are smaller operations that signed up with distributors to sell across state lines, Grondahl said.
She hadn't studied the legislation for the state inspection programs, but Grondahl said if rules change, North Dakota would likely drop the Cooperative Interstate Shipment Program. The state has two inspectors trained to cover the three plants that are part of the program, and their time and travel expenses have to be tracked separately for funding purposes.
Many feel that state inspections are just as good as federal inspections, and they already follow many of the same regulations. Grondahl said the interstate sales restrictions have been unfair for a long time.
"It really is about fair marketing rather than a food safety issue," she said.
Her counterpart in South Dakota agrees about the quality of state assessments. The meat inspection program is under the umbrella of the South Dakota Animal Industry Board, led by state veterinarian Dr. Dustin Oedekoven.
The industry has been working to recognize state inspection programs for decades. Oedekoven recalled a national meeting held in Sioux Falls in the late 1990s, which eventually led to the changes in the 2008 farm bill and the Cooperative Interstate Shipment Program.
He said it doesn't make sense to have a program between federal and state inspections where processors that wanted to participate have to have 25 employees or fewer, facilities have to meet federal requirements and inspectors have to undergo federal training.
"They made a program which is impractical for most states to implement," he said.
South Dakota surveyed its processors to gauge their interest, Oedekoven said, but decided it would take time away from their few state inspectors and take money away from the small state program. It wasn't worth it, he said, when state inspection products were "at least equal to" the federal inspection products.
"We're getting the same outcome, which is a safe and wholesome meat product," Oedekoven said.
All meat and poultry sold or donated for public consumption must be inspected either by the U.S. Department of Agriculture's Food Safety Inspection Service or by a state program. Inspectors visit the site and make sure each animal is healthy before it's slaughtered, they ensure it's slaughtered in a humane way, and that the carcass and meat is handled in safe and sanitary ways through processing, packaging and labeling.
Large plants like Smithfield Foods, formerly John Morrell in Sioux Falls, have federal inspectors dedicated to the facility. Smaller shops schedule their slaughter and processing work when an inspector can be on site.
Inspection isn't required when farmers have livestock butchered to stock their own freezers. Those cuts are stamped "Not for sale." Bison, elk and deer are exempt from the interstate sales rules. Those products can be sold across the border with a state inspection stamp.
The Renner Corner Locker processes buffalo from across the border in  Minnesota, but assistant manager Jon Siemonsma said they've had to turn away another customer from Minnesota who wanted to have other animals processed and inspected there before bringing them back to Minnesota to sell.
Renner Corner is one of 33 state-inspected operations that could sell products in other states if the newly introduced bill passes.
"It could potentially get us more business," Siemonsma said.
Sen. Rounds said that's the aim, and it especially makes sense when niche markets and direct sales are a way to add value to a product.
"At a time of economic downturn within the ag sector, opening up new markets for South Dakota producers is critically important," Rounds said in a news release.
Kenny Graner, President of the United States Cattlemen's Association, added his support: "This opens access to new markets that were previously unavailable due to outdated federal regulations. The idea that beef from approved South American countries may be sold across state lines in the United States, while state inspected products can't go from South Dakota to North Dakota illustrates the inequities of our current law."