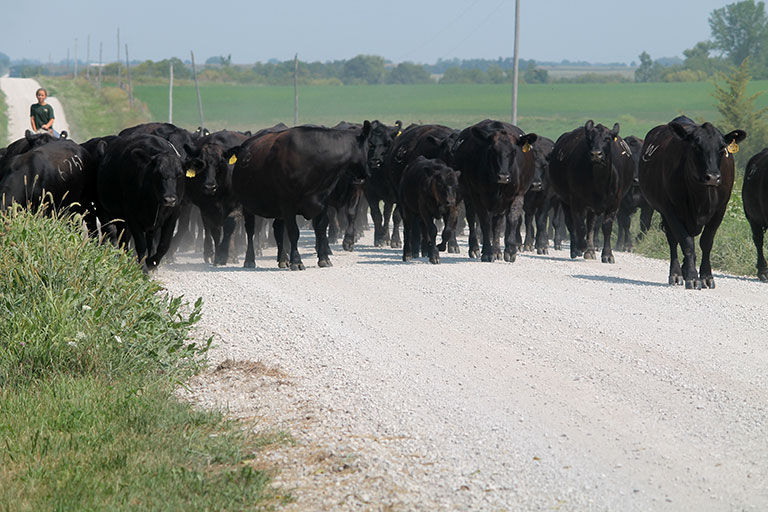 As we get close to weaning spring-born beef calves, or have already weaned for some operations, one of the challenges that seems to intensify this time of year is treating and controlling bovine respiratory disease.
Although bovine respiratory disease (BRD) is an issue for cattle producers all year long, the stress of weaning calves and comingling and congregating large numbers of calves into small, sometimes dusty lots makes this time of year more likely to have problems. In this article I will discuss some methods to prevent, control and treat BRD.
BRD is often called pneumonia, and certainly pneumonia is often the most significant and damaging component of BRD. There are, however, different types of pneumonia, and BRD also includes bronchitis and other upper respiratory tract infections.
The complexity of bovine BRD is increased even more by the fact that there are several different viruses and bacteria that can all act in different combinations as causative agents. Viruses like BVD, IBR, BRSV, PI3, and respiratory coronavirus can interact with bacteria to create a mixed infection.
Some bacteria commonly implicated in BRD include mannheimia haemolytica, pasteurella multocida, histophilus somni, and mycoplasma bovis.
The best strategy to deal with BRD is to prevent as much disease as possible from occurring. One of the most important components of a prevention strategy is proper vaccination.
There are several different vaccines available that protect against most of the causative agents of BRD. Deciding what vaccines to use, when to give them, and if and when to booster them can be difficult and involving your veterinarian in this process can be very helpful.
There are continually new vaccines and antibiotics available, but just because they are available does not make every product a good fit for every operation. Your vet can help you decide when and what new products to implement.
Along with vaccination, nutrition and other management factors are also important in BRD prevention. Nutrients such as protein and some minerals like copper and zinc are essential for the immune system to function for responding to a vaccination or fighting off a disease.
Internal parasites such as worms have been shown to be immune-suppressive, so a heavy parasite infestation may negate a good vaccination program and lead to more BRD after or before weaning.
Weaning is a stressful time for calves and also for the people managing newly weaned calves. For many of us, weaning also happens when silage cutting or combining are consuming much of our time. It is important though that we try to have the labor resources available to observe calves closely and catch any disease early in the process. Doing whatever we can to reduce or eliminate stress on the calves should help reduce disease occurrence.
There are many ways to reduce stress on calves, and one of which is handling them as calmly as possible. Obviously we want to handle cattle appropriately anytime we are around them, but paying especially close attention to this on freshly weaned or receiving cattle should help them get off to a good start.
Formulating a good protocol for weaning or receiving freshly weaned calves with your veterinarian and nutritionist will hopefully help reduce any problems this fall.
Erick Knock owns and operates Prairie View Vet Clinic in Miller, Redfield and Highmore, South Dakota. Questions? Send email to Eric Knock, DVM, at reknock@venturecomm.net or send mail to 321 E. 14th St., Miller, SD 57362.