While African swine fever ravages the swineherd in southeast Asia, researchers at South Dakota State University (SDSU) have begun to study how diseases like ASF dissipate overtime when disposing of dead pigs.
At SDSU's annual Swine Day in Brookings Nov. 5, Dr. Bob Thaler and John McMaine, both SDSU extension specialists, presented their findings from a test of above-ground burial sites.
"We hope this is one of those research projects we do that we'll never need," Thaler said.
The study looked at two main ideas: what organic material is best to put under the culled hogs to eradicate the disease in corpses and how does the disease spread throughout the water table while the pigs lay in the mounds.
"First of all, would it even work on a production scale setting?" Thaler said. "Secondly, how would it work in cooler weather up here in the Great Plains?"
Each pit SDSU dug was 8 feet wide, 60 feet long and 22 inches deep. Thaler and McMaine decided on using the Seneca Valley Virus as their test virus, as it's more readily available for testing than is African swine fever. McMaine, who is a water specialist with SDSU Extension, was tasked with placing water testing pipes at several intervals in the burial pits.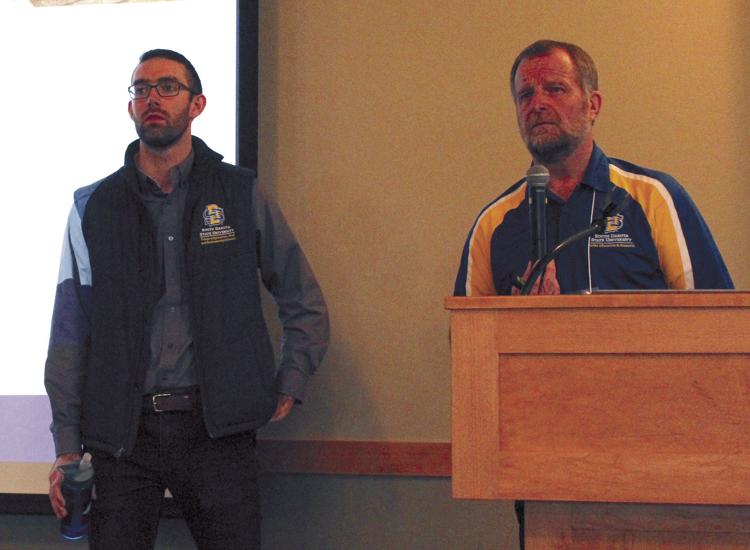 Six sets of two pigs were placed along each burial row with thermal probes in the carcasses to test what temperature works best to kill the virus overtime. For security, the test site was shielded with fencing and a game camera to make sure no animals came up and tried to eat the decomposing pigs.
After one month, Thaler's initial findings were unexpected, but they've helped shape his perception moving forward.
"Decomposition didn't happen as quickly as I thought it would," he said. "I really was expecting a terrible gut-wrenching smell but it wasn't that bad, but maybe it was a lot worse than I thought."
The study used the standard wood chips for organic bedding, but also tried corn stalks – a readily available resource in South Dakota. Thaler said corn stalks appear to be the better choice. It kept the pigs an average of 1 degree Celsius warmer throughout the decomposition process. The trouble is, there is no concrete number on what temperature it would need to eradicate African swine fever.
"The question is, how hot is hot enough?" Thaler said.
After a few months, the virus remained intact in most of the pigs – at least at the smallest level they could find. As for the water, McMaine said their initial tests found some samples of the virus at the eight and 18-inch levels, but none at the deeper levels. With the saturated soils in the Midwest at the moment, Thaler said it provided the perfect storm for water infiltration into burial sites.
"If the virus was going to go through it, this was the year it was going to happen," he said. "It didn't happen as much as you'd think."
While the virus may not have survived as well as Thaler may have thought, he said that the pigs still didn't decompose correctly due to the high moisture that the site saw throughout the experiment.
"But that is really one of the reasons we do this kind of research," he said. "At least we know that in a really wet year, this is how it will perform."
Planning for all eventualities of an African swine fever crisis is part of their job at extension, Thaler said. However, the study was done on a fairly small scale. It would be difficult to extrapolate results for modern-day hog barns. It would take 48 pits at their tested size to get rid of just 2,400 carcasses, Thaler said, and that would be a relatively small pig barn.
"The scope that we're dealing with isn't enough. We need to do a lot more research in that area," he said. "But, we pray that this is nothing we will ever need."
Under the same vein as testing for eventualities, Dr. Angela Pillatzki, an assistant professor and researcher with the South Dakota Animal Disease Research and Diagnostic Laboratory, gave the Swine Day audience an update on how the lab is preparing for African swine fever.
The lab recently got a major upgrade to be better prepared for diseases like ASF. It is one of a handful across the country doing active surveillance on the disease in the U.S.
"If this virus enters the country, we want to try to detect it as early as possible," she said.
They are working within a U.S. Department of Agriculture program to test preparedness for responding to an outbreak in the U.S. swineherd.
"The parameters are very wide and broad to fit a lot of clinical disease presentations," she said.
While it's prepared for top-notch biosecurity, old lab space at the building is being converted into more research facilities. That is the main strength of having state lab on the SDSU campus, Pillatzki said.
"There is a very close relationship between the field investigations and the service the laboratory can provide," she said.
The new laboratory will have more advanced and biosecure animal screening procedures, which Pillatzki said is key, as around 70% of the lab's work is done on live animals brought to them from testing.