Every story needs an antagonist. From Darth Vader to Voldemort, the best-written antagonists help the hero grow. For Melissa Arhart, a Chiari malformation sounded like a villain in a novel.
Arhart was a specialist in cattle handling. Through videos and events, including a talk at the State Fair, Arhart worked with producers across South Dakota to teach them techniques on less aggressive means of handling their cattle. Then, the Chiari diagnosis became her reality.
Chiari malformations are defects in the base of the skull, around the cerebellum, that happen when the cerebellum herniates through the skull and pushes into the brain stem, causing a litany of problems. For Arhart, the diagnosis took four years of her life and eight years of her work.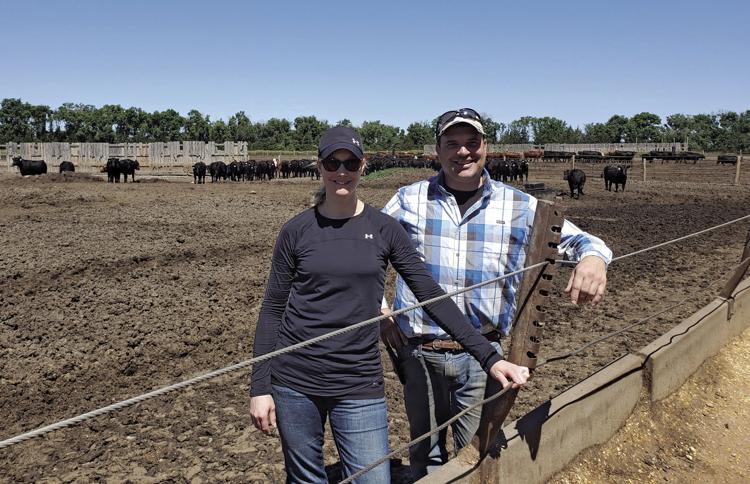 "I was in pretty tough shape there for a while," she said.
The first signs of trouble came between 2008 and 2011 when her strength slowly started to decline. After many visits to doctors ranging from local to national experts in various fields, Arhart was no closer to figuring out why her headaches, muscle weakness and general unease was worsening. All the while, she lost touch with her work, her passion and her family's cattle operation as she and her husband, Andrew, sought to cure the undiagnosable ailments.
"We didn't have a lot of vacations where we weren't going to a doctor," Andrew said.
Stepping back from her work and passion was a challenging side effect for Arhart.
"I defined myself by being a hard worker. I didn't realize how important that was to me," she said. "I kept doing less and less and less."
Outside her work as a cattle handling ambassador, Arhart also had to pass on her work as a feedlot ultrasound expert to her business partner. Instead of being out with producers, Arhart spent her time analyzing the reports.
Five years after brain surgery to correct the trouble, Arhart is back in the saddle. On June 3, she held her first cattle handling workshop in roughly seven years at Mitchell Technical Institute sponsored by the South Dakota Grassland Coalition.
"It was huge for me to get the call," she said. "… but I doubted my ability. I've been out of it for so long so I thought to refer them on to somebody. But in the end, I couldn't. I had to do it."
Falling in love with agriculture
Arhart isn't a native agricultural ambassador. From the small village of Salina in rural Pennsylvania, Arhart grew up just 30 miles outside of Pittsburgh. But much like in a lot of rural northeastern areas, riding horses was the norm.
"It all started with riding lessons," she said.
While Arhart and her two sisters fell in love with riding, owning and taking care of horses, her parents decided to purchase a farm just north of their property to house the horses. From there, they added a few Highland cattle and several chickens, and the Arharts' love of agriculture grew.
While agriculture wasn't big in her part of the world, joining 4-H was the catalyst for her passion for the industry, Arhart said. Getting to see production agriculture on a small scale piqued her interest in large scale operations. Arhart chose to head to Ohio State University to study at the Agricultural Technical Institute. She said the hands-on approach with their students helped build her confidence in working in the agriculture industry.
One associate's degree in dairy science later, Arhart moved to the main Ohio State campus to finish her degree while working with the university in various positions all four years of college.
"That's what really got me interested in research," she said.
At the research center, Arhart became well versed in reproductive physiology and sought to expand her knowledge out west in her own personal manifest destiny. After calling nearly every university in the Midwest, South Dakota State University reached out to her for an internship with the dairy science department.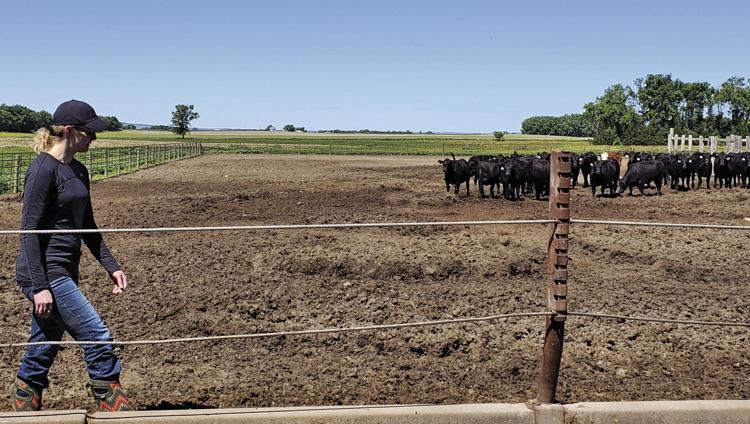 "I was just so excited to be there and (I already had) a place to live on campus with some other girls," she said.
Falling in love with the state led her to a job with SDSU Extension in Miller. Although she previously couldn't place Miller on a map, she said she was excited to realize her dream.
"They really took me in there in Hand County," Arhart said. "The hospitality that they showed – they were so welcoming, which I've found everywhere out here."
As fate would have it, Arhart was in Miller for only a little while before she was asked to promote a manure handling talk at a local cattle sale. Her future husband, Andrew, was in attendance.
After getting married in the Black Hills, she got to work at the Arhart ranch in Alpena, South Dakota, and has never looked back. To this day, she's said she's still mesmerized by South Dakota's large, open fields and the endless sunshine on a summer day.
As someone who grew up on the East Coast, Arhart said she came into her new life with a mini-chip on her shoulder to prove that she could keep up with Andrew and his family's operation, but she found that some of what she learned in school didn't translate to a working ranch.
"We had to be like, 'well, this is the real world. That may look good on paper, but this is how we do it,'" Andrew said.
Arhart took it in stride and adjusted quickly.
"That's how I proved myself – hard work," she said.
Becoming a public face
Working with SDSU's Extension office was the catalyst for Arhart's passion for cattle handling. Using skills from her extension job, she began putting on impromptu speeches for her ultrasounding business before even considering cattle handling.
After a few months of being married, Arhart accompanied Andrew, his brother and his father to a cattle handling workshop with Dr. Tom Noffsinger, a world-renowned veterinarian who champions the idea of stress-free cattle handling via a pressure and release method that Arhart promotes to this day.
"Because I was the one in the back bringing the cattle in, I took to it and wanted to figure it out," she said.
Looking beyond her own operation, Arhart realized that the cattle handling techniques Dr. Noffsinger taught her could also be taught to those she worked with during her time ultrasounding.
Expanding on Noffsinger's teachings with Bud Williams was the next step pushing her toward cattle handling as a way of life. Williams was a renowned cattle handler who promoted stress-free techniques similar to Dr. Noffsinger.
"He's the one who taught me 'if it doesn't work, you aren't doing something right.' The cattle only respond to what you're doing,'" she said. "There are no excuses."
The spark she got from that advice encouraged her to slip cattle handling techniques into her ultrasounding presentations. Shirley Thompson of the animal health company Zoetis was the first to ask her to speak specifically on cattle handling techniques. Thompson was also the woman who helped bring Arhart back after her time away.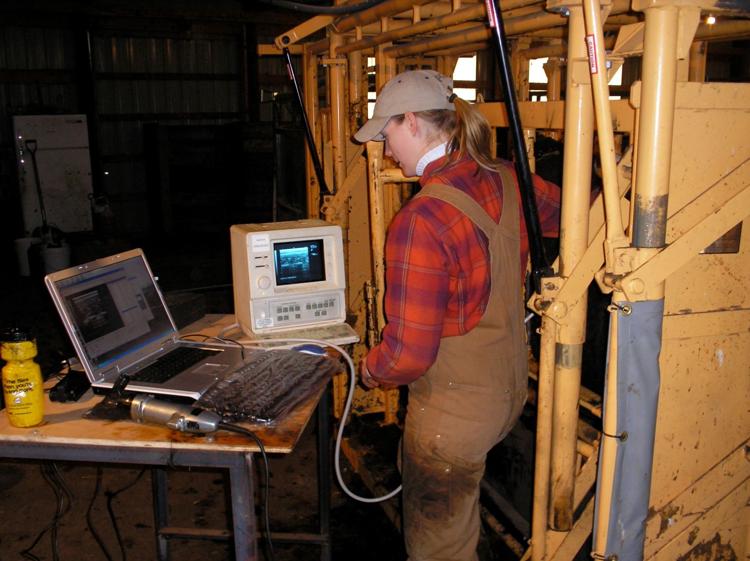 "I was going to tell the world about it," she said. "(I) realized that I had got to find a way to help people with (cattle handling)."
Her technique in workshops and presentations is to use recorded footage of her time at the Arhart ranch. She records hundreds of hours of footage of her, Andrew, her brother-in-law, Jonathan, and his wife, Joy, working with the cattle and then edits them for the presentations.
After a few years of working with producers and promoting her techniques with videos on YouTube and DVDs, Arhart was building her consulting business and slowly losing her health to her battle with Chiari.
The modern approach
Even though Arhart was out of the game for nearly seven years while she battled health issues, she never lost her way with cattle – and neither have those whom she's taught.
The difficulty, as Arhart sees it, is that with all the details of a cattle operation rattling through a producer's mind, gaining a new cattle handling skill may not be a top priority, especially after the rough fall and winter producers in central South Dakota had. Arhart attended several of Noffsinger's talks before understanding the basics. It took him personally coming out to their operation for all the pieces to click.
The Arhart ranch is made up of several different avenues of production. Their main herd is actually two separate herds comprised of a 250 head Angus-Simmental herd that they sell bulls out of every March, and a 250 head Red Angus-Simmental herd. In addition to the two main herds, they run feedlot close to the farm. On top of all of the cattle, the Arhart's have three hog finishing barns, crop ground and pasture to maintain on the operation.
Andrew and his brother work extensively with cover crops to better the soil – something they both took from their father and uncle, who preached progressive ideas.
"We started no-till (early). We ultrasounded (in the 80s). We even AI'd in the 60s," he said.
Even with the progressive attitude, they couldn't account for a harsh winter in 2018 and early 2019.
"I've never seen it this bad," he said.
As the production season ramps up, Arhart said she still hasn't returned to the pre-2008 level of work she was doing for the farm, and probably won't anytime soon with a new addition in the house. Andrew and Melissa welcomed baby Zoey to their home 21 months ago.
With presentations returning to her life and a child to take care of, Arhart said the techniques her family has implemented have given some time back to the family and allowed them to breathe a little easier with fewer 16-hour work days.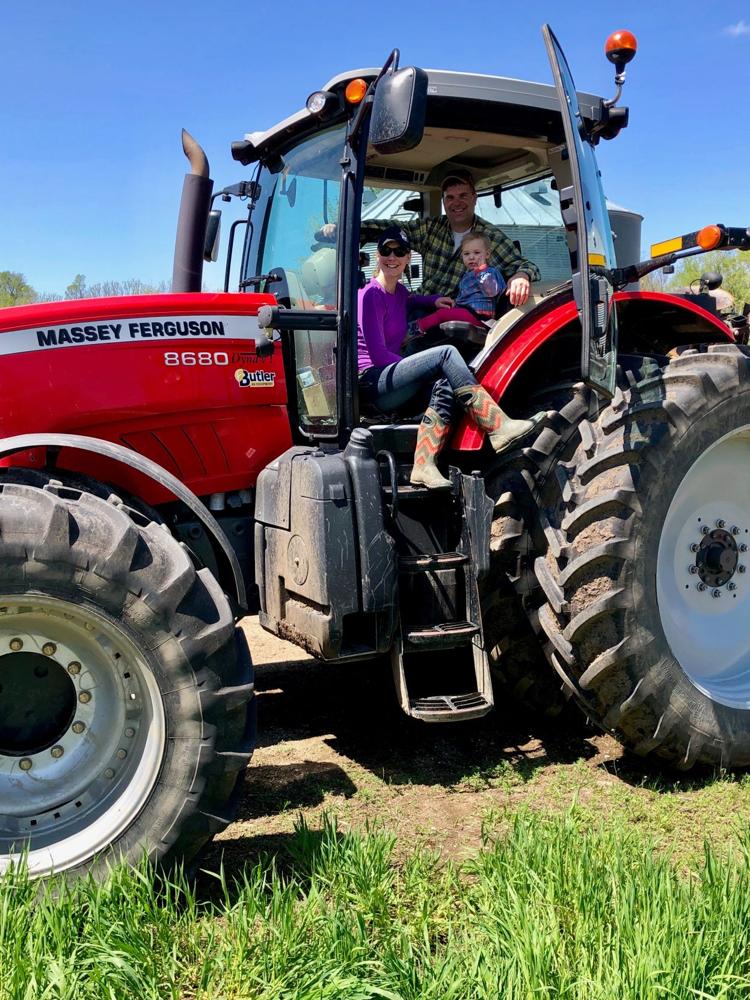 Through their practices and their experience, Andrew said it clicked for their operation when they realized that approaching cattle handling analytically was simply the wrong approach.
"Cattle handling isn't a science, it's an art," Andrew said.
As for Arhart's future, she just hopes that she can continue to preach low-stress handling as a way of life instead of a burden to implement.
"We're just cattle producers implementing this at our operation while continually improving upon it," she said. For more information on Arhart and her operation, visit www.cattlehandling.net.