It's all about having a strong work ethic for Dixon, Nebraska, rancher Martey Stewart.
After 43 years on his operation, Stewart said beyond his land, cattle, sheep and the volunteer work he does, his family is his greatest legacy. Stewart is the Tri-State Neighbor's Nebraska crop watcher for the 2019 growing season.
Stewart, 63, and wife Linda, 64, have been married 44 years and say they are most proud of his four children: LeAnn, Jason, Jeff and Kari.
The Stewarts are no strangers to the farm life. Stewart grew up with six siblings on a diversified dairy farm and has spent his whole life with livestock. His family's operation had beef cattle, dairy cows, sheep and hogs. Linda grew up 6 miles away on a similar operation.
"I've loved livestock ever since I could walk, but I never really got much into the grain or crop farming," he said.
After growing up in Hubbard, Nebraska, Stewart and his wife moved just 31 miles away to their current residence. Out of all Stewart's siblings, he is actually the furthest away from their home farm.
"All seven of us and each other's spouses also graduated from the same high school," Stewart said. "So we've stayed pretty local."
He and Linda moved to their current operation to work as managers of a hog operation on-site. After nearly 40 years as managers and eventually part-owners, the hog operation closed in 2011. By 2013, the hog barn was depopulated and the Stewarts chose to expand their cattle and sheep operation. Several years after clearing out the hogs, a major wind storm came through and tore up the old building.
Since then, Stewart has taken up a job with West Point, a local sale barn, and works as their field man.
"It's a good fit for me because I love people and cattle and get to travel around the country to get them to come to sell at West Point," he said.
Linda, who helps on the farm when she has free time, has worked for a local swine consultantcy firm for 19 years.
"She keeps saying she'll live to a 100. No doubt about it. When they asked her if she'll consider retiring at 65 she said: 'Well, if I'm going to live to a 100 I feel like I could work five or 10 more years,'" Stewart said.
The Stewarts have 140 cattle, and around 65 ewes. Like most ranchers in the area, Stewart keeps busy by constantly changing his approach to managing the cattle.
"In order to stay competitive, you have to take advantage of some of the changes," he said.
He's considered thinning the herd down to 100 cow-calf pairs as input costs and hauling cattle has gotten both more expensive and more tedious for the couple.
Out of the very few regrets Stewart said he's had, he said he most regrets not taking advantage of the tragic 1980s farm crisis. While many farm families suffered in the 80s, Stewart said it would've been the prime time to invest in buying land.
"I bought cows, I should've bought land," he said. "I never thought of buying it as an investment."
On a piece of land just a few feet from his property, Stewart said he's watched the value per acre go from just $200 to $6,000 in his time on his operation.
"You could name on one hand the millionaires in the area when I was growing up, now anyone who hung onto their farms are all millionaires," he said.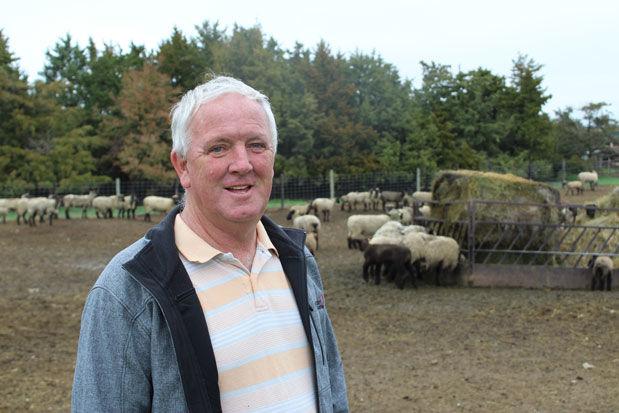 In more recent years, he's watched the pastures in his area be plowed into cropland, the catalyst being the dramatically high grain prices at the beginning of the 2010s.
As the grain prices have come down, and many young farmers are struggling to keep up with payments, Stewart said he's worried that if grain prices don't come back, there will be another 1980s-like purge of farm families in the Dixon area, as well as much of Nebraska.
As the Stewarts prepare for the sun to eventually dry out the soils, only about 15 percent of the crop ground was planted as of May 1, he estimated. Farmers experienced the same type of delay last year.
"If they hadn't experienced last year, they'd be even worse off this year," he said.
Stewart noticed that the leading trend is to plant soybeans before corn, something he hadn't seen done in his neck of the woods before 2017.
With May shaping up to be colder and wetter than average, Stewart said many people are in for a rough growing season. On top of the weather not letting up, many farmers in the area haven't even been able to get into the fields to clean the debris left over from April floods.
"(When the storm hit) it flooded areas where there have been three or four generations of farmers and it's never flooded," Stewart said.
While the Stewarts don't farm grain themselves, they've had a long history with people in the area who do – which gives them a unique perspective for the season. Martey's siblings all have a hand in agriculture, and two brothers actively farm.
Their four kids also have worked in agriculture and followed their parent's footsteps to a certain extent, which make Stewart proud.
"My legacy, or my sense of pride, is that I've helped raise four kids that are all productive citizens. They all have good jobs. They all have families," he said.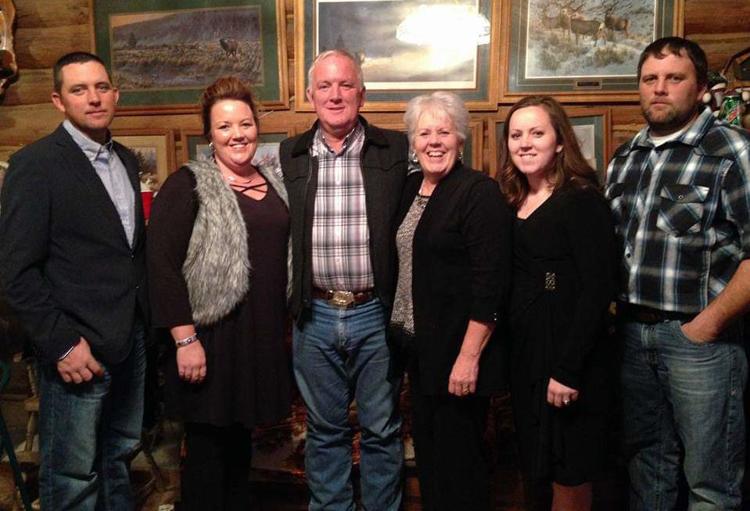 Their eldest daughter, LeAnn, 43, lives with her husband and three kids in Iowa while managing a large veterinary business. Jason, 42, lives with his wife in Wakefield, Nebraska, and has 350 stock cows while owning a construction company. Jeff, 41, lives with his wife and two children in Wisner, Nebraska, and farms row crops while raising show pigs and calves. Kari, 36, lives in Creighton, Nebraska, with her husband and five children and is the director of radiology for the local hospital.
Stewart volunteers as the leader for two 4-H clubs while serving on the 4-H council. When he gets the time, he likes to volunteer with Hospice Care.
"I've been doing that for 16 years and now its starting to be people I know – my neighbors or their parents," he said. "Out of all the volunteer work, that's the most rewarding. I'm getting way more out of it than I ever put into it."
Most recently, Stewart has been serving on the Nebraska Farm Bureau board and traveling with Linda.
When they get a chance to relax after their work is done, Stewart said he chooses to never stop working.
"I don't fish or hunt. I can go to a livestock show or sale five days a week and be as happy as a pig in mud," he said.