Overall, calving season this year has been going very well. We have had good weather, less mud and fewer sick calves than we have in the past few years.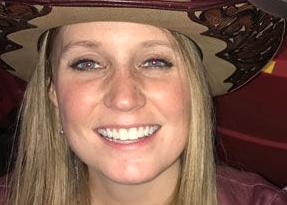 So instead of writing about how to be proactive in healthcare as these calves approach 1-3 months of age, I thought it would be fun to write about a one of the less common things that we have seen this calving season –calves born with eye problems.
Micropthalmia
We have seen a few calves this year born with micropthalmia, "small eyes."
This can be caused by a virus called bovine viral diarrhea virus (BVDV) and can affect one or both eyes. The calf should be tested for BVDV and if it comes back positive, the entire calf crop should be tested to find persistent carriers.
Persistent carriers occur when the dam is exposed to the virus between 60-120 days of gestation. If she was exposed earlier, the fetus most likely would have died and been resorbed. If they are later than 120 days gestation, they may abort.
BVDV accounts for significant economic loss in the cattle industry, so make sure to consult your veterinarian if you are finding calves like this.
Buphthalmia
On the opposite side of the scale, calves can be born with an eye that is too big – a condition called congenital buphthalmos.
This occurs when there is an abnormality in the eye that does not allow for fluid from the anterior and posterior chambers to flow appropriately, resulting in glaucoma.
Glaucoma is the term for increased eye pressure. When the pressure increases in the eye, the eye will swell, become cloudy and stick out from the regular position.
It most commonly affects only one eye. The affected eye will most likely have to be removed because glaucoma can become very painful and the eye is nonvisual anyway.
Corneal Dermoid
If you have ever seen a patch of hair growing out from the center of a calf's cornea, then you have seen a corneal dermoid. This is an abnormal growth of cells in the cornea that requires surgical correction, otherwise it will eventually cause infection and potentially loss of the eye.
Uveitis
Uveitis is the term for inflammation in the eye. If a calf is born with uveitis with or without conjunctivitis (inflammation of the tissues surrounding the eye), it may have had an infection in utero resulting in septicemia (bacteria in the bloodstream), it may have experienced brain swelling from a blood clot or have been infected with bovine rhinotracheitis (IBR, rednose). These calves have a poor prognosis.
Blindness
Blindness with no other clinical signs in baby calves may be caused from a vitamin A deficiency. Vitamin A is important for retinal formation, which is how our brain receives light information and creates images in our brains.
Conclusion
Talk to your veterinarian if you are having calves with eye problems. It may be a sign that you have something going on with the whole herd that needs to be addressed.
Dr. Lainie Kringen-Scholtz is Associate Veterinarian at Twin Lakes
Animal Clinic in Madison, South Dakota. The Vet Report is provided in conjunction with Prairie View Veterinary Clinic with locations in Miller, Redfield, Wessington Springs and Highmore, S.D.