When Patrick Brink isn't on the road with his long-haul trucking business, he can often be found at his home away from home. 
Just up the hill from his house outside of Garretson, South Dakota, Brink built a 66-by-99-foot building to store his lime green truck and trailer. It's also become hobby central. On one end of the shop's main bay is the shiny chrome of his semi-truck. On the other is the rustic Army green of a 1966 Vietnam style military truck and trailer. Brink is a collector.
An adjoining room gives him space for another hobby: building an O-scale miniature railroad.
"I wanted a man cave," Brink said.
Brink is originally from Rapid City where he had a drilling company for 17 years. He met his wife, Hope, while she was in the Air Force stationed at Ellsworth. When Brink's parents died, the couple moved closer to her family in Minnesota. Brink was looking for a peaceful place on the countryside to start anew. 
The rural setting of northern Minnehaha County gives him plenty of green space to enjoy his new prairie home. The shop serves the purpose of housing the "money maker" truck and trailer, as Brink puts it. It also stores lawn care and snow removal equipment in addition to being a spot for hobbies and relaxation.
Inside the shop's main entrance is an area with a flat screen television where Brink can get a workout on his exercise bike or relax in overstuffed chairs around the custom-designed wood furniture that was once in his dad's office. Brink and his dad were close, having worked together for many years. 
"This reminds me of him," he said. "We used to sit and chat in his shop."
While some features of the shop are a throw-back to past generations, others are state of the art. The shop is insulated, heated and air conditioned. Utilities and other controls are linked to a system that Brink can manage remotely from his phone while on the road. 
The shop also has a 1,300 square foot loft. There's a sizeable living area with a sectional coach. The full kitchen behind it has a center island with bar seating. A bedroom overlooks a tree grove and has a walk-in closet with built-in storage.
The one-bedroom apartment doesn't feel like it's part of a shop. It's decorated with reclaimed Russian oak and modern industrial touches.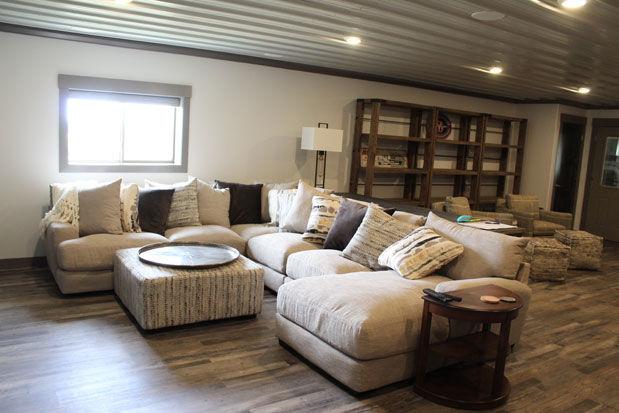 Brink and his wife like to be able to offer family a private place to stay when they visit. He built it thinking it could be a place for his in-laws if they need nearby caretakers in the future. Most recently, a relative stayed while she attended classes in Sioux Falls.
When planning his shop, Brink toured several other projects done by Morton Buildings to get ideas.
"I like the way they look and I like the way they last," Brink said.
He wanted a shop that would complement his house. It has the same gray color, and the exterior is made to look homey, with stone wainscoting along the bottom. The front, overhead door has a barn wood look and antiqued hardware.
"I wanted it to fit the setting," Brink said. "It looks nice from the road."
With the rural property and comfortable shop, Brink has found his peace on the prairie.