Food is a universal language that brings people together, connects cultures and supports families. 
In the Midwest, producing food is a way of life, but small family dairies are dwindling in the face of falling milk prices. The Lingen family of western Minnesota is using food – America's favorite frozen treat – to keep the family business alive.
"There are a lot of good things that come out of despair, and one of them is our ice cream business," Josh Lingen said. "Adapt and overcome has been our philosophy of this farm."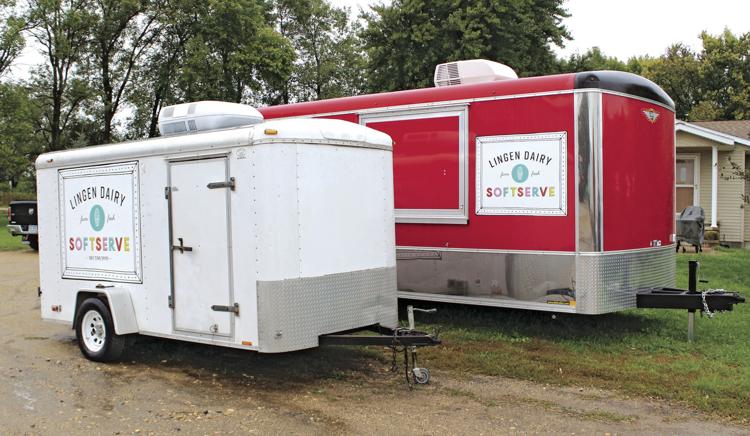 Four years ago, after the fall of record-high milk prices in 2014, Lingen Dairy in Balaton, Minnestoa started to struggle. Josh and his parents, Denice and Randy, started looking at ways to improve, cut costs, cut down on labor, and ultimately shore up the operation. But first, Josh wanted to build the diary's image.
In 2015, he purchased his first ice cream machine from a local drive-in and fixed it up for use on the farm. Over the last three years, the Lingen ice cream operation has evolved beyond the farm into not one, but two ice cream trailers that now tour the tri-state area dolling out treats from simple ice cream cones to ice-cream-infused frappucinos.
"It really tied me back into the product I was serving," Josh said. "And that's what the consumer wants. You want to know where it's coming from and want to put the face right to it."
Creating an ice cream enterprise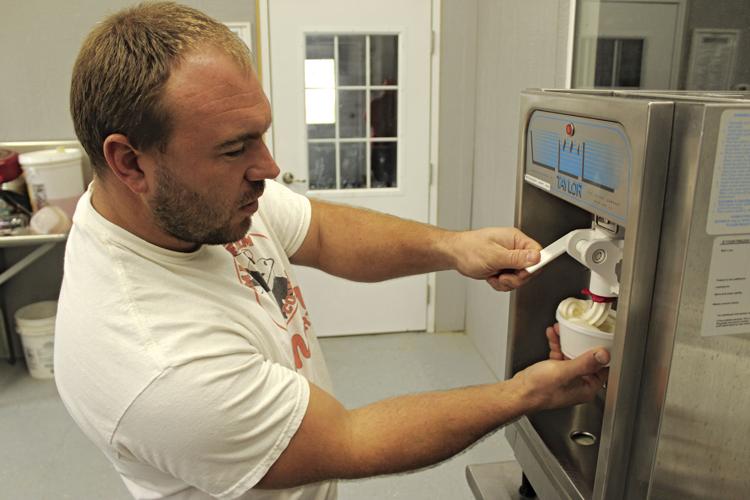 Making ice cream isn't an easy job, nor is it a simple one. While the recipe may call for milk, sugar, some cool air and a fancy machine, Josh said that those first few years were more about understanding than expanding.
The first hurdle right at home as he tried to convince his parents and his sister that the new venture would work.
"We didn't know if anybody would buy it … but it's just been huge," Denice said.
Denice and Randy, who are 56 and 58 respectively, aren't against change. Lingen Dairy was one of the first adopters of robotic milking machines in early 2012. But it didn't seem like a smart time to start an ice cream when there was barely any wiggle room in the budget, Denice said.
Others said it was a waste of time because it would do nothing to budge milk prices.
Against the odds, Josh started giving out free ice cream samples from his fixed-up machine to all that came – which is quite a lot of people.
"It was disastrous," Josh said.
He estimates they gave away nearly $1,000 in ice cream to tour groups, neighbors and friends. The next year, he revamped the process and partnered with Land O'Lakes to get some commercial ice cream mixes.
"We produce for them anyway, so it worked out really well to get them on board," Josh said.
With even more tours in and several other ventures on the horizon, he put out a tip jar and nearly broke even.
"That was good enough for me because my initial purpose for this was just dairy promotion," Josh said.
After taking the fall and winter seasons off, Josh realized slinging ice cream at dairy tours limited the number of customers he could reach. That's when he purchased his first portable ice cream machine. Over that 2017 summer season, the Lingens served ice cream at 30 events, plus one major Fourth of July celebration right in Balaton.
"It was a lot of work, but it was a stepping stone," Josh said.
That led to their current ice cream trailers, one of which was trucked all the way from Springfield, Illinois, gutted and revamped for the ice cream operation.
This past summer, the Lingens designed a second custom trailer. After two county fairs and 8,000 milkshakes, Josh has the entire Lingen family on board his soft-served dream.
A life of connections
Being a farmer in the 21st century is about connecting, Josh said, something that he sees a lot of producers struggle with. Lingen Dairy opened to tours after the first two robotic milkers were installed. The family wanted to educate the public on dairy practices. Those tours were the catalyst for making ice cream and have been the Lingen Dairy foundation.
"I couldn't do this without connections," Josh said. "How you treat people and portray yourself and your business is all about connections."
The biggest connection has been with Land O'Lakes. Aside from the fact that they produce milk for them, the company has gotten Lingen Dairy into many events across Minnesota to sell its ice cream. It's helped cement the Lingen Dairy name into Minnesotans' minds.
In an unexpected twist for Denice, she got to experience certain local events she never dreamed of visiting simply because her life on the dairy farm has always kept her working.
"I actually get to go to a few of these events that I've never had the chance to go to all my life," she said.
"It just brings fun back to an industry full of despair, because we've all had fun doing it," Josh added.
Expanding on connections has been one of Josh's main goals, and this year he received a Minnesota Department of Agriculture grant to help share his dairy's story and its ice cream. Part of sharing his story means helping legislators in the state government understand the plight of the average dairy.
"These connections are the most important thing. I never realized that here on the farm because I never had to make connections like that," Josh said.
Ice cream is just an avenue for connections. Much of the revenue gets funneled back to the communities they serve. The family donate a percentage of each of the event's profits to groups in that area.
A History of innovation
The Lingen Dairy operation isn't a new one, although the operators are still relatively young by farming standards. Josh is the fourth generation on the farm and they've been milking cows for more than 30 years at their current operation.
They started with just 29 dairy cows and were pushed to expand by an ever-changing industry. In 1998, Lingen Dairy milked 150 cows with a brand new milking parlor next to the old office. Even after the expansion, the Lingens knew it wasn't enough. Over the next 12 years, they discussed how to expand without hiring more hands and landed on automation.
It was something Randy fought tooth and nail. Eventually he embraced two robotic milkers with a five-year timeline.
"We always said that we'd give it five years and if it worked well, we'd expand," Josh said.
By that time, Lingen Dairy added two more robotic milkers.
"We knew we wanted it, but the difference between us and those robot farms is we're still running the parlor," he said. "We're still working hard at this to keep income coming in in the last four years of despair."
With 400 cows on the operation now, the Lingens have also jumped into the custom silage chopping industry, and they produce Angus cows on the side to supplement the milk check. Josh's sisters also help when they can on the farm. Hallie, the youngest, brings her newest Golden Retriever pup Jackson along for the chores. Heather, the oldest, works for nearby Ralco but her husband, Reed, works full time on the farm with the family.
Fitting with their motto, the Lingens also bring in an Ohio State University student to work with them each year. Over the last 17 years, they've had nearly 20 kids come in to help experience what dairy farming is all about.
Unfortunately for both the Lingens and their neighbors, they are an anomaly. In the last month, three of Lingen's dairying neighbors have sold out. Josh said losing these farms – his friends and neighbors, and his customers for the custom silage business – is hurting the industry as a whole.
"We are all tied together somehow, someway. It's really something what's happening out here," he said. "You can be the best damn dairyman in the world and it just does not matter."
While some are leaving dairy to focus on a small acreage for cash crops, Josh said a majority of them will go off and try to find work elsewhere even though they are pushing 70 years old.
"They could've hung on. It's not like they went broke," he said. "But when you are doing this every day for nothing, you start to change your tune."
Future scoops
The Lingens continue to push toward automation with the goal of being able to continuously milk cows without anyone in the parlor. In the ice cream trailer, Josh just wants to be able to be traveling meeting people year-round, as opposed to just over the summer.
He'd like to sell ice cream at local sporting events, replacing sodas and candies that flood the shelves.
"Dairy is goodness. When you add dairy to most things, people love it," he said. "Why not have some wholesome products?"
For updates on the location of the Lingen Dairy ice cream truck, visit their Facebook page. To schedule a tour out to Lingen Dairy or even rent a few of their ice cream machines, you can reach them at 507-530-5959.
Reach Reporter Jager Robinson at 800-888-1380, email jager.robinson@lee.net or follow on Twitter @Jager_Robinson.